CarPlay is a very useful iOS feature that allows you to connect your iPhone to your car's built-in display. In other words, you can turn your iPhone into a reliable copilot. Whether you're visiting a friend, or you're driving to your favorite restaurant, CarPlay will provide you with clear directions to reach your destination safely.
The only problem is when there are no directions or CarPlay's not working. Many users complained that Apple Maps sometimes won't show turn-by-turn directions on CarPlay. If you're experiencing the same problem, follow the steps listed below.
Fix Apple CarPlay Not Showing Turn-by-Turn Directions
Check Navigation Availability
Turn-by-turn navigation is not available in all regions of the world. For example, Apple Maps doesn't support turn-by-turn navigation in Vietnam and the Faroe Islands. For more information, go to Apple's support page.
As a quick reminder, if you want Apple to add your region to Maps, go to the Product Feedback page and share your feedback.
Enable Location Services
Navigate to Settings, select Privacy, go to Location Services and make sure the option is enabled. Additionally, check your Maps status, ensure it's set to While Using and Siri is on.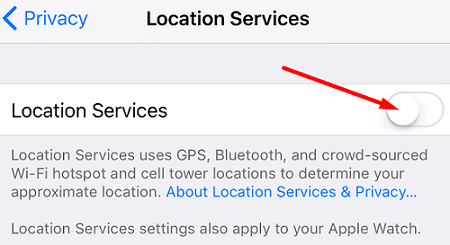 Check Your Date and Time Settings
If your date, time, and time zone settings are incorrect, your iPhone may fail to connect to Apple's servers and retrieve the necessary turn-by-turn directions.
Go to Settings, tap General, and select Date & Time. Turn off Set Automatically, wait for a few seconds and restart your device. Then go back to Date & Time, and turn on Set Automatically.

Check your Internet connection, and enable cellular data or Wi-Fi to ensure you have an active connection.
Reset the Car-Phone Connection
A bad Bluetooth profile could break your CarPlay connection. Delete your driver profile, and then delete the phone from the car and the car from the phone. Restart your iPhone, and turn off the car engine. Then pair your phone and car together and check the results.
Use a Different Navigation App
Check if other navigation apps are working on your car. For example, try using Google Maps or Waze. Many users confirmed that other apps worked perfectly fine when Apple Maps didn't.
Conclusion
If you can't use turn-by-turn directions on CarPlay, check if your region is supported. Then restart your iPhone and check your date and time settings. If the issue persists, reset your iPhone-car connection and try again. Did you find other solutions to fix this problem? Share your ideas in the comments below.