CarPlay hasn't received a significant design update since it was released. Apple is finally changing that in iOS 13.  if you have already updated your iPhone, I'm sure you've noticed the design changes. But, you may not have noticed some of CarPlay's best new features.
Related:
Here are our top 5 picks for the Best CarPlay features in iOS 13
1. The Dashboard
One of my complaints with CarPlay has always been its singular focus. CarPlay has continuously operated too much like the iPhone. There is a springboard with apps, you tap on one, and CarPlay presents a full-screen view of one app.
This functionality may work fine for the iPhone, but merely getting directions and seeing what song is playing at the same time requires too much fiddling. Apple prides itself on simplicity, but sometimes that philosophy leads to an experience.
2. New Apps
For the first time, CarPlay features a Settings app. The app gives you the option to customize a few aspects of the experience. Siri suggestions are toggled on by default. Places to navigate, calendar events, etc. show up in the dashboard when relevant. However, you can turn these off in the settings. The Settings app also lets you choose whether to keep CarPlay's new dark mode on all the time.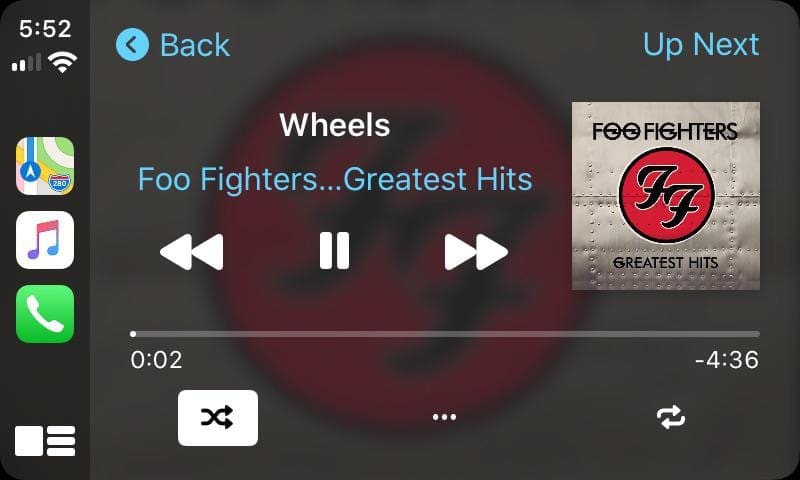 One of my favorite design tweaks is the addition of album art on the now playing screen. It looks great on larger CarPlay screens, but the Settings app gives you the option to turn it off if it feels a bit cramped to you. iOS 13 also brings the calendar app to CarPlay. The Calendar app is another nice touch that lets you take a peek at your day.
3. Siri Suggestions
I mentioned Siri suggestions above, but if you are someone who finds them useful, they are now available in CarPlay. I believe the best use case is getting directions calendar events. If your job requires you to drive to new places regularly, I bet you will love this feature.
4. Screen Independence
Please, on behalf of the rest of us, do not fiddle with your phone while driving. With that said, an annoyance I've had with CarPlay is the connection with the iPhone. When you check anything on the phone, the CarPlay screen follows along.
I always order Starbucks on the way to work (at a stoplight), and it causes CarPlay to go back to the home screen. Not anymore. In iOS 13, the phone screen is independent of the CarPlay screen.
5. Refined Design
When Apple tweaks a design that we're used to, it's not always for everyone. But I think the CarPlay update is objectively better for everyone. Also, Apple included just enough customization options to keep everyone happy. For example, I don't find Siri shortcuts useful, so I love being able to get rid of them on the dashboard.
The Maps app has received an updated design that makes navigation more enjoyable. I mentioned the album artwork above, but I love that it shows up in now playing. I think the old now playing interface was too bland.
What do you think about the new CarPlay update? Let us know in the comments below.