WWDC 2022 definitely felt like it was one of the longest tech events in recent memory. But that's just because Apple had a lot of different areas to cover, ranging from iOS 16 and macOS Ventura to watchOS 9 and all of the changes coming to our devices.
Related Reading
Apple saved the best for last, however, as iPadOS 16 was the last major announcement during the WWDC '22 Keynote. So let's dive into what you can expect to see when iPadOS 16 comes later this year.
iPadOS 16 Compatibility
One of the biggest questions that users have, whenever a new software version is released, comes down to what devices are going to be compatible. Apple is keeping with its trend of being an industry leader in this space, as iPadOS 16 is coming to a wide array of iPad devices.
iPad Pro (all models)
iPad Air (3rd generation and later)
iPad (5th generation and later)
iPad mini (5th generation and later)
iPadOS 16: Better Ways To Share
In what felt like was just a tease, Apple shared some of the new ways that you will be able to collaborate and share with iPadOS 16. With iCloud Shared Photo Library, this works similarly to iCloud Family, just with photos. You can share photos and videos with up to five other people of your choosing.
These photos and videos can be sent using a Shared Library, with everyone in the group being able to add content. Collaboration even goes so far as to show any of the edited photos, as soon as the edits have been saved. Apple is also making it easier to share your photos, as the Photos app will provide Smart Suggestions.
iPadOS 16: Stage Manager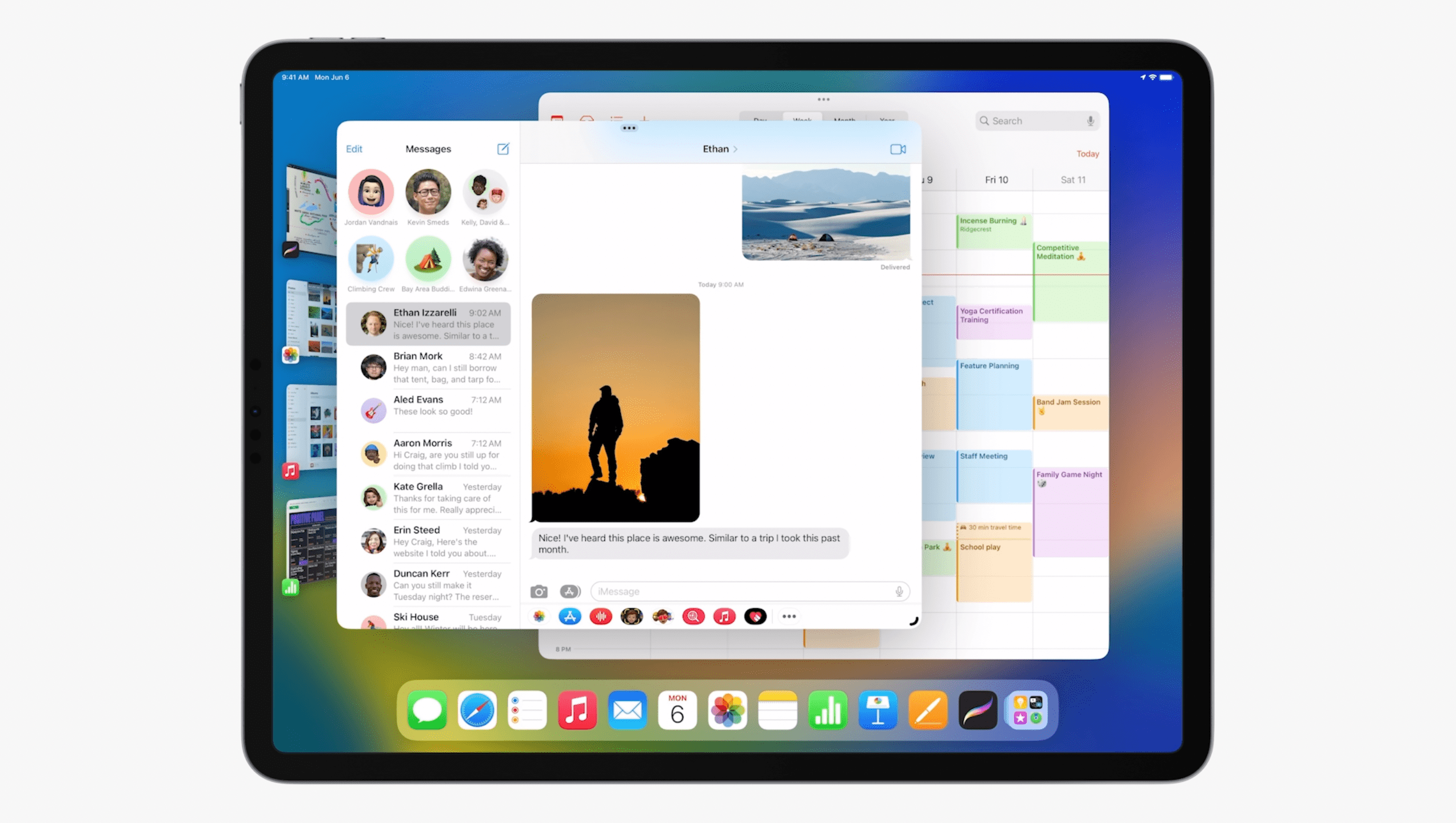 One of the biggest complaints about iPadOS has been its limited functionality. For years, it's really just been called a "larger iPhone", but that's all changing. Apple made some great strides in terms of multi-tasking with iPadOS 15, but it's being taken up a notch with iPadOS 16.
Stage Manager is a feature coming to macOS Ventura and iPadOS 16, giving users the ability to use apps in new ways. This is a new multitasking functionality, with the ability to resize windows, and see overlapping windows "in a single view".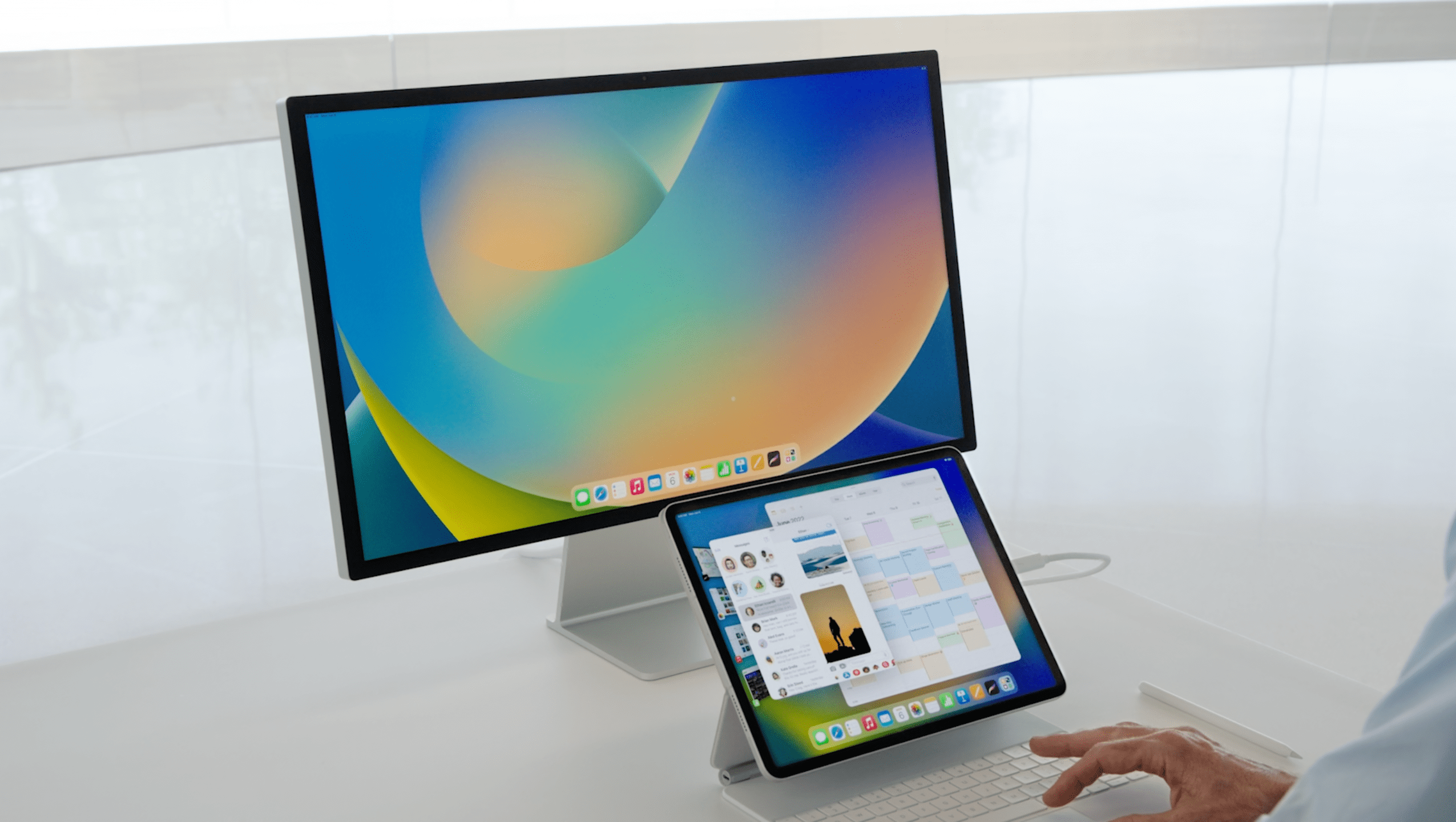 When activated, you'll be presented with your most recently-opened apps off to the left. And tapping on any of those other apps will put them front and center. Stage Manager also makes it possible to stack multiple apps together and continue to use them side-by-side, overlapped, or however else you want to use them. iPadOS 16 also makes it possible to create different groups, making it easier to focus on the task at hand without getting distracted.
External Display support also comes to Stage Manager, with users being able to view multiple sets of apps on both your iPad and an external display. Then, you can drag and drop files or apps between the different screens.
The only "catch" with Stage Manager is that it is limited to devices powered by Apple's M1 chip. This includes the 2021-lineup of iPad Pro models and the all-new iPad Air.
iPadOS 16: Display Modes
With Display Modes, there are two different options now available with iPadOS 16. The first is a "Display Scaling Mode", which allows you to quickly change the resolution of your display. By doing so, you are now able to fit more content on the screen, without being limited by the OS.
A feature that is currently limited to the 2021 12.9-inch iPad Pro is Reference Mode. Thanks to the mini-LED display panel introduced, Apple is now making it possible to use your iPad Pro as a reference monitor. This works with SDR and HDR videos, along with working as a standalone device or as a reference display using Sidecar.
iPadOS 16: Weather
One of the long-running jokes on the iPad has been the lack of a Calculator and Weather app. Sure, there are great third-party solutions such as PCalc and Carrot Weather. But Apple is finally bringing its excellent Weather app (powered by Dark Sky) to the iPad.
This is much more than just a blown-up version of the accompanying iPhone app. You'll be able to tap to learn more details about the current weather conditions. Apple is also bringing the hourly forecast view, and radar view to the iPad. Plus, you can set up to be notified whenever it's about to start precipitating.
iPadOS 16: Games
Metal 3 was introduced during the WWDC 2022 Keynote but it wasn't just for the Mac. iPadOS 16 also brings Metal 3 support, along with "MetalFX Upscaling" that "helps games render complex scenes faster". The end result is faster frame rates across many of the best iPad games.
Game Center is one of those features that has been around on the iPhone and iPad for years. A new Game Center dashboard arrives with iPadOS 16, making it even easier to see what you're friends are playing. You will also be able to use SharePlay to join different games with your friends. Think of it like Xbox Online, but with your iPad.
iPadOS 16: Desktop-class Apps
Many of Apple's native apps are being updated in iPadOS 16 in an effort to bring "desktop-class apps" to the iPad. Some of these examples include being able to see your availability in the Calendar app, change file extensions in files, and even customize toolbars in various applications. By doing so, you'll be able to quickly access your most-used tools and features.
iPadOS 16: Freeform
Collaboration has been a big theme for Apple this year, and it continues with iPadOS 16. Freeform is an upcoming productivity App that allows you and others to work together using a single blank canvas. You can jot down notes using the Apple Pencil, or go down the traditional route of just sharing files, web links, videos, and more.
You'll be able to invite multiple collaborators, share a link, and get started. Plus, all of the changes happen in real-time, so you can see what ideas are happening, as they happen. Freeform will be coming to iPadOS 16 later this year.
iPadOS 16: Everything Else
There's a lot more coming to iPadOS 16, but many of the features that we didn't have separate sections for are also coming to Apple's other platforms. Here's a rundown of some of the other features you can expect to see across all of your iOS, iPadOS, or macOS devices:
Apple News: Follow your favorite teams and leagues and get the best stories from hundreds of national and local publications.
Spotlight: Get expanded rich results, intelligent suggestions, and even more image results from apps like Messages, Notes, and Files. You can also take actions like starting a timer or running a shortcut.
Notes: The ability to lock notes using your device's passcode, as opposed to needing to remember another password. Smart Folders makes it easier to organize Your notes based on various self-created parameters.
Reminders: Templates make it easier to create or share lists, as they can be re-used as part of a routine. Your favorite lists will also be able to be pinned to the top of the app. Today and Scheduled Lists now group items by time and date.
Focus: Select which apps and people you want to receive notifications from. Specifically, with Apple apps, you can "draw boundaries by hiding distracting content with Focus filters".
When is iPadOS 16 Coming?
Apple is just getting started with the latest version of iPadOS. The first Developer Beta is available for developers starting now, with a Public Beta program set to open sometime in July. We'll continue seeing iterations made to the platform over the next few months, before iPadOS 16 is released for everyone this Fall.
Andrew is a freelance writer based on the East Coast of the US.
He has written for a variety of sites over the years, including iMore, Android Central, Phandroid, and a few others. Now, he spends his days working for an HVAC company, while moonlighting as a freelance writer at night.