It may have come as a bit of a shock, but the new version of macOS was shown off before Apple detailed what was coming to the iPad. But if you paid close attention, it was easy to see that the line separating macOS and iPadOS is getting closer and closer.
Related Reading
In addition to introducing the all-new M2 chip coming to the 13-inch MacBook Pro and the redesigned Macbook Air, Apple gave us a glimpse at what's to come to macOS.
macOS Ventura: Compatibility
Just as is the case with the iPhone and iPad, you might be wondering if it's finally time for you to upgrade your Mac. We haven't finished diving into all of the nooks and crannies just yet, so we aren't sure what features are limited to specific Mac releases. But Apple has provided a list of all of the Mac computers that can run macOS Ventura:
iMac: 2017 and later
iMac Pro: 2017
MacBook Air: 2018 and later
MacBook Pro: 2017 and later
Mac Pro: 2019 and later
Mac Mini: 2018 and later
MacBook: 2017 and later
macOS Ventura: Stage Manager
Just like its counterpart in the iPad Pro, macOS Ventura is getting Stage Manager. This is a new way to interact with the various apps that you have opened at any given time. Instead of dealing with a bunch of app windows overlapping with no clear method of organization, Stage Manager aims to fix that for you.
All of your recently-opened apps will appear on the side, with a single app focused in the middle of the screen. From there, you can tap on different apps to replace them, or you can create stacks of apps to "create your ideal workspace". These different windows can be rearranged and resized, making it simple and painless to multi-task.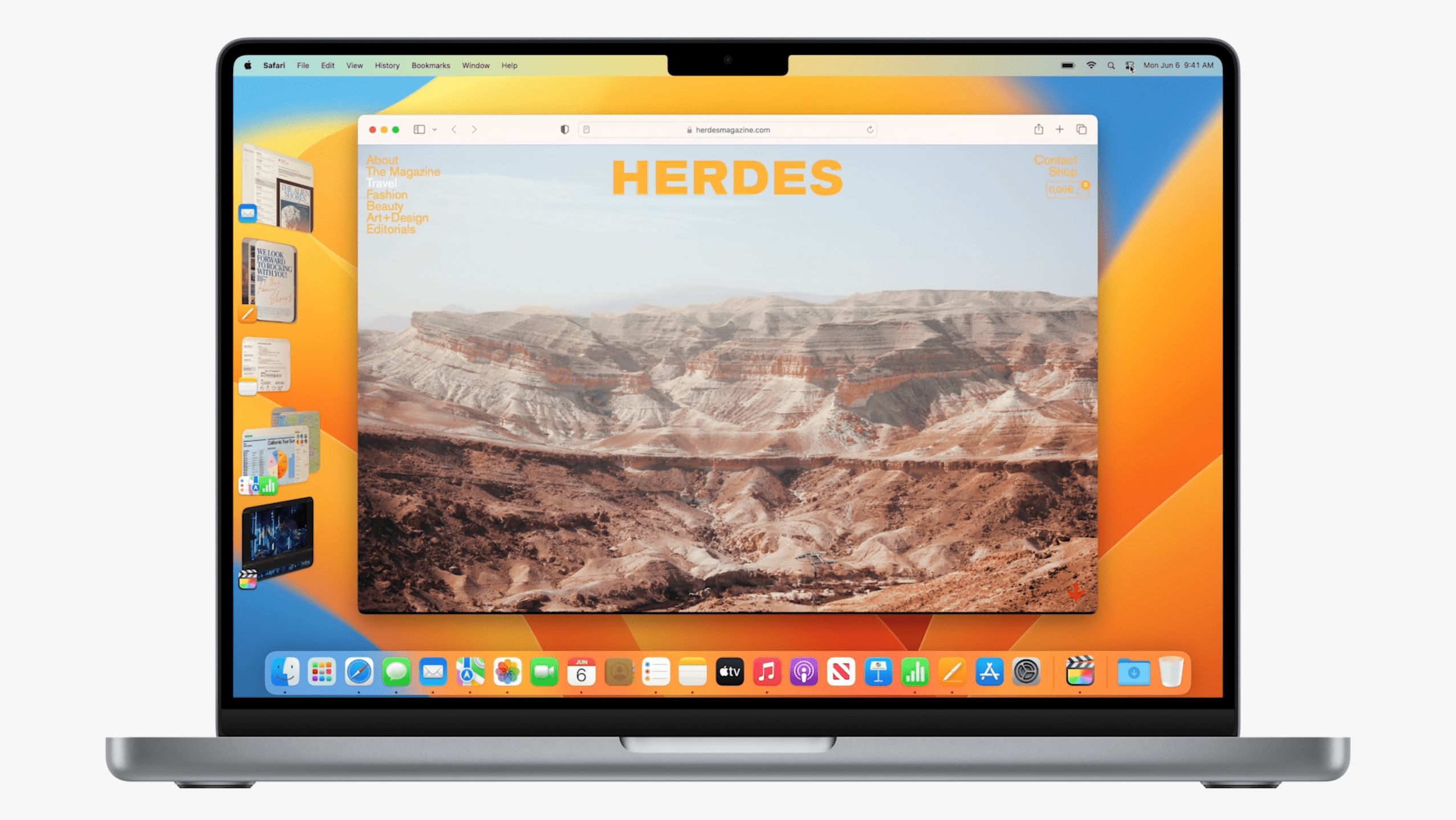 Something that helps Stage Manager separate itself on the Mac compared to the iPad is its integration with Mission Control and Spaces. Apple didn't share this during the WWDC '22 Keynote, but Stage Manager on macOS Ventura will work easily with those features allowing you to "arrange your windows apps however you want to view them".
macOS Ventura: Mail
Mail has long been in need of an update across all of Apple's devices, and it's finally here. With Mail on macOS Ventura, iOS 16, and iPadOS 16, search has been vastly improved. Now, as soon as you start typing, Search will begin providing potential results and suggestions. This expands to typos and misspellings, as it will fix the typo for you, or provide results that are closest to what it thinks you meant.
Other new features coming to the Mail app include the ability to unsend an email in a specific amount of time, schedule emails to be sent, or get a reminder when you need to come to a message later on. Rich links also are now supported in the Mail app, and you'll even see a prompt if you meant to send an attachment but forgot.
macOS Ventura: Spotlight
If you thought that Mail needed an update, then you definitely thought an update for Spotlight was long overdue. With macOS Ventura, Spotlight now offers an "enhanced image search", providing results right from Spotlight, even those from a web search. Live Text integration means that you can search for an image based on the text inside it, without needing to open another app.
Spotlight has also been slightly redesigned, offering "richer search results", along with the ability to quickly preview files just by pressing the Space bar (Quick View). And you finally won't need to rely on third-party Spotlight replacement apps just to run Shortcuts. macOS Ventura now makes it possible to perform various actions, including setting a timer, running a shortcut, starting a Focus mode, and more.
macOS Ventura: Continuity Camera and FaceTime
In a feature that might be too little, too late, macOS Ventura paired with iOS 16 now make it possible to use your iPhone as a webcam. Continuity Camera works without needing third-party applications, and will automatically switch if you "simply bring iPhone close to your Mac". Apple also confirms that there are third-party accessories from Belkin that will be available making it easy to attach your iPhone to your MacBook or monitor.
With the iPhone acting as your webcam, you now gain access to various features such as Center Stage, Studio Light, and Portrait Mode. It's the same great experience from using Center Stage on the iPad, without actually needing to take a video call from your tablet. And with Desk view, your iPhone will "mimic an overhead camera, showing your desk and your face at the same time".
macOS Ventura: System Settings
One of the more surprising changes coming to macOS Ventura is the all-new System Settings app. As you might be able to surmise, this replaces System Preferences, and more lines up with the experience that you'll find on the iPhone and iPad. Instead of having different rows of clickable icons, all of the main categories are now found in the sidebar on the right. There's even a new "Game Controllers" area for those who want to have more control over their paired controllers.
macOS Ventura: Even More
There's a lot that Apple showed off throughout the Keynote across all three major platforms. But even for as long as this event was, there's even more that macOS Ventura aims to bring. Here are a few of the highlights:
Clock app – The Clock app you know and love from iPhone and iPad is now on Mac. See the local time in different time zones around the world or set an alarm that plays a ringtone at a specific time. Ask Siri "What time is it in London?" or "Wake me up tomorrow at 7 a.m."
Weather – Click forecast modules for details about air quality, local forecasts, and more. Get hourly forecasts for the next 10 days, with minute-by-minute precipitation intensity over the next hour.
Notes – Lock a note using just your Mac login password, eliminating the need to remember a separate password. New, customizable filters in Smart Folders enable organization based on creation date, attachments, checklists, and more.
Reminders – Save, create, or share lists as templates to reuse them for routines, packing lists, and more. Pin your favorite lists for easy access. Today and Scheduled Lists now group items by time and date, making it easier to view and add reminders
Live Text – Pause a video on any frame that contains text to use familiar interactions like copy, translate, look up, share, and more.
Siri – An updated design provides more focused results so you get just the information you're looking for.
Dictation – Dictation automatically punctuates text with commas, periods, and question marks as you speak. You can also insert emoji with just your voice.
When Is macOS Ventura Coming Out?
The macOS Ventura Developer Beta is available for developers now, with a Public Beta program expected to arrive sometime in July. Apple did not provide specifics as to when non-developers will be able to test out the next version of macOS. However, Apple does confirm that macOS Ventura will arrive for all compatible devices in the Fall, likely alongside iOS 16 and iPadOS 16.
Andrew is a freelance writer based on the East Coast of the US.
He has written for a variety of sites over the years, including iMore, Android Central, Phandroid, and a few others. Now, he spends his days working for an HVAC company, while moonlighting as a freelance writer at night.