The rumors have been swirling for the last few years about Apple introducing yet another option in the Apple Watch lineup. Initially, we were expecting this to become available last year, but it just wasn't in the cards. Thankfully, the wait is finally over as the Apple Watch Ultra was officially introduced during Apple's September 'Far Out' event.
Admittedly, the 'Ultra' moniker comes as a bit of a surprise given that many of the rumors leading up to today's event suggested we would see an Apple Watch Pro. It also leaves an opening for future introductions of the "Ultra" moniker to other products in Apple's vast lineup of devices. Until now, the most recent occurrence was with the Apple M1 Ultra chip found in the Mac Studio.
Apple Watch Ultra Specs and Design
The Apple Watch Ultra is the company's "most rugged" wearable ever, using an all-new titanium design for its casing. The case itself measures in at 49mm, which is quite a bit larger than the 45mm casing found in the largest Apple Watch Series 8 model. But instead of rounded edges on the glass, the Ultra uses a flat sapphire crystal display. Apple says this was done in an effort to allow for the improved display edge protection, which brings raised edges around the screen itself.
This isn't your average Apple Watch, and it's immediately apparent. While it shares the same IP6X dust resistance rating, the Ultra is the first Apple Watch to sport an MIL-STD 810H rating, while also being water resistant up to 100m. It's also swimproof and can handle recreational dives up to 40m, coming equipped with the EN13319 certification to operate as a diving computer on your wrist.
Aside from the larger display, Apple also redesigned the casing with the Watch Ultra. On the right, you'll still find the rotating crown, along with the Side Button. But Apple has added an all-new button being called the "Action Button". This will allow you to customize and perform different functions based on your needs, and the activity that you are currently performing.
Along with this new Action Button, Apple's redesigned casing allows for a second speaker to be added. This will work great for calls, but will also help enhance the sound needed for the built-in siren. This can reach up to 86-decibels, as you'll be able to sound an alarm if something happens while you're out on a hike and need some help.
According to Apple, there's a new dedicated "night mode" for the Watch Ultra, which can be activated simply by rotating the crown. It's unclear how this will work, but we'll be sure to get our hands on the Ultra to provide a bit more insight.
Apple Watch Ultra Features
Apple also spent quite a bit of time detailing an all-new Oceanic+ app that helps transform the Apple Watch into a dive computer. The company's worked together to create the ultimate diving experience on your wrist, with the accompanying app set to become available on the App Store soon.
All of the standard health and fitness tracking features that we know and love from the Apple Watch lineup are here. This includes the new built-in temperature sensors that Apple detailed during the Watch Series 8 presentation. But Apple also confirmed that there will be "custom workouts" available on the Watch Ultra, however, it didn't go into detail as to whether these are different from what's offered in watchOS 9.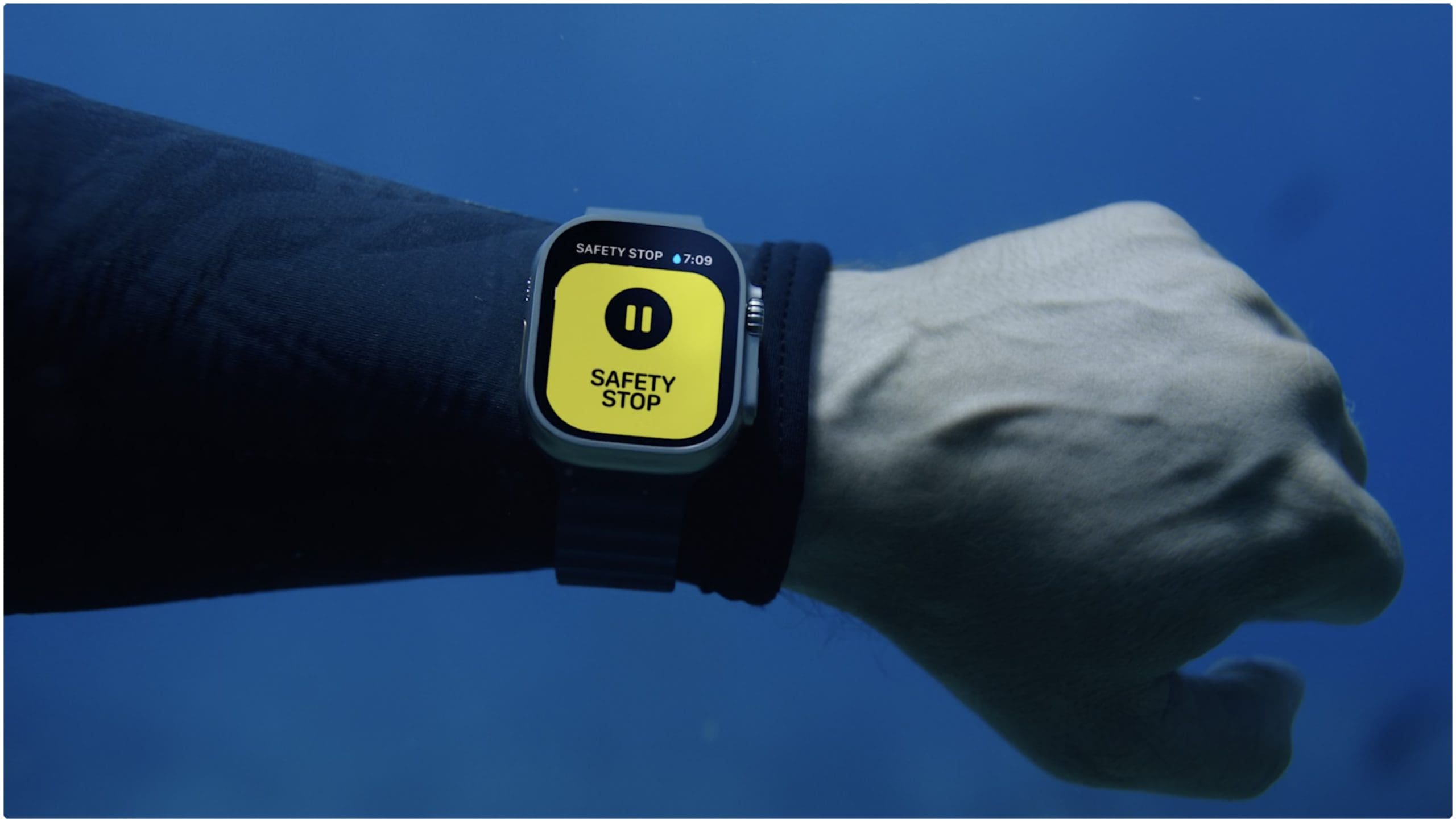 The display itself is capable of maxing out at 2000 nits of brightness, which is the brightest ever for an Apple Watch, matching up with the new display found on the iPhone 14 Pro and iPhone 14 Pro Max models. And unlike other Apple Watch models, you won't be able to pick between GPS or GPS+Cellular, as cellular connectivity comes standard on every Apple Watch Ultra.
As for battery life, the Apple Watch Ultra is as good as it gets from an Apple smartwatch. Apple states that the Ultra will be able to last for up to 36 hours on a single charge, double that of the Watch Series 8 and Watch SE. But with an upcoming "battery optimization setting", the Apple Watch Ultra will be able to last for up to 60 hours. There is already a bit of skepticism in this regard, as the new L1+L5 GPS sensors are sure to drain the battery, but perhaps Apple has sprinkled a bit of its battery magic on the Ultra to meet these claims.
Apple Watch Ultra Price and Availability
If you thought that the Apple Watch Series 8 was expensive at its $399 starting price, then get buckled in. The Apple Watch Ultra retails for an eye-watering $799.
You won't be able to pick a different case color, nor will you be able to get a smaller version if you want the Ultra but have smaller wrists. The only "customization" available for the Watch Ultra comes in the form of the different bands that were also introduced. The Alpine Loop is designed for outdoor adventurers and uses a G-hook to ensure a secure fit.
The Trail Loop is similar to the Sport Loop, and is positioned for "endurance athletes" while being Apple's lightest and thinnest band. Lastly, the Ocean Band is meant for "extreme water sports and recreational diving", using a Titanium buckle and a tubular design that will flex and stretch.
Pre-orders for the Apple Watch Ultra are available starting today at the aforementioned $799 price. The Watch Ultra will begin to ship and will be available in stores beginning on September 23.
Andrew is a freelance writer based on the East Coast of the US.
He has written for a variety of sites over the years, including iMore, Android Central, Phandroid, and a few others. Now, he spends his days working for an HVAC company, while moonlighting as a freelance writer at night.