When you try to download and install the latest macOS updates, the process may sometimes stop unexpectedly with the following error message: "An error has occurred, not found (10403)". If you already restarted your Mac but the problem persists, pursue the troubleshooting solutions below.
How Do I Fix "An Error Has Occurred, Not Found (10403)" on macOS?
Check if This Is a Known Issue
Error code 10403 may indicate that Apple's update servers are overloaded and can no longer handle incoming requests. The servers could also be down due to scheduled maintenance or unexpected technical issues. That could explain why you can't download the latest updates on your device. Go to Apple's system status page and check if the company has already acknowledged the problem. Wait for five or ten minutes and try again.
Download the Updates Manually
Check if you can download the problematic updates manually. Go to System Preferences, click on Software Update, and try to update your device again.

If you're trying to update a program that you downloaded from the App Store, click on the Apple menu, and check if there are any updates shown next to App Store. Click on App Store to install pending updates. You can learn more about the latest macOS, iOS, and watchOS updates from Apple's Support page.
Install OSX Updates First
If you're trying to download multiple updates at the same time, focus on installing the new OSX version first. So, install the macOS updates, and then go back to Software Update to install the rest of the updates. The other non-OSX updates might actually be the ones giving the error.
Use a Different Admin Account
Try installing the problematic updates using a different admin account. By the way, having a spare admin account is always useful for performing various troubleshooting actions.
If you don't have an extra admin profile, navigate to System Preferences, select Users and Groups, and unlock the padlock. Then click the plus sign to add the new account. Make sure to select Administrator under New account.
Run First Aid
Disk errors can prevent your Mac from downloading and installing the latest updates. To quickly fix the problem, go to Applications, select Utilities, and click on Disk Utility. Launch First Aid, and wait until the tool scans and repairs your device.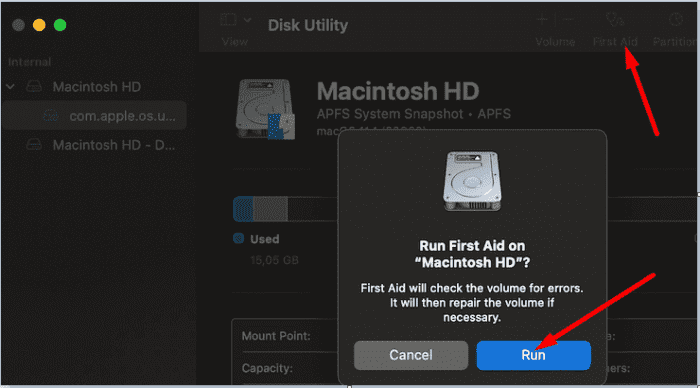 Restart your Mac and try to install the problematic updates again.
Conclusion
If your Mac throws up error 10403 and says that it couldn't find the updates you're trying to installing, go to Apple's system status page. Check if this is a known problem. Additionally, try to download the updates manually, and make sure to install pending OSX updates before other updates. If the issue persists, use a different admin account, and run First Aid. Did you manage to get rid of error code 10403? Do let us know in the comments below.