Many of us love our Apple Music service.  So when it's not working as expected and is showcasing a variety of Apple Music problems and iOS music bugs, it totally disrupts our day and our equilibrium.
Unfortunately, several of our iPhone, iPad and Mac users report some Apple Music problems after updating their iOS to the latest version. More specifically users state that they're unable to play any music whatsoever!
So if that situation sounds like you, we feel your frustration and hopefully, have a few tips to get your Apple Music service back into your usual day-to-day.
Quick Tips 
Follow These Quick Tips to Fix Your Apple Music Issues Today
Try a restart or a forced restart
Toggle off high-quality streaming
Turn off LTE and/or Cellular Data and connect via WiFi only or vice-versa (use Cellular Data only and turn off WiFi)
Refresh your connection to Apple iCloud Music Library by toggling it off and back on again
If the problem is isolated to some but not all songs, remove one of those problematic songs and redownload it. Then test to see if you still have an issue
Close the Music App and any other apps that play music
Reset your network's settings
If unable to play explicit content music? Go to Settings > Screen Time > Content and Restrictions > uncheck Restrictions. If songs are still greyed out, Open Podcasts app and confirm to allow explicit content. It should pop up when you open Podcasts
Try offloading (or deleting) the Music app and then reinstalling it
For iPadOS and iOS 13 Library sync or empty issues, restore iPhone using iTunes or Finder backup
Related Posts
Recently Reported Apple Music Problems and iOS Music Bugs
Unable to play music
Search function not working
Unable to sync
Can't Repeat songs or shuffle doesn't work
'Radio stations' are not working
Receiving "This media is not supported"  error
Unable to download
Receiving "Unexpected error code 4010."
Unable to login
Apple Music keeps randomly skipping songs
'My Music' does not load any songs
Unable to purchase …
"Apple Music" freezes (unresponsive)
Apple Music Library Empty After iOS Update
If you experience similar issues, here is how you troubleshoot.  It's best to check to see if your problem still exists after performing each step rather than trying everything all in one shot. And of course, remember that Apple Music is not available everywhere.
Apple Music Library empty or not syncing after updating to iOS 13
Several users have reported that Apple Music does not sync and the music library is empty after updating their iPhone to iOS 13+.
Users report that when they try and play a song that they know exists in their library, they get a message to the effect that ' the song is not available for your country"
The good news is that your Apple music library is not wiped out and is available to you with the help of a few time-consuming steps that involve using iTunes or Finder on your computer.
See this article for an in-depth look at this issue: Apple Music missing, blank, or empty after iPhone or iPad Update? Fix it today!
In order to restore your Apple Music Library with iOS 13, follow the steps below:
Back up your iPhone using iTunes. The iCloud backup will not help. It needs the iTunes backup to restore.
Download the latest ipsw file for iOS 13 and your device from ipsw.me or another source onto your computer
Using iTunes restore your iPhone with the downloaded ipsw file
After the process is complete, restore from the backup you made in the first step.
Restart your iPhone and then launch Apple music to check
The restore using iTunes backup fixed the issue for most users. We tried the iCloud backup without any success for this issue.
Seeing Not Signed into Apple Music message?
More recently, we have seen readers complain about a very annoying Apple Music issue. Others tell us that their device says join apple music but when they click on this it recognizes their membership but won't let them sign in!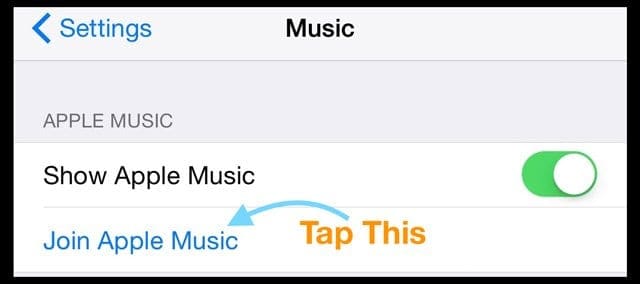 Some users have been seeing the 'Not Signed into Apple Music' message when they try to play songs. Interestingly, the error message pops up even when you are already signed in.
If this is a new device or after an iOS/iPadOS update, wait a few hours to see if it resolves
Force close out of all your apps then open Apple Music
If you continue seeing this message, here are some tips that should help you fix this issue.
So if you're traveling and not getting your usual Apple Music, check that the place you're visiting supports Apple Music.
These services include Apple Music,  Apple Music Radio and Beats 1 Radio and iTunes Match, so check that these services are indeed available in your current country.
Visit this page to find out where these services are available.
How-To Troubleshoot Your Apple Music Problems
Free Some Space on Your iPhone, iPad, or iPod
If your Apple Music won't let you download songs or see album covers, try deleting some space.
It appears that having available space of at least 3-4 GB allows Apple Music to download songs, album art, and other tasks.
Many readers tell us that once they open up that internal space, Apple Music works as usual.
Try a Forced Restart
On an iPhone 6S or below plus all iPads with Home Buttons & iPod Touches, press Home and Power at the same time until you see the Apple logo
For iPhone 7 or iPhone 7 Plus and iPod 7th gen: Press and hold both the Side and Volume Down buttons for at least 10 seconds, until you see the Apple logo
On an iPhone 8 or above or iPad with no Home Button: Press and quickly release the Volume Up button. Then press and promptly release the Volume Down button. Finally, press and hold the Side button until you see the Apple logo 
Update Your iOS and iTunes
Please update your iOS device to the latest version of iOS
Also if you are using your Mac or PC,  then please upgrade to the most recent iTunes
Once your Apple Music is back and working as expected, restore your device from your iTunes or Finder backup.
Apple Music Search Not Working in iOS or iPadOS?
Lyric Search Function
Using iOS 12+, you can search for music by the lyrics!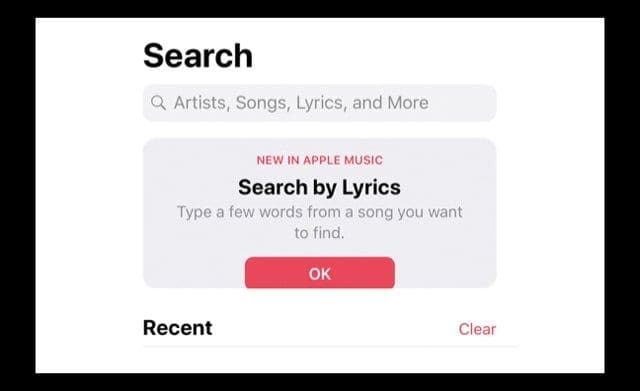 If you know a few lines of the lyric of a song, type it into the lyric search function and let Apple Music
discover it for you.
But sometimes this feature doesn't work!
Troubleshoot Apple Music Search Function
When searching for music using the Apple Music app, either the search gets stuck or does not yield any result. Essentially, the search function in Apple music stops working for no good reason. And you can only listen to music that you have added to your favorites.
Use this workaround to get the search started up again in the Apple Music app
Ask a friend to text you a link of an Apple music item
Open the link using Safari
Tap on it so that it opens up the Music App

Your music search starts working again
Here is a link that you can open using Safari if you don't want someone to text you a music link.
Searching for the artist name or album using Safari only opens the album/song link?
Try using Siri to search for a song or album
Fix Apple Music Problems Next Steps 
First Restart Your Device, then try one of the following:
Disable Music's Cellular or Mobile Data
Go to Settings > Music > Cellular Data and toggle that off. If you don't want to do that, try toggling off High-Quality Streaming instead and see if that works
Try turning iCloud Music Library Off and then back ON. On your iPhone, iPad, or iPod touch
Go to Settings > Music then tap iCloud Music Library to turn it off
Close Settings by double pressing Home or swiping up the Home Gesture Bar and swiping up on the Settings App Preview
Return to Settings > Music and tap iCloud Music Library to turn it back on
Then launch Apple Music and see if it works 
If using WiFi, try turning it off and using Cellular Data
Or if using Cellular Data, turn that off and use WiFi only
Make sure you turn on Cellular Data
Go to Settings > App and iTunes Store. Turn on Use Cellular Data
Go to Settings or Control Center and turn on Airplane Mode 
Wait for a few seconds and turn back off again. If this does not work, do this after a forced restart (reboot)
Restart your Music app
Press the home button twice or swipe up the Home Gesture Bar, then swipe up on the Music app to close it. After this, relaunch the app
Reset your network settings 
Go to Settings > General > Reset > Reset Network Settings
Open the App Store app
For iOS 13 and iPadOS, find App Store updates by tapping your profile icon and then scrolling down
For iOS 12 and below, tap the Updates tab at the bottom of the App Store 
Update at least one app (assuming you have updates available)
You may be asked to accept Apple's new terms and conditions and accept it and refresh the app(s). Accepting these terms sometimes fixes your Apple Music problem
Go to Settings > Music and turn off  Show Apple Music 
Wait 20-30 seconds and toggle Show Apple Music back on
If that didn't work, turn off Show Apple Music again

Go to Settings > Apple ID Profile (or on older iOS iCloud) and Sign Out
Wait at least 20-30 seconds then Sign in again
Try opening the Music app another way
Tap Settings > Music > and tap Join Apple Music this opens Apple Music 
Delete a song or two
Remove one of the songs that you are having an issue with from your iCloud Music Library, iTunes Match, or from Apple Music App and then redownload it

Open the Music app and tap Library
Find a song that's giving your trouble and 3D Touch or long-press it
If the song is downloaded to your device, tap Remove. Then tap Remove Download(s) to remove the item only from this particular device or tap "Delete from Library" to delete the item from iCloud Music Library 
If the song is not downloaded to your device, tap "Delete from Library" to remove it from iCloud Music Library

When you delete content from iCloud Music Library that you purchased from the iTunes Store, the item hides. If you want to add a purchased item back to your library, unhide it
Delete or offload and then reinstall Music app
Try offloading Apple Music first.

Offloading an app preserves it documents and data so when you reinstall the app, all your data reconnects immediately
To offload Apple Music, go to Settings > General > iPhone Storage >  scroll down the list to locate Music, then tap it > choose Offload App 

Deleting the Music app removes all your previous use data and all downloaded content, so when you reinstall the app you need to set it up again and download all your content
Last resort, backup your device using iTunes or Finder
To do this, connect your device to your computer, open Finder or iTunes and click Backup Now
Now go to General > Reset > Erase All Content and Setting
Your iOS device restarts so set your iDevice as new (just follow the steps). When you finish this process, open the Music app
Apple Music Audio Stuttering after the iOS update?
Several Users reported this issue with Apple Music when they upgraded their iPhone to iOS 11.4.
This issue was later fixed in the update to iOS 11.4.1. However, users that continue seeing this issue with the latest iPadOS or iOS update found some success by deleting the Music app from their iPhone and re-installing it again.
You may need to re-sync after re-installing the Apple Music App.
Can't Connect or Establish a Network to the Windows iTunes Store?
Symptoms
You're unable to sign in or purchase content on iTunes for Windows and see the error message:"iTunes could not connect to the iTunes Store. A secure network connection could not be established." Alternatively, users also get this message "we could not complete your iTunes Store Request. The iTunes Store is temporarily unavailable. Please try again later."

What to do?
First, check your if PC's date, time, and time zone are correct for your current area. If they are incorrect, updates these date, time, and time zone settings or have your PC set them automatically.
To set the correct date, time, and time zone:
Navigate to the Control Panel and click "Date, Time, Language, and Regional Options," and then select Date and Time
Verify your PC's date and time settings use the current date and time, update if necessary, and then click OK
If resetting the date and time doesn't resolve the problem:
Open Internet Explorer
On the Tools menu, click Internet Options and select the Advanced tab
Under the Security, look for Use SSL 3.0 and Use TLS 1.0. Make sure at least one of those options is selected, and then click OK (or select both)
Still Having a Problem?
Open CommandPrompt as Administrator and type "netsh winsock reset" and press enter.
Some users also needed to reinstall iTunes
Before reinstalling, press the Windows Key and the "R" Key and run "%appdata%," go to Local, then Apple Computer and iTunes and erase your "iTunesPrefs." The go through those same actions but instead of Local, go to Roaming and clear these iTunesPrefs.
ONLY AFTER erasing all these preference files, open CommandPrompt (Admin Mode), type "netsh winsock reset" and press enter. Then re-install iTunes.
Getting Error "media format not supported?"
Recently some folks have complained about the "This media format is not supported" messages well as issues around the app freezing with the status image.
Try each of the steps below and check between each step to see if it works for you.
Go to Settings and turn on Airplane Mode. Wait a few seconds and then turn off.
Restart your device.
If you are having this issue when you connect to a Wi-Fi network, turn off your Wi-Fi and router. Close the Apple Music app. Then reset network settings by going to Settings > General > Reset > Reset Network Settings. Then restart your Wi-Fi and router.
Force reset your iPhone or iPad. To do this, press and hold the Sleep and the home buttons at the same time until you see the Apple logo.
Another Fix for the "music not supported" issue
You need to remove the song from the device, not the library. When you see the download cloud icon next to the song, press that cloud icon to re-download the song from iCloud. Then, that song should play again.
When you remove a song (or songs) from your iDevice and THEN put it back through iCloud, it should work.
Cannot Find a Way to Rate music after iOS update
Apple has changed things around a bit with the app. To rate the music, in the now playing view, tap on the album artwork and the star ratings appear. This update is an interesting change in the App interaction, and we find that some people like it and others want Apple to revert it to the way it was in prior iOS versions.
Cannot Find "My Music" after an update or Apple Music Library Empty After iOS Update
These are odd problems that our readers have seen after their iOS updates. Several people have provided different workarounds for this issue. The ones that stick out are the following:
Go to Settings>Apple ID Profile > iTunes & App Store> And turn 'Use Mobile ( Cellular) Data' off
Check On your iPhone in Settings> Music, and that iCloud Music Library is turned on to see the music on your iPhone
Disable iCloud Music Library, restart, and enable it back on
Try adding a single song without adding to a playlist
Go to Settings > Apple ID Profile > iTunes & App Store  > sign out and back in
It seems there are some network settings the music app looks for and can't find after an update. If you are still experiencing issues after the update, please try to reset your network settings and give it a try.
Signed Out of Apple ID and Lost All Your Apple Music?
Apple Music is a subscription service so all your music should still be available–it should not erase anything. When you sign out of your Apple ID, it turns off the iCloud Music Library under Settings>Music.
Usually, this problem is a simple fix: just switch iCloud Music Library back on
Go to Settings > Music
Under the Library heading turn ON iCloud Music Library
Go back to the Music app & see if your music comes back
Make sure that you sign in to iTunes or macOS Catalina+ Finder/Music app with the SAME Apple ID that you use for your Apple Music membership and have your iCloud Music Library turned on.
If you have a Mac, go to iTunes > Preferences, and turn ON iCloud Music Library here too. It's located on the General Tab underneath Library Name. Toggling iCloud Music Library ON should bring back all your Apple Music and usually remember which songs were downloaded locally to your computer or device.
Repeat Song, Use Shuffle!
Unfortunately, shuffling music is not a problem per se but rather it's a poor design on the iOS 10 User Interface for Apple music. Several users running iOS 10 versions have found that they cannot access the shuffle and repeat song controls on their iPhone.
In the music app, when you are viewing the song on full screen, scroll down slightly (drag up on the screen) below the volume slider to locate the controls for shuffle and repeat function.
Apple Music Crashes After iOS Upgrade
With the latest release of Apple's iOS, several users have found that their Music App continually crashes on their iPhone. This problem is primarily being experienced by international users. We are sure that this will be fixed in the next update or via Apple's music servers.
In the meantime, you can try this workaround to keep the Music App from crashing
Tap On Settings > Apple ID Profile > iTunes & App Store
Next, Tap on your Apple ID and choose View Apple ID
Change the Country/Region to the United States here
Save your settings and try using the music App. It should work without issues. Once it starts working, you can go back in again and change the Country/Region setting to your specific location
No Time? Check Out Our Video Tips! 
Apple Music Subscription Active But Requests for New Plan
This is another one of those weird problems that don't make sense at all. You have a valid Apple Music subscription that is active and not expired. The subscription end date is still months away. When you try to play music, it asks you to choose a new plan and subscribe.
If you are facing this issue, your best bet is to first sign out of your Apple ID in the settings
Next, Go to Settings > Music and switch off Apple Music
Restart your iPhone, sign in with your Apple ID and enable Apple music. This sequence of steps usually takes care of this issue for most folks
Apple Music Crashes After Downgrading iOS
Apple Music features in iOS were revamped and redesigned, and the interface is radically different from previous Apple Music iOS versions.
One crucial issue that we have seen is that if and when you decide to downgrade to an earlier version of iOS, your Apple Music App may crash randomly and frequently.
Unfortunately, at this time we have not identified a fix. The only workaround that appears to work with this issue is to perform a Full Factory Reset and then restore from the iOS backup that you made before installing the most recent iOS version.
Check Apple's Servers
Sometimes Apple Servers go down for maintenance, problems, or other reasons. So it's a good idea to make sure the problem isn't on Apple's end before proceeding with any troubleshooting.
If you see any services listed with the yellow yield sign, there is an active issue on Apple Servers that they are attempting to resolve. Tap on the service or press the plus sign (+) to learn more.
If the problem is with Apple, there's nothing you can do other than wait.
Songs Not Available in Apple Music?
We've all been there: you're in the mood for that one specific song, you search for it on Apple Music, and bam— "Song Not Available." Frustrating, right? But don't fret. There are several reasons this might happen, and more importantly, several solutions to get you back to jamming out. Let's dive into the troubleshooting steps to get those tunes playing smoothly again.
Open the Settings app on your iPhone or iPad.
Scroll down and tap the Music button.
Tap the toggle next to Sync Library to the Off position.
When prompted, tap the Turn Off button that appears.
Wait for at least 30 seconds.
Tap the toggle next to Sync Library to turn it on again.
Go back to the Apple Music app to see if the song you were trying to play is now available.
And that's the wrap-up! Navigating the occasional hiccups of Apple Music can be a bit of a journey, but with these tips in your arsenal, you're well-equipped to tackle the "Song Not Available" issue head-on. Remember, technology isn't perfect, but with a little patience and know-how, you can ensure your playlists remain uninterrupted.
Songs Keep Getting Deleted in Apple Music
Picture this: You've curated the perfect playlist on Apple Music, only to find songs mysteriously vanishing from it. Annoying, right? If your tunes are pulling a disappearing act on you, you're not alone. Let's dive deep into why this might be happening and, more importantly, how to put a stop to these unexpected musical exits.
Open the Settings app on your iPhone or iPad.
Scroll down and tap Music.
Scroll down again until you reach the Downloads section.
Tap the Optimize Storage button.
On the next page, tap the toggle next to Optimize Storage to the Off position.
Tap the < Music button in the top left corner to save your changes.
And there you have it! With those steps under your belt, your Apple Music library should now stay intact, just the way you like it. Remember, while tech glitches can be a tad frustrating, they're often just a few taps away from being resolved. So, keep your playlists robust, your tunes flowing, and let the rhythm take you away.
So if you have any tips for getting the most out of Apple Music and strategies that worked for you when dealing with Apple Music Problems, please share in the comments!
Good Luck!
Reader Tips

1. Open the music app 2. Press and hold on the power button until you see the "swipe to power off" prompt but don't swipe. 3. Press and hold the home button until the music app either restarts or closes
I use apple music on my mac book and android phone. kept getting the message "this action is not available when your library is updating" what helped me was going to settings > apple music> force stop then click memory > clear cache then close the app by pressing the home button twice. this should work for you
So if the problem you face is that you're trying to download the music, but it stops here's how to fix this problem. 1. Go to Settings  2. Scroll down until you see Music  3. Scroll down until you see the word "Downloads"  4. Tap Optimize Storage and turn it on and then choose 1 GB for 200 songs. There you go! 
I changed the region/country to the USA with my actual Apple ID. Then I opened the Music app, and to my surprise, it worked fine! Just remember to answer "No" when asked to sign for the free trial of "three months for free." Once I said NO, I can play my music-yeah! After a few hours, I changed that setting back to my home country. AND the Music app didn't crash anymore. It's a workaround that actually DOES WORK.
Signing out of the App Store helped me and prevented the Music app from crashing. Open the App Store application, click on your picture and Sign Out. Then open the Music app again. It didn't crash for me. Hope this helps you too!
I couldn't listen to my music because I wasn't in my country's store, I was in the US one. Pressed on 'Update' on an app in App Store and it said something like 'Unable to update' with a 'Change Store' button. I pressed it, then entered Apple Music again, and I could listen to my music again!
One way to solve that problem, and it works for me, and a few people I know, is to go to the app store, and sign out from your account, and then you can play music without a problem
Try Syncing with iTunes to Rebuild Music Library. Sync your iPhone to iTunes and then sync with your iTunes library. Open iTunes first, then connect your iPhone. Select the Device > Music > Sync Music > Apply
Obsessed with tech since the early arrival of A/UX on Apple, Sudz (SK) is responsible for the original editorial direction of AppleToolBox. He is based out of Los Angeles, CA.
Sudz specializes in covering all things macOS, having reviewed dozens of OS X and macOS developments over the years.
In a former life, Sudz worked helping Fortune 100 companies with their technology and business transformation aspirations.