Apple released iOS 11 back in November of 2017, and it marked a bit of an improvement on the surface when compared to iOS 10. However, under the hood, there were a slew of new features integrated, including things like 'drag and drop.' The problem this iOS update is all of the bugs plaguing users. One such bug, aptly called the iOS 11 music bug, involves Apple Music staying on your lock screen, even when you're not listening to any music.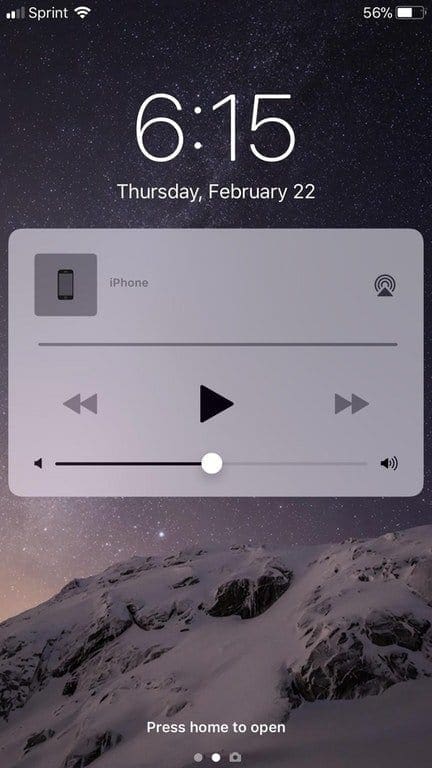 This issue has been well-documented on Apple's official Support Forums, as well as other sites and forums like Reddit. As is the case with these "smaller" bugs, there has not been any official response or bug fix issued as of yet. This leaves folks trying new methods and finding fixes on their own.
Recommended Reading
Today, we're taking a look at a few of the possible fixes, which should help get rid of that annoying Apple Music widget on your lock screen. Unfortunately, this bug is a bit more intrusive than just closing the Apple Music app from the app switcher.
If your problem is something different, take a look at our extensive article on how to fix Apple Music Not Working on iDevices and other tips on dealing with iOS music bug(s.)
Fix with the basics
While we've already stated that fixing the "stuck" widget won't work when simply closing the Apple Music application. Of course, you can start from here before moving onto the more in-depth troubleshooting steps.
If an app closing doesn't work, the next method we recommend trying is rebooting the device. A few users have claimed this has worked for them, as the widget is gone after the iPhone properly reboots.
A 'hard reset' is another step that has been mentioned a few times as a possible fix. The problem seems to be that users are afraid this means the same as a 'factory reset.' This is not the case, as a 'hard reset' means that you turn your iPhone or iPad off, ensure that it is entirely turned off and keep the power off for 30 seconds before turning back on. None of your settings will be lost, and your iPhone should be back in working order.
A little more complex
If a reboot still hasn't removed the widget from your lock screen, then we'll be diving into some more in-depth methods.
The first of which involves the following steps:
Swipe up or from the top to open Control Center
Tap and hold the music widget for 3 seconds to open the full music widget
Once it has opened, make sure that your music is not playing
Tap the "grey" area outside of the widget
Some folks have given this method a shot and claimed that it would close the Apple Music app, along with removing the lock screen widget.
There is another method that could work that requires you to dive into the settings for Apple Music. This has something to do with the 'Show Music' feature which allows users to either use or remove the Apple Music streaming service from the Music app itself.
Here are the steps to disable 'Show Music' for Apple Music:
Open Settings
Select 'Music'
Toggle 'Show Apple Music'
Reboot
This method may be a bit odd for those who regularly use Apple Music, as the tab within the Music app will be removed. However, it has been said to fix the issue for users, so at the very least, this method is worth a shot.
The Last Resort(s)
The last couple of options that you have here require you to dive a little bit deeper into the settings. The first set of steps will have you turn off notifications from Apple Music altogether.
Turn off notifications for music app
Open 'Settings'
Scroll down and select 'Notifications'
Select 'Music'
Toggle 'Allow notifications'
Reboot
Turn off Video Auto Play
Recently, Apple has been working to integrate music videos and more into the Apple Music application. A side effect of this may be that the lock-screen widget does not fully understand that you're not playing any content and may be waiting for content actually to be played.
These steps will help you turn off the iOS AutoPlay feature:
Open Settings
Select 'iTunes & App Store'
Select 'Video Autoplay'
Select 'Off'
Reboot
Turn off Today View
The final option that we have to suggest requires you to turn off the 'Today View' from your notifications.
It seems this may be interfering with Apple Music, forcing the lock screen widget to show even when music is constantly playing.
Turn Off Today View
Open 'Settings'
Select 'Touch ID & Passcode'
Enter your passcode
Scroll and toggle switch for 'Today View'
Reboot
What to do next?
If none of these steps have worked for you, or the lock screen widget continues to reappear after some time, you may think you're out of luck. You could reach out to Apple Support to see if there are any changes that Apple knows that we don't.
As someone who is currently rocking the iOS 12 Public Beta, I can attest that the latest update has fixed the issue for myself. This may be something you could consider, but it's important to remember that these beta programs contain various bugs in other areas.
If you happen to have another method that we haven't discussed here, please feel free to let us know in the comments below!
Reader Tips 


For me what fixed it was first disabling iCloud Music Library, restarting, and then turning it back on after the restart. Give it a try! It just might solve your issue
Try adding a single song without adding that single song to any playlist
This fixed it for me: Settings> iTunes & App Store > Sign out and back in
Image credit: REDDIT
Andrew Myrick is a freelance writer based on the East Coast of the US. He enjoys everything to do with technology, including tablets, smartphones, and everything in between. Perhaps his favorite past-time is having a never-ending supply of different keyboards and gaming handhelds that end up collecting more dust than the consoles that are being emulated.