Apple has removed iTunes from its latest macOS Catalina. That means that Mac users now need to use some new Finder app features to sync their iPhone with their MacBook.
In this short article, we provide you with an overview of these new Finder features in macOS Catalina. Core iTunes has been replaced with new Music, Podcasts and Apple TV on the Mac.
Related:
Most of the older iTunes functionality has been moved to the Finder App.
Where is the Connected iPhone in the new Finder App?
Your connected iPhone is accessible via the Finder App on your MacBook.
Once you connect your iPhone to your MacBook running macOS Catalina, open up the Finder App.
Here you will find your connected iPhone under 'Locations' in the left-hand pane. When you scroll down in the Finder left-hand pane to 'Locations', you will see your iPhone or iPad device listed here.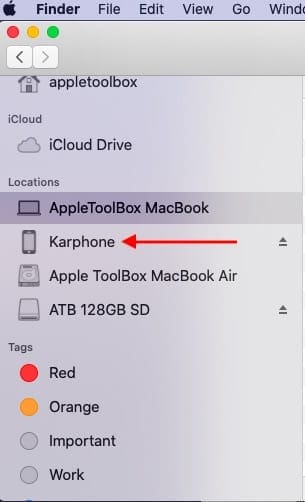 How to Sync your iPhone in macOS Catalina
You can either sync the entire iPhone or iPad or choose to sync selectively via using the various tabs within the Finder.
Click on your iPhone / iPad from the list of devices under the Location section to get started
You will need to Pair your iPhone or iPad with your MacBook running macOS Catalina by Clicking on Pair.
Click on 'Trust' when you see the 'Trust This computer' message on your iPhone.
Enter Passcode on your iPhone when prompted
Now you will see the details of the connected iPhone on your MacBook

No more iTunes. Use Finder App in macOS Catalina to Sync your device.

From this screen, you can click on 'Sync' to begin the syncing process
Please note that you can also selectively sync your content such as music by playlist or artists instead of the entire music library by looking under the various tabs ( covered later in the article).
Use Finder to Restore your iPhone in macOS Catalina
The finder also provides users with the ability to restore their iPhone or iPad much like the restore function similar to the old iTunes.
Click on the General Tab in the Finder iPhone description screen
Next, you can click on 'Restore iPhone' to get started
Confirm if you need to backup your iPhone before restoring
Confirm if you are ready to erase your iPhone by clicking on 'Restore'
This will start the process of Restoring your iPhone
macOS Catalina Finder features for dropped iTunes functionality
When you connect your iPhone to your Mac running macOS Catalina, you will also be able to access the Backup functions fro within the Finder App.
You can setup your iPhone to backup automatically from here by choosing to Backup from the iCloud or the computer.
Much like the old iTunes, you can check and apply a new iOS update from the Finder App on your MacBook by Clicking on 'Check for Updates'
The Finder section for connected iPhone or iPad has the following key tabs:
General : This is where you will find the ability to backup/restore/check for updates for the connected iPhone or iPad
Music: The section here provides you with the option to sync all Songs or you can choose to filter by artist, playlist, albums etc. This is a must-have feature as you can selectively sync your music between your iPhone and computer. Make your selections and then click on Sync to get it going.
Movies: Syncing movies is the similar to Music. You can either sync the entire library or selectively search for the movies and apply 'Sync'
For TV Shows and Podcasts, you can also filter by episodes of a show and then apply the syncing

You can select which podcasts to sync.

Files are also available as an option here apart from Audiobooks, Books and Photos. You should be able to see your pages documents and other Files content here.
We are not sure how the Photos would work. There may not be a direct sync function here since Photos are available via iCloud.

 

Lastly using the 'info' tab, you can sync your contacts and calendars with your iPhone or iPad

Sync Contacts and Calendar between iPhone and Mac
This is definitely different than what we had in iTunes but it is more simpler and intuitive to use. it will definitely take some time to adjust to these new Finder features in macOS Catalina. 
Restore and Backup iOS 13 device with older macOS
There are many users who tend to upgrade their iPhone and iPad to the latest operating system but keep their MacBook on an older macOS.
What happens if your iPhone is on iOS 13 and your MacBook is running an older macOS version such as High Sierra or macOS Mojave?
Can you still backup and restore your iPhone or iPad?
Not a problem.
We tested an iPhone X running iOS 13 with macOS Mojave and backed up successfully
The iTunes on older macOS works as intended with iOS 13 allowing you to backup and restore your iPhone and iPad.
It will also take some time to understand how the old custom Ringtones would work from a syncing perspective.
When you click anywhere on the Finder window in macOS Catalina, you will see 'Import from iPhone or iPad' that allows you to take photos and scan documents on your idevice and have them made available on your Mac.
This feature is not new as it was also available in macOS Mojave.
We plan on keeping you updated as we work with future iterations of macOS Catalina. macOS Catalina will be available for public release sometime in fall of 2019
Obsessed with tech since the early arrival of A/UX on Apple, Sudz (SK) is responsible for the original editorial direction of AppleToolBox. He is based out of Los Angeles, CA.
Sudz specializes in covering all things macOS, having reviewed dozens of OS X and macOS developments over the years.
In a former life, Sudz worked helping Fortune 100 companies with their technology and business transformation aspirations.