Apple's yearly Worldwide Developer Conference isn't usually known for being a place for the company to show off its most popular consumer hardware. In years past, WWDC has been the launchpad for devices like the Mac Pro. Meanwhile, the likes of the MacBook Air or MacBook Pro are unveiled at separate events.
Related Reading
Surprisingly, WWDC 2022 was a break from the norm, in more ways than one. Along with getting a glimpse at what's to come from Apple's various software platforms, we also saw the Apple M2 chip announced. And along with it, the first two devices to be powered by Apple's M2 processor will be the redesigned MacBook Air and the MacBook Pro.
But this MacBook Pro doesn't bring all of the glitz and glam that we see with the MacBook Air 2022. Nor does it bring a redesign to fall in line with the 2021 14-inch and 16-inch MacBook Pro models. Today, we're taking a look at the differences between the M1 MacBook Pro vs M2 MacBook Pro to help you decide if you should upgrade.
M1 MacBook Pro vs M2 MacBook Pro: What's the Same?
Putting it plainly, there's a lot in common when comparing the M1 MacBook Pro to the M2 MacBook Pro. The design and chassis are literally identical, offering the same dimensions and weight as one another. You'll still find a 13.3-inch Retina display, along with a 2560 x 1600 resolution and a non-ProMotion screen.
Battery life is the same, with the M2 MacBook Pro rated for the same 17 hours of web viewing as its predecessor. Apple is even keeping the Touch Bar around for some unknown reason, to go along with the Touch ID sensor. The port selection also remains the same this time around with two Thunderbolt / USB 4 ports and a 3.5mm headphone jack.
| | | |
| --- | --- | --- |
| | M1 MacBook Pro | M2 MacBook Pro |
| Display | 13.3-inch Retina | 13.3-inch Retina |
| | 2560 x 1600 | 2560 x 1600 |
| Processor | Apple M1 | Apple M2 |
| | 8-core CPU | 8-core CPU |
| | 8-core GPU | 10-core GPU |
| | 16-core Neural Engine | 16-core Neural Engine |
| RAM | 8GB / 16GB | 8GB / 16GB / 24GB |
| Storage | 256GB / 512GB / 1TB / 2TB | 256GB / 512GB / 1TB / 2TB |
| Camera | 720p FaceTime HD | 720p FaceTime HD |
| Battery | Up to 17 hours | Up to 17 hours |
| Charging | 61W USB-C Power Adapter | |
| Ports | Two Thunderbolt / USB 4 | Two Thunderbolt / USB 4 |
| Authentication | Touch Bar and Touch ID | Touch Bar and Touch ID |
| Dimensions | 0.61 x 11.97 x 8.36-inches | 0.61 x 11.97 x 8.36-inches |
| Weight | 3.0 pounds | 3.0 pounds |
And if you were hoping to see Apple implement the fancy and new 1080p FaceTime HD webcam into the bezel, you'll be disappointed. The M2 MacBook Pro still uses the same outdated 720p FaceTime HD webcam from the old days. Even the storage configurations are the same, as you can get the base model with 256GB of storage, or upgrade it all the way to 2TB.
Same Limitations
One of the most frustrating limitations, when it came to any of the standard M1 Mac devices, is its monitor support. Unfortunately, that trend continues into the base-level M2 Mac. Both the 2022 MacBook Air and 2022 MacBook Pro will only be able to support up to two total displays. And it's important to remember that out of those two displays, one of them is already accounted for with the built-in screen.
With the improvements seen in the M1 Pro, M1 Max, and M1 Ultra, we were hoping these limitations would be a thing of the past with the M2. That doesn't seem to be the case, so if you plan on using the M2 MacBook Pro as a centerpiece for your home office, you'll only be able to have one additional display connected.
M1 MacBook Pro vs M2 MacBook Pro: What's Different?
So no, you won't be able to put the M1 MacBook Pro vs M2 MacBook Pro side-by-side and tell which is which. Instead, practically all of the changes come courtesy of a processor upgrade. It's a similar situation to what we have seen in previous iPhone and iPad models, offering a performance boost as opposed to a design overhaul.
What does the M2 offer that the M1 doesn't already provide? For one, there's a third RAM configuration available with the 2022 MacBook Pro. For the first time, you can pick up a Mac with 24GB of RAM, as opposed to the maximum of 16GB offered by the M1 version. It's a nice touch to be able to configure your computer with more than 16GB of RAM, even if it does seem a bit odd to max out at 24GB.
CPU Performance
But what about actual performance? Taking things at face value, the M2 MacBook Pro essentially features the same core configuration, with 8 CPU cores. This combines four high-performance cores with four efficiency cores, the same as the M1 chip. Both of these chips are even created using the 5nm process, so there are no major differences there.
Instead, Apple was able to pack even more transistors into the design of the M2, which is said to result in about an 18% uptick in performance. Single and Multi-core benchmarks seem to back up these claims, despite the 2022 MacBook Pro not yet being available to the public. And as we mentioned, you can now pair the M2 with up to 24GB of RAM as opposed to 16GB, giving you a little more headroom if you're doing more intensive tasks.
GPU Performance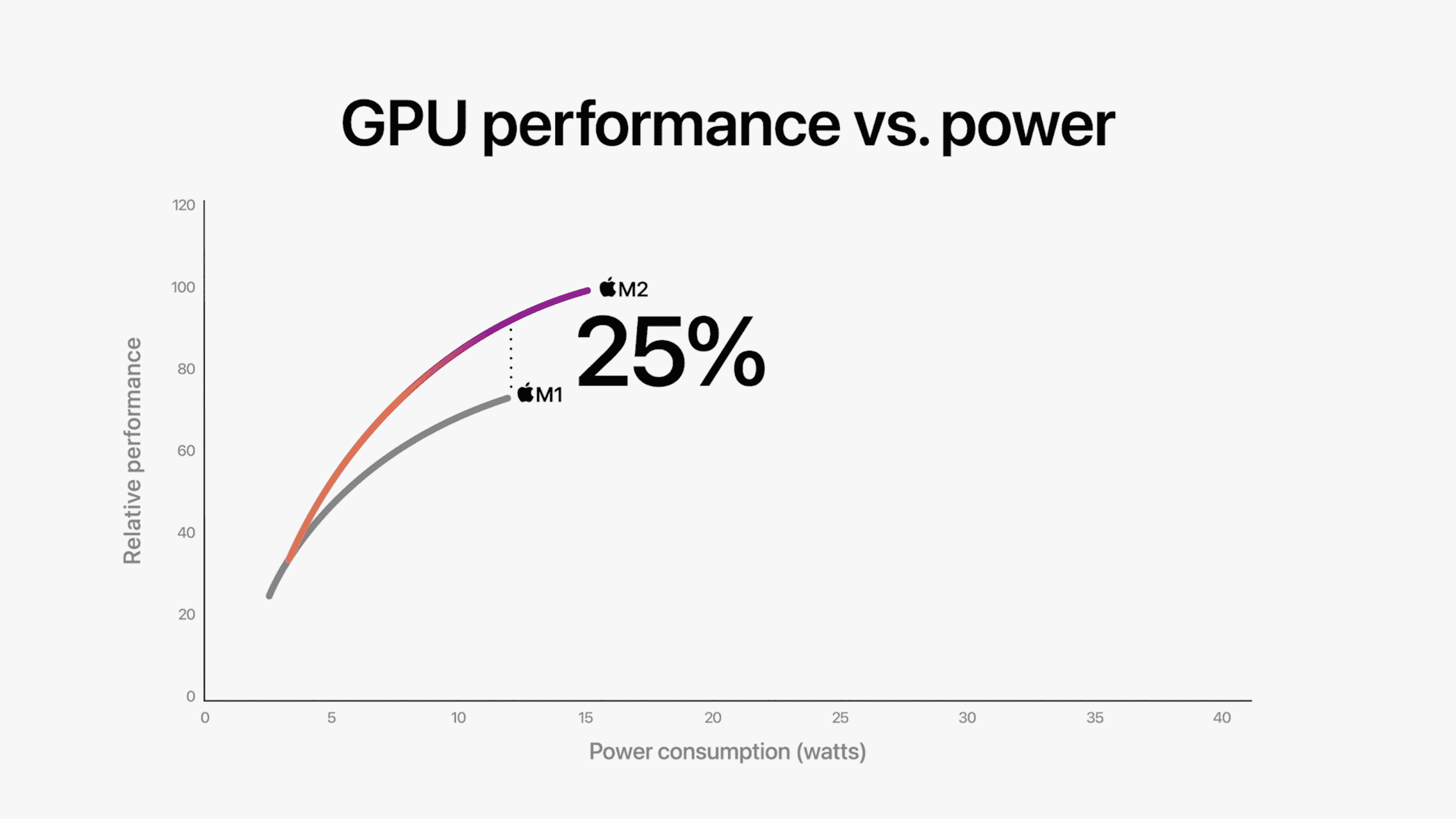 As for GPU performance, the M2 MacBook Pro is only available in a 10-core configuration. The standard 8-core configuration seems to be a 2022 MacBook Air exclusive, for now at least. It also gives the M2 two more cores to work with compared to the M1 MacBook Pro which was only available with 8-cores.
According to Apple, the end result is a sizable 25% boost at similar power levels. But at maximum power, the Apple M2 chip and the new MacBook Pro will offer 35% more power compared to the M1 MacBook Pro. The CPU jump is nothing to snub your nose at, but the increased GPU performance might just be enough to push you over the edge.
M1 MacBook Pro vs M2 MacBook Pro: Should You Upgrade?
When comparing these two laptops, it's tough to really say whether you should upgrade or not. While the performance gains are definitely a nice touch, and fans of the Touch Bar can rejoice for another year, the design is just putting us off. There aren't any fun and whacky colors to choose from, and the port selection hasn't even been upgraded. Plus, there aren't any gains to be had from battery life.
What keeps tipping us over to the other side, however, are the performance gains. An almost 20% boost in CPU performance and up to a 35% boost in GPU performance are rather impressive. Of course, now that we got a look at Apple's entire M1 lineup, we expect to see something similar come to the 14-inch and 16-inch MacBook Pro models with an M2 Pro and M2 Max chip.
That being said, unless you need a new MacBook Pro right now, we would recommend holding off for the time being. And we would actually recommend looking at Apple's online Refurbished Store for a 14-inch MacBook Pro with the M1 Pro. Even with the base configuration, it will likely still be more powerful than the M2 overall, while giving you added ports and a much better display.
Andrew is a freelance writer based on the East Coast of the US.
He has written for a variety of sites over the years, including iMore, Android Central, Phandroid, and a few others. Now, he spends his days working for an HVAC company, while moonlighting as a freelance writer at night.