It seems that 2022 is the year for Apple to start "forcing the issue" when it comes to new features. The company has seen a lot of kickback after it was discovered that Stage Manager for iPadOS 16 was limited to M1-powered iPad models. But it seems that there are also going to be a few features that won't be available on Mac computers that are still powered by Intel chips.
Related Reading
What macOS Ventura Features Are Limited To M1 and M2 Macs?
Along with introducing macOS Ventura, giving us a glimpse at what to expect later this year, Apple also debuted its M2 chip. The best part about this is that you don't have to wait much longer to purchase an M2 device, as the 2022 MacBook Air and 2022 MacBook Pro are coming soon. But with that in mind, these are the macOS Ventura features that Intel Macs won't be able to enjoy.
Using Emoji with Dictation
During WWDC 2022, Apple took some time to show off some amazing improvements coming to Dictation on your Apple products. Your devices, including macOS Ventura computers, will be able to automatically punctuate text. This includes automatically entering periods, commas, and question marks, simply based on your pauses and inflection when speaking.
Another feature coming to Apple's various devices is the ability to insert and add emoji just using your voice. However, when it comes to macOS Ventura features, this will only be available on devices powered by the Apple M1 or M2 chip.
Live Captions
Another feature that non-M1 or M2 devices will miss out on is Live Captions in FaceTime. On the whole, Live Captions automatically provides a transcription of whatever is being spoken on your screen, including FaceTime calls. It's an accessibility feature that was detailed ahead of the WWDC '22 Keynote, and is set to truly enhance the overall experience on your devices.
Reference Mode using Sidecar
Another surprising feature was announced during the WWDC '22 Keynote, and it finally gives users to take advantage of Mini-LED, Liquid Retina XDR display on the 2021 12.9-inch iPad Pro. Reference Mode is something geared towards professionals, as it provides a way to check color accuracy.
While there is a Reference Mode coming to iPadOS 16, the limitations for the Mac come for those who want to use these features with their iPad Pro in Sidecar. In the example provided, a MacBook Pro is connected to a Studio Display, with the color grading on the MacBook, while the Studio Display gives you the full look of Da Vinci Resolve. And then the Sidecar-connected iPad Pro provides the output image.
Other macOS Ventura Features
Considering that the iPadOS 16 update wasn't detailed or shown off until the end of the WWDC '22 Keynote, it's obvious that macOS was put on a bit of a back burner. But there are still quite a few new and exciting features coming to the Mac later this year.
Macs Compatible With macOS Ventura
iMac: 2017 and later
iMac Pro: 2017
MacBook Air: 2018 and later
MacBook Pro: 2017 and later
Mac Pro: 2019 and later
Mac Mini: 2018 and later
MacBook: 2017 and later
Stage Manager is the defining feature of iPadOS 16, but it's also coming to macOS Ventura. This aims to provide users with a new and unique way to multitask on your Mac. When enabled, you'll see open apps and groups of apps on the left side. But this also works with Mission Control on macOS, allowing you to basically create different "desktops" with various apps assigned to those spaces.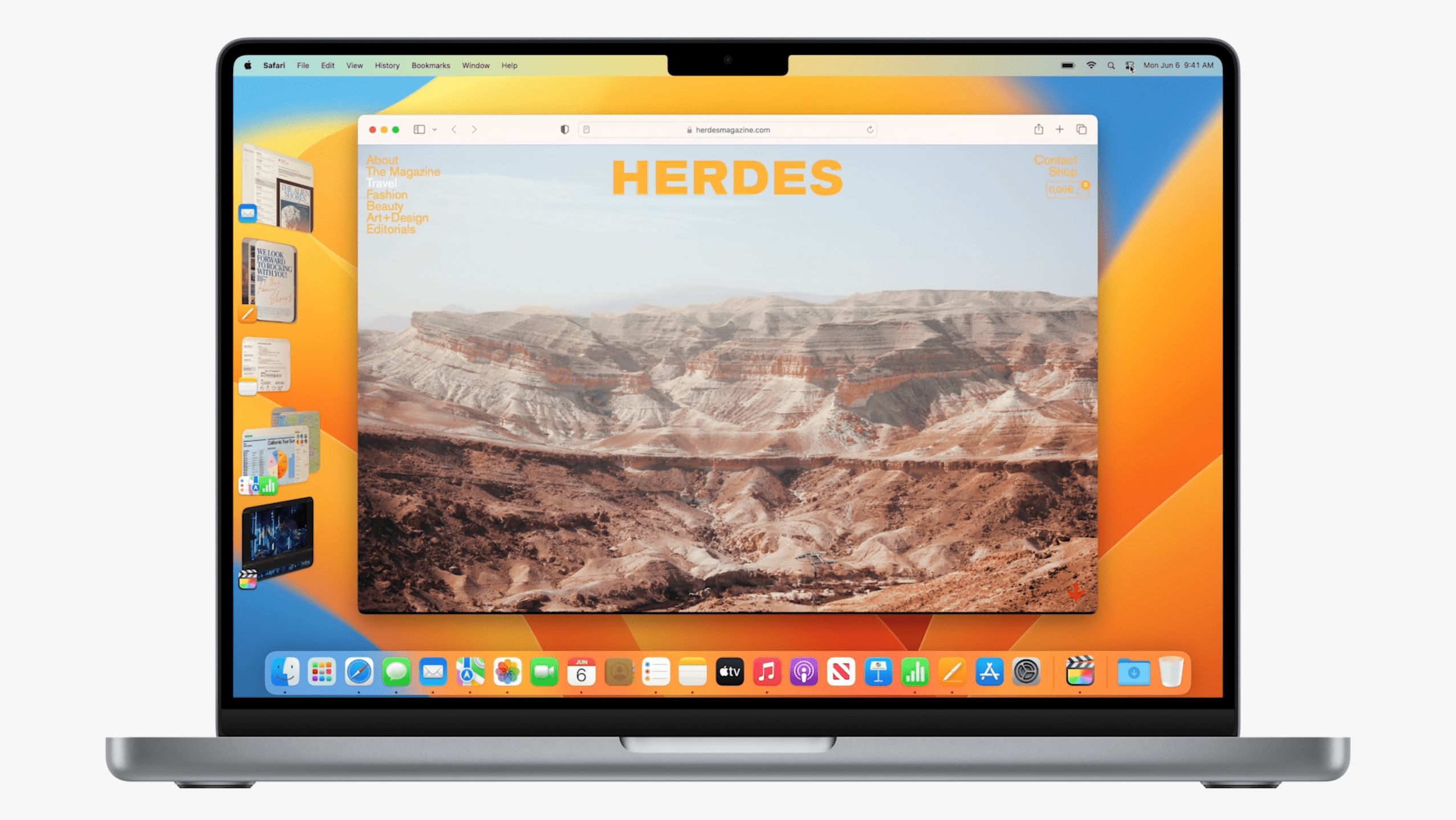 The Mail app is getting some love too, as search functionality is being revamped to be more accurate and will attempt to complete suggestions as you type. You'll also be able to schedule emails, undo send, add rich links, and can be notified to follow up on those emails you need to remember.
With macOS Ventura, Spotlight now makes it possible to find images in Photos, Messages, Notes, and pretty much anywhere on your Mac. Plus, it will even provide some web results if you need to go that route. But Quick Look is also coming, as you can highlight a Spotlight result and hit the Space Bar to preview the file, image, or document.
macOS Ventura may feel like more of an iterative update, but when you look at the bigger picture, this is easily one of the most exciting updates ever. It's just a shame that not all of the latest features will be available for all Mac owners.
Andrew is a freelance writer based on the East Coast of the US.
He has written for a variety of sites over the years, including iMore, Android Central, Phandroid, and a few others. Now, he spends his days working for an HVAC company, while moonlighting as a freelance writer at night.