The chances are that if you are reading this article, you have already tried a bunch of different things and have not found success in resolving the iPhone charging issue. Either your iPhone 6 does not charge at all or charges very slowly. Please check the suggested ideas below to help you with the fix for the problem.
It is very easy to be paranoid and think that your battery has gone for a toss when you experience this kind of problem. If your iPhone doesn't charge, replacing the battery inside of the phone will most likely not have any effect. Just because the charger is plugged in, that doesn't necessary means it has to give power to the iPhone. There are many different reasons why as to that happen.
If you think that your iPhone is not charging because you may have had a liquid damage, Please check for signs of your device. If the LCI indicator is on, it is bad news as you may have had liquid or some corrosive damage to your phone. You will need to go to the Apple Store / Genius Bar and have them look at it.

Your iPhone Won't Charge? Possible Causes
Based on our reader's comments and emails, we have found that the users typically experience this issue when their charging port has accumulated a lot of debris or dirt. With prolonged use of the device,  this is bound to happen. To clean the charging port, find a slim object that is non-metallic such as a toothpick and gently dig out any lint or other debris that may have been stuck in your charging port. Make sure to check the corners and sides of the port while cleaning the port.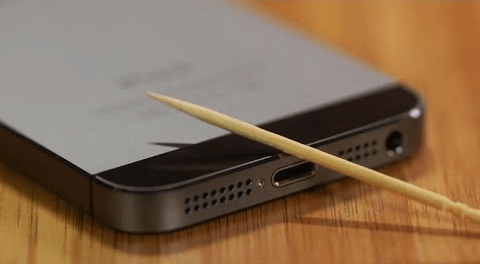 If you have been using the same charging cable from high school days with duck tape on it, Maybe it is time to revisit that strategy. Borrow a friend's wall adapter and charging cable and try it out. If the other lightning cable works and charges your iPhone, this will solve you a lot of headaches once you buy a new cable.
How to Fix iPhone 6 Charging Problem
Step 1: If you happen to have any power left on the device, and you are trying to troubleshoot a slow charging issue, attempt to do a soft reset on your iPhone. A soft reset restarts your phone and does not erase any of your content or data
Step 2: From the home screen, press and hold the Power key and the Home key. Release the Power key and the Home key when the Apple logo appears.
Step 3: If the Soft reset did not work from the prior step, Go to Settings -> General -> Reset -> Reset All Settings. Wait for the phone to shut down. Then connect your charger and see if it works for you.
We are confident that this problem should be resolved for you if you were able to properly clean out the charging port. Most users experiencing this issue have reported success unless their iPhone 6 had some major hardware issues. We wish you all the best. Please feel free to share your comments below.
Obsessed with tech since the early arrival of A/UX on Apple, Sudz (SK) is responsible for the original editorial direction of AppleToolBox. He is based out of Los Angeles, CA.
Sudz specializes in covering all things macOS, having reviewed dozens of OS X and macOS developments over the years.
In a former life, Sudz worked helping Fortune 100 companies with their technology and business transformation aspirations.