It can be convenient to track your health data. Your phone can record data like steps walked and running distances. The Health App can also pull data from other apps to track things like Activity. You might also see options to log activities like swimming distances, flights of stairs climbed and even time spent standing.
However, it can also make sense to want to erase this data. You might want to start from scratch in some cases. You may have taken a new job and want to see fully what your activity is like working in a new office environment without pulling data from your old working situation. You might also want to set new health and weight loss goals and see how your current activity is fully contributing under the new goals. You might even have had a surgery and don't want old activity getting in the way of monitoring your current level of movement.
So below we'll go into how to erase health data from both the Apple Watch and the iPhone.
How to Erase Health Data from the iPhone and Apple Watch
First, decide how completely you want to erase the data. You might want to erase the data just off your devices, and you might want to keep it saved to the cloud. To set how you want data to eras:
Go into your Settings app (the cogwheel icon).
Select your name to access the Apple ID.
Tap iCloud and scroll until you see your Health app, like below:
If you don't want to erase the data from your iCloud, have the toggle off (so it's gray).  If you do want to erase the data from iCloud, have to toggle on (so it's green).
The easiest way to erase the health data itself is:
1. Go into the Settings App.
2. Scroll until you see the Health App. Select It.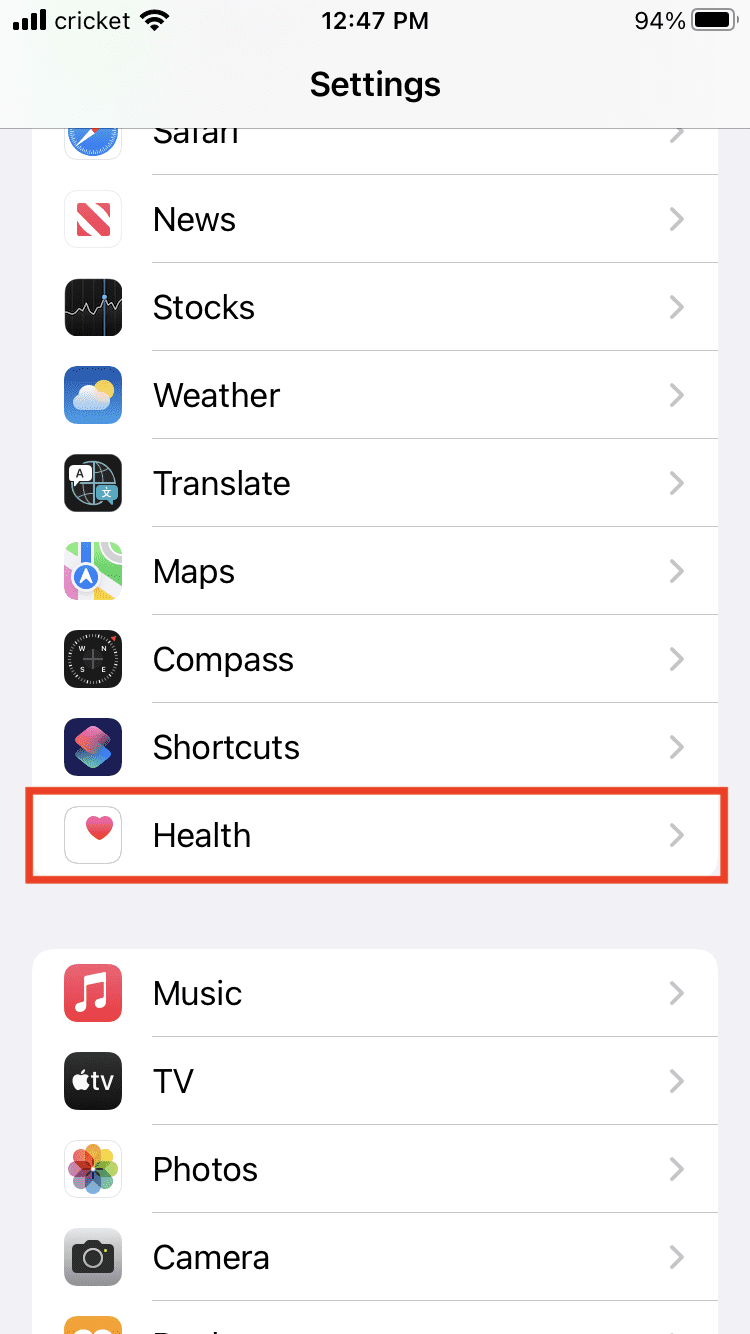 3.  Select Data Access & Devices.
4. Select the Devices listed, such as the iPhone or the Apple Watch.
5. You'll see a red selection at the bottom of the screen reading Delete All Data from "listed device," such as the following below. Tap it.
6. You'll be asked to hit Delete again to confirm.
7. Do these steps for the data you wish to erase on either device.
You can also delete data in the Health App itself. This option allows you to export the data to a ZIP file to save elsewhere. However, be aware this file can take up to gigabytes of memory. You just need to tap your profile picture or icon in the Health App, scroll to the Privacy section and select the Export All Health Data option and follow the prompts. After that, you can tap Devices, select the device you wish to delete data from and then select Delete all Data and confirm Delete again.