Siri, Apple's voice command system, is THE iconic iPhone feature that recently launched on Apple TV and even macOS. Hey Siri makes everyday tasks simple and fast.   AND Siri is fun.
We love speaking with Siri and of course asking random and obscure questions, just to hear what Siri responds with!  So for many of us sci-fi nerds, it never seems to get old hearing Siri responding to quotes from Hal 9000 in 2001: A Space Odyssey, existential questions from The Hitchhiker's Guide to the Galaxy, or even tidbits from Box in Logan's Run…alright, nerds off!
But Siri is really a serious powerhouse of an assistant.  And she is always available to help with so many of our modern life's duties, from looking up information to posting a tweet to making dinner reservations.  Siri is the real deal–and getting better and more sophisticated with each version of iOS.  And now, Siri is available in many different languages, for just about every Apple device out there.
But even those iFolks who've used iPhones and Siri for years are not fully aware of the capabilities of Siri. For that reason, we've come up with a list of Siri features that totally rock and make our lives a lot easier.
For an in-depth look at Siri for macOS, check out this article!
So without further ado, here we go.
First A Quick Tip on Siri's Vocal Training
When communicating with Siri, make sure you speak at a moderate and steady pace.  Try and pronounce each word, without slurring into the next word.  Doing this process helps avoid mistakes.
If you notice that Siri understands you less and less as time goes by and is increasingly getting you wrong, it's best to retrain its vocal recognition. By improving Siri's recognition of your voice, we get Siri back to optimal performance.
To reactivate Sir's vocal recognition feature in iOS 11
Open the Settings app on your iPhone or iPad
Tap Siri & Search
Turn OFF "Listen for Hey Siri"
Wait 10-20 seconds
Turn ON "Listen for Hey Siri"
Go through all the prompts to retrain Siri

Siri will have you say "Hey Siri",
"Hey Siri, how's the weather today?"
"Hey Siri, it's me."
Tap Done

To reactivate Sir's vocal recognition feature in iOS 10
Open the Settings app on your iPhone or iPad
Tap Siri
Turn OFF "Allow Hey Siri"
Toggle OFF Siri
Restart your iDevice
Return to Settings> Siri
Turn ON Siri
Toggle ON "Allow Hey Siri"
Go through all the prompts to retrain Siri

Siri will have you say "Hey Siri",
"Hey Siri, how's the weather today?"
"Hey Siri, it's me."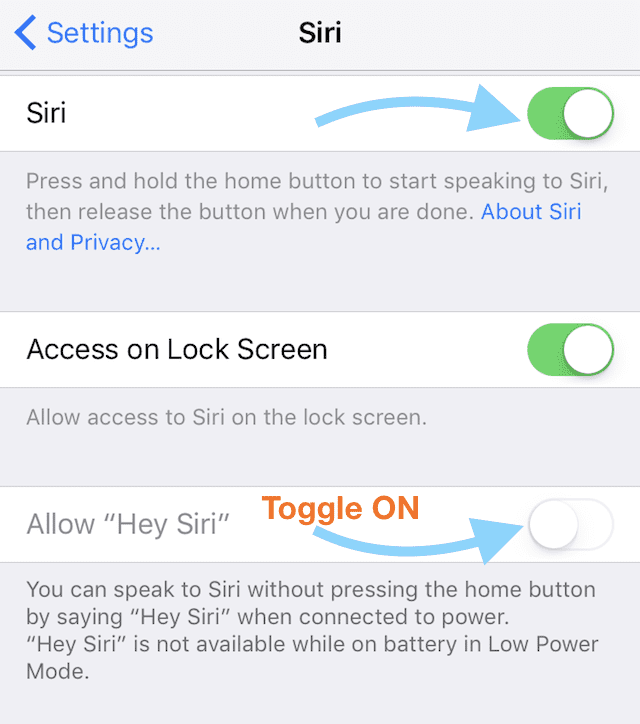 Performing this retraining helps improve Siri's ability to understand your unique voice.
Siri Changes with each iOS
Apple updated Siri's interface with robust search and suggestion interfaces and built-in a lot more machine learning into Siri's engine. She even translates from English into several languages, including Mandarin, Spanish, French, German, and Italian with additional languages coming soon.
In iOS 11+, Siri is everywhere and learns from you and even anticipates what you want by making suggestions before you even ask.
Apple's goal is to make Siri much more a personalized experience moving forward. And what powers all that is Search & Siri Suggestions. 
To get this power, you need to enable some new features in Siri's Settings, including Suggestions in Search, Suggestions in Look Up, and Individual App's Search & Siri Suggestions.
Siri Suggestions in Search and Suggestions in Look Up
These two Siri & Search settings allow Siri to personalize suggestions when you search for things. It's what makes Siri uniquely your personal assistant and not someone else's.  With these settings ON, Siri communicates with Apple Servers to power these robust searching features. Find them in Settings > Siri & Search > Under Siri Suggestions. 
Additionally, you give or take away permission for Siri to search within apps to locate information for searches, Look Up, and Keyboard. Siri uses this information to further isolate appropriate suggestions for you! Find these individual App toggles in Settings > Siri & Search > Under Siri Suggestions in the App List. 
Amazing Siri Features: Announce Who's Calling
Talk about a feature we've wanted for a long time.
Starting with iOS 10, Siri now announces who's calling, so you get the calls you want and avoid the calls you don't (think telemarketers here.)  This feature works whether you're in the car, wearing headphones or earbuds, and wherever you are–you decide the setting.
To Turn on Siri Announce
Go to Settings
Select Phone
Tap Announce Calls
Select Announce feature you want

Choose from always, headphones&car, headphones only, or never
So gone are the days when you must physically take out or glance at your phone just to see who is calling.  Sounds good to me!
Check out our in-depth article on Siri Announcing Calls.
Hey Siri and Skype
Use Siri to call friends on Skype without ever having to open the sSkypeapp.  Just say "Hey Siri, call Sonja on Skype," and Siri does the rest for you.  As long as you have the relevant Skype contact information saved on your iOS device, Siri and Skype take over and connect your call.  Siri even sends Skype messages, so say something like "Let Sonja know I'm almost at the restaurant in Skype."
How cool is all that?
To get Siri working with Skype
Go to Settings
Select Siri
Tap App Support
Toggle Skype ON
That's it.  Now Siri should coordinate with all your Skype contacts, handsfree.
Starting with iOS 10, Skype is optimized for business users.
These updates include better messaging and VOIP features, a special version of Skype for Business for Mac users, and even real-time translation. Using Siri,  Skype video calls, audio calls, and instant message are now a breeze–all without having to open the Skype iOS app first.
Also, Skype now takes advantage of CallKit.  So your incoming Skype calls on your iDevice show up on your Lock screen.  And switching between Skype and regular calls is now seamless and easy.
Siri Get Linked In!
Siri now sends messages to people you're connected with on LinkedIn.  So say something like, "Hey Siri, send a LinkedIn message to Elizabeth "Great job on recent iMessage article!"
Tweet for You
Siri posts to social media for you. And all you have to do is say Post to Twitter and then say what you want to post. Your tweet will then be posted on Twitter.  Before tweeting with Siri, sign into Twitter in Settings.
How-To Siri Tweet
Call out "Hey Siri" or press home button twice
Say "Post a tweet"
Tell Siri what you'd like your tweet to say
Tap Send to confirm or say Yes when

Siri

asks if you'd like to post it
Search Tweets
Not only does Siri tweet for you, Siri also finds tweets you want to read. It pulls out tweets from a specific person or even a subject. So say "Siri search for tweets about meditation." And Siri shows you all the tweets relevant to that subject.
Update Your Facebook Status
Let Siri do the work of updating Facebook. Just make sure you're signed in to Facebook in Settings and then let your voice be heard!
Call out "Hey Siri" or press home button twice
Say "update Facebook status" or something similar
Tell Siri what you want your Facebook status to be
Confirm by tapping Post or saying Yes when Siri asks if you're ready to post
Hey Siri, Take a Selfie!
Yup, that's right.  Starting with iOS 10, Siri's making snapping selfies a snap!
Call out "Hey Siri" or press home button twice
Say "Take a selfie"
The Camera app open and switches to the front-facing camera
Press the Circle capture button when you're ready.
Siri also helps with other types of photos and videos.
Just ask Siri to "Take a…."
"picture"
"Panoramic picture"
" Square picture "
"video"
"Time-Lapse video"
"Slow Motion video"
Siri opens the Camera app with whatever mode you asked for. But for now, Siri cannot actually take the picture (you still need to do this manually.)  And Siri does not currently enable Live Photos, turn on HDR, or set a timer.
Get the Math Right…the first time around
Oh if only you could use Siri during a test! But really, Siri is a serious number cruncher. This features is really helpful when calculating tips on bills or when diving up each person's share of a meal etc.  So simply ask Siri "what's an 18% tip on $67?" or "what's a third of $135?"
Call out "Hey Siri" or press home button twice
Tell Siri your math problem
Siri also solves more complex math problems such as square roots, reciprocals, percentages, fractions, even prime numbers and pi. Also, Siri answers questions involving subtraction, multiplication, and division and even combinations of them all. Just say "plus" or "add," "minus" or "take away," "multiply" or "times," and so forth.
Flip a Coin,  Roll a Die…and make a Decision
Not literally of course but besides calculating your math problems, Siri also helps you make decisions with the toss of a coin or a roll of a die. Just say "flip a coin" or "roll a die" and Siri responds (1-6 for dice or head/tails for coins).  If only all life decisions were so simple!
Reminders, To-Do Lists, and Meetings
Adding reminders is super easy by speaking them to Siri. Set specific times for meetings or tasks, create a shopping list, even create reminders for some daily activity.
Set Your Priorities Using Siri
Call out "Hey Siri" or press home button twice
Say aloud what you want to schedule, be reminded of, etc. and when if applicable
Tap Remove to cancel
Siri coordinates your calendar or sets up the reminder into your default Reminders list.
AND when setting a meeting or reminder on your iDevice, it also gets synced on all your devices provided iCloud is enabled.
You can even use Siri to remind you to do things based on your location like 'Remind me to call my sister when I get home.'  Just make sure you have Location Services ON.
Set Alarms
If you are too sleepy to set up your alarm, all you need to do is speak to Siri. Clearly say Alarm and ask Siri to wake you up at a designated time. You can also set an alarm for certain durations, so a short nap is easy to fit into your schedule even at work.
Conversions
Forgotten how many feet or even meters make up a mile?  Or the boiling point of water in both Fahrenheit and Celsius?  Or dollars to pounds, euros, rupees, or other currency conversions. These answers are all just one Siri command away. Siri makes quick conversions of measurements and easily converts currencies, units, and scales too (like yards to meters, pounds to kilograms, and Fahrenheit to Celsius.)
For these type of conversions and questions, it's so much easier to ask Siri than searching Safari or another browser.  So put Siri to use on all your conversions!
Attention all you world travelers!  Siri is a must to find out just exactly how much you are spending on that street market trinket, your evening meal, the metro fare…pretty much everything.  So stay on top of your travel budget with Siri!
Save Relations
Tell Siri about your relatives in Contacts so the next time you make a call, all you have to do is say "Call my mother" and so forth.  First, train Siri with the names of your relatives like "Alice is my sister."  Siri then asks you if you want it saved.  So save it and from now on use simple calling directives to phone relatives.
Teach Siri the Correct Pronunciation
Despite its know-it-all nature, Siri wants to correct her mistakes.  And she is especially bad at pronouncing names. If Siri pronounces a name incorrectly, say "That is not how you pronounce [name]."  Siri provides some alternatives and hopefully one of these options is the correct one.
Find a Holiday
Siri is good with dates too so whenever you are having trouble remembering a holiday or some specific day, ask Siri. For questions like "How many days until the New Year?" or "When is Thanksgiving, Diwali, or Ramadan?"
Yes, Siri is a smarty pants!
Change Settings
Siri also updates and changes settings for you. In fact, Siri spares you the time to get in and change some of your iPhone, iDevice, and even your macOS Settings.  Siri has access to many of your setting options.   So say things like "Open Contacts" or "Open [Any App] Settings."
Make Reservations
Siri connects with OpenTable to easily make meal reservations for you for at any participating restaurant. You need to download the OpenTable app and create an account for this integration to work.  And then you must turn Siri's app support for Open Table for this to work.
Once set-up, Siri uses your location to find the nearest restaurant to book a table at. It's best to be very specific with your request–provide the date, time, and the number of people attending.  Siri communicates with OpenTable and lets you know what options are available for the date, times, and seating requested.
Finding Planes above You
When traveling by plane, this is a really fun perk for the whole family.  Simply ask Siri "What planes are flying above me?" and Siri provides you all the information about altitude, angle and even the destination and flight number of the planes above you.
Discovering a New Direction
Starting with iOS 10, Apple Maps got a serious overhaul and update.  And maps is so much easier to work with using Siri so you get from one point to another and even calculate the distance between those two points. Siri finds nearby places like gas stations, hospitals, and restaurants for you and gets you there via walking, car, public transportation, and ride shares for Uber, Lyfy, Gett, and others in your area.   All you need to ask is "Hey Siri" followed by where you want to go and how you want to get there.  It's that simple.
Even get your ETA (estimated time of arrival) through Siri!  Just ask.
Summary
Siri has some serious chops!  Getting to know her and all the amazing things she does makes your life a bit less complicated.  Let Siri take care of some of those tedious things of life, like setting alarms, scheduling meetings, getting dinner reservations, and calculating all your tips.
Think of Siri as your 24-hour assistant and friend, always ready to help you get things done. From sending messages and tweets, placing all types of calls, and getting rides with Lyft–She does it all!  And Siri works hands-free so chatting is easy in your car–find alternative routes when traffic is moving at a snail's pace.
If you are an iFolk who really digs Siri, check out this article on what the future holds for our dearly beloved assistant!
The more you use Siri, the more you love this amazing Apple feature.  And you'll discover how she makes your life a lot more manageable and perhaps even a bit more fun!
For most of her professional life, Amanda Elizabeth (Liz for short) trained all sorts of folks on how to use media as a tool to tell their own unique stories. She knows a thing or two about teaching others and creating how-to guides!
Her clients include Edutopia, Scribe Video Center, Third Path Institute, Bracket, The Philadelphia Museum of Art, and the Big Picture Alliance.
Elizabeth received her Master of Fine Arts degree in media making from Temple University, where she also taught undergrads as an adjunct faculty member in their department of Film and Media Arts.