Apple HomeKit arrived on the scene in 2014 alongside iOS 8. Since then, the list of HomeKit-compatible products has steadily grown. This expansion has been most noticeable with smart lighting products from companies such as Philips Hue. When used with Apple's HomeKit framework, you can control the lights in your home from the Home app on iPhone and iPad. When this works, it's a beautiful sight. Unfortunately, when it comes to HomeKit, problems do arise.
In this article, you'll discover the most common problems associated with HomeKit and Philips Hue lighting and what you can do to resolve them.
What is Apple HomeKit?
With HomeKit, users of an iOS device can configure, communicate with, and control smart-home appliances such as thermostats, switches and outlets, speakers, and much more. Combined with the Home app's automation feature, this integration can be further customized so that accessories react to changes in the home.
For example, thanks to automation, you can have your lights or heating system turned on/off depending on your current location. Or, you could have your door locks activate whenever you leave home.
Not all smart home products work with HomeKit, however. Products that do include a HomeKit label on the box and the device itself. A unique number on this label is required for installation. The code unlocks the keys for your iOS device to talk to the accessory and perform its magic.
Recommended articles:
A dirty little secret
Smart home products, regardless of whether they're compatible with HomeKit, all have one thing in common; they're controlled by separate apps. For the most part, these are all-in-one apps from the device manufacturers. In the case of Philips Hue, there's the free Hue app.
With this in mind, technically you don't have to use Apple's Home app to control your HomeKit-compatible products. The reason to do so, however, is simple enough to understand. It makes it possible to monitor and manage all of your HomeKit-compatible accessories from one location and use automation when necessary. Otherwise, you'd be using various apps for multiple products, which could prove confusing, depending on the number of products you own.
Troubleshooting: What might happen
The most apparent issue you may face with your Philips Hue lighting system (or any HomeKit-related product) is that they stop working from the Home app. The lights themselves will almost certainly work manually; if they don't, the bulb probably needs to be replaced. Try the following troubleshooting tips to resolve the issue.
Check the switch
With Philips Hue lighting products (and the required Hue Bridge), you can adjust and control your lights from anywhere in the world. However, if they aren't plugged in or the light switch is off, they don't work. The first thing you should do is make sure power is flowing to your lights.
Yes, this is a no-brainer, but it's the biggest reason behind issues with smart light. You can blame the person in your household that refuses to use an app to control the lights.
Luckily, the Home app marks disconnected lights accordingly, so you'll see first hand whenever this is the issue.
Check your firmware and iOS version
You should also make sure that you're using the latest software version for the products you use. In the case of your Hue lights, this means checking the firmware for each light bulb. You should also check which iOS version you're using on your iPhone or iPad and make sure it's up-to-date.
Under the Settings tab in the Hue app, tap Software Update. By default, these updates should be installed automatically, but like all technology, nothing works correctly 100 percent of the time.
To check the iOS version on your device, go into the Settings app under General > Software Update.
Run the updates as necessary.
Are you logged into your iCloud account?
To use HomeKit and the Home app, your iOS device must be logged into your iCloud account.
Go into the Settings app on your device and tap on your account at the top of the screen.
Next, confirm that you're logged into your iCloud account. If you are, you should see a link for iCloud in the second section of the page. If you're not, tap to log in.
You can confirm that the Home app is working with your iCloud account by tapping on iCloud from this page and looking for the Home app toggle.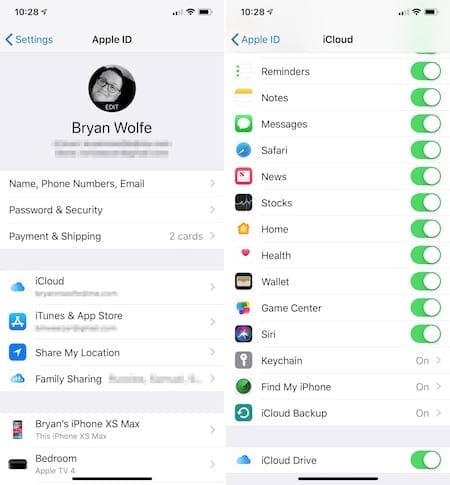 What about the other HomeKit accessories?
Can you still control other accessories from the Home app? If you can, there's something wrong with your Philips Hue setup. Otherwise, you might have a bigger problem and might need to reset HomeKit.
At this point, I'd first recommend rebooting the Philips Hue Bridge. To do so, unplug the device and give it a few minutes to reboot. Once the Bridge is back online, check to see if you can operate the lights through the Hue app. Then try doing the same in the Home app.
Restarting the Wi-Fi in your home is another suggestion. This process is different, depending on the type of router you own. Unplugging the device from your outlet for at least one minute should work with most products.
Do the lights work through the Hue app?
If you can use your Philips Hue lights from the Hue app but not through the Home app, the problem has to do with HomeKit. If not, it's time to reset your Philips Hue Bridge installation. For this, a factory reset is necessary.
Go to your Philips Hue Bridge and make sure you don't disconnect it. Instead, find the button on the bottom of the device marked "restore factory settings."
Using a small stick or pen point, press the button for five seconds.
Your Bridge has now been restored to factory settings. Once the device reboots, go into the Hue app and following the directions to connect your lights again.
Still not working?
Are your lights still not working through the Home app? It's time to reset HomeKit. After performing this final step, you'll need to reconstruct your HomeKit installation, which includes once again adding every HomeKit-compatible device to your system. Because this process could take a long time, depending on the number of devices you own, it's imperative you make sure you've tried every troubleshooting step before this before going ahead.
A good rule of thumb: If you can't control the lights through the Home app, but other HomeKit-compatible devices do work from this location, the problem is almost certainly on the side of Philips Hue. If this is the case, don't reset HomeKit.
Before resetting HomeKit, try this final troubleshooting technique:
Go into the Settings app under Privacy > HomeKit.
Toggle to the off position Hue.
Reboot your iOS device.
Once your device is back online, go back into in the page mentioned above and toggle Hue to the on position.
See if this resolved the issue.
If the time has come and you have no choice but to reset HomeKit, follow these steps:
In the Home app, click on the Home icon at the top right.
Scroll until you see Remove Home. Tap on it and confirm that you want to delete your home.
Once you do, you'll need to recreate your HomeKit settings for your location from the Home app.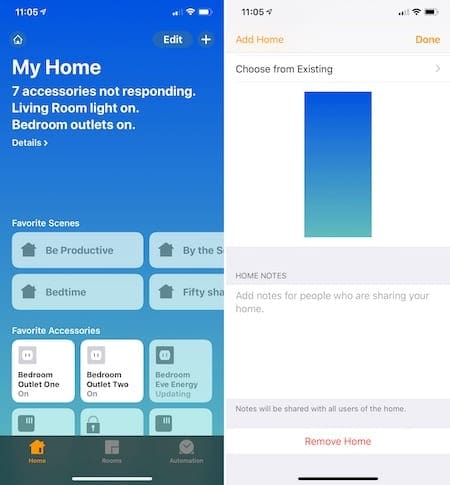 When in doubt
These HomeKit troubleshooting tips should help you resolve any issue you have with Philips Hue lighting products. If you're still running into problems, you should contact the manufacturer. You should also leave your comments below and let us know how you made out.