Apple's Home app offers a single place to go where you can control all your smart home accessories, so long as they're compatible with Apple HomeKit. You can also use it to create scenes, set up automation, and share your smart home with visiting guests.
If you've never used the Home app before—or if you're a little intimidated by the options available in it—this guide will walk you through all the basics.
We'll show you how to set up your smart home, control your accessories, schedule automation, and more.
Related:
How To Set Up the Apple Home App
The first time you open the Apple Home app, a setup assistant should walk you through the process of creating your home, adding an accessory, and assigning it to a room. But if that didn't happen—or if you need to make changes to your home—you can follow the setup up steps below instead.
Step 1. Create Your Home
The Home app automatically creates a home for you when you first set it up. However, you may want to edit your home settings to change its name and appearance or invite more people to your home.
Open the Home app and go to the Home tab. Select the house icon in the upper-left corner and go to Home Settings.
Choose a Name for your home at the top of this menu.
Beneath that, you can choose to Invite People by searching through your contacts. Anyone you invite to your home can control any of your connected accessories. Though you can choose whether they need to be in the house to be able to do so or not.
If you don't want to give someone access to all your smart home accessories, you can use the Speakers & TVs section to let anyone on your Wi-Fi network access your smart speakers and TVs, without being able to control anything else.
Further down, you can choose a default Home Wallpaper to use. You can also write some Home Notes, which might give people the code to the front gate or explain how to use certain accessories.
It's actually possible to create multiple homes in the Home app. For most of us, that won't be necessary. But if you are fortunate enough to own multiple homes, simply tap or click Add Home to get started setting up the next one.
Step 2. Add an Accessory To Your Home
At the heart of the Apple Home app are your smart home accessories. These could include smart bulbs, security cameras, thermostats, switches, and various other devices.
However, for a smart accessory to work with the Home app, it must be compatible with Apple's smart home system, HomeKit. Make sure accessories say Works with Apple HomeKit somewhere on the packaging before you buy them.
Before adding a smart accessory to your smart home, make sure it's powered on. If possible, connect it to your Wi-Fi network and enable pairing mode.
To add an accessory, open the Home app and go to the Home or Rooms tab. Select the plus (+) icon in the upper-right corner, then choose to Add Accessory.
You need to use the camera on your iPhone or iPad to scan the Apple HomeKit QR code on your smart accessory (it may also be on the packaging or in the user instructions). You may also be able to add your smart accessory by holding it near to your Apple device.
Your device may prompt you to press a button or enter a code from the smart accessory to confirm the setup.
If you can't add your device, tap I Don't Have a Code or Cannot Scan to make your device search for any nearby devices. If your accessory doesn't show up, contact the manufacturer for more help.
Step 3. Assign Accessories To Different Rooms in Your Home
When you add accessories to the Home app, it automatically assigns them to your Default Room. But you can create multiple different rooms in the app, each representing a different real-life room in your home.
To add or edit the rooms in your home, go to the Home or Rooms tab and select the house icon, then choose Room Settings.
From this screen, you can change the Room Name, Zone, and Room Wallpaper for your current room. A zone is a group of rooms you can choose to create, like Upstairs, Downstairs, or Bedrooms.
Use the back arrow in the upper-left corner to view all the rooms in your house and switch between them, then hit Add Room to add new rooms.
It's a good idea to add a room for every room in your home that has a smart accessory in it. You may also want to create a room for outdoor spaces, like the front or back garden.
To assign a smart accessory to a different room, search through your existing rooms to find it, then tap and hold (or double-click on a Mac) the accessory to open the controls for it.
Scroll down and use the Room option to assign it to a different room.
You can also enable the Include in Favorites option to add that accessory to the Home tab.
How To Control Accessories Using the Apple Home App
When you open the Apple Home app, the Home tab list all your favorite smart home accessories. Just tap or click on an accessory to turn it off and on.
You should also see a Home Status at the top of the app, showing smart accessories that need your attention or are in use right now.
If you can't find what you're looking for, go to the Rooms tab and use the house icon to switch between the different rooms in your home and find all your accessories.
To view more controls for an accessory, tap and hold on it instead (or double-click it on a Mac). This reveals a popup window with more options, which change based on the type of accessory you're using.
For example, these options allow you to do things like changing the brightness or color of a smart bulb or setting the exact temperature for a smart thermostat.
Apple frequently releases new HomeKit features that allow you to do more with your accessories.
More Ways To Control Your Accessories
You can also control your smart home accessories from the Control Center on an iPhone or iPad.
Swipe to open the Control Center and scroll down to find suggested smart home accessories based on your habits. Tap any of these icons to toggle the accessory on and off or tap and hold on it to open more options.
If you can't see these options in the Control Center, go to Settings > Control Center and enable Show Home Controls.
Finally, you can also use Siri to control your HomeKit accessories. This is often the quickest method since you don't need to open an app, search through menus, or even unlock your device at all.
Some useful HomeKit Siri commands include:
"Hey Siri, turn on the bedroom lights."
"Hey Siri, did I lock the front door?"
"Hey Siri, what's the temperature?"
Group Accessories and Zones Together
Sometimes it's useful to group multiple rooms or accessories together.
For example, with two bedside lamps, you may want to group them together so they always turn on and off at the same time. Or with an open-plan kitchen and dining room, you may want to create a way to control all the accessories in both rooms at the same time.
You can do this using groups, for accessories, and zones, for rooms.
To group multiple accessories, tap and hold (or double-click) on one of them, then scroll down and choose to Group with Other Accessories. From the page that opens, select all the accessories you want to group together, then create a name for them.
These grouped accessories will appear as one item in the Home app until you choose to ungroup them.
To group multiple rooms into a zone, open the Room Settings for one of the rooms and tap Zone > Create New. Then create a name for your zone, such as Upstairs or Outside. Finally, change the settings for each room to assign it to the correct zones.
Create Scenes With Multiple Accessories
A scene allows you to change multiple accessories at once. For example, you could create a scene to dim the lights and close the blinds for watching a movie or turn everything off and lock the doors for when you go to bed.
After creating a scene, all you need to do is tap a scene button in the Home app to instantly change all the relevant smart home accessories to match the scene setup.
To create a scene, open the Home app and select the plus (+) icon in the upper-right corner, then choose to Add Scene.
You can choose to add pre-configured scenes suggested by Apple, or tap Custom to create your own scene.
When creating a custom scene, give it a Scene Name, tap the icon to choose a different picture for it, then hit Add Accessories and select all the accessories you want to control with your scene.
After adding the relevant accessories, choose the settings you want them to use for that scene. You can choose to turn accessories off, turn them on, or tap and hold to choose the exact settings you want them to switch to (for example, bulb brightness or color).
When you're finished, hit Done to create your scene. Then select it from the Favorite Scenes section of the Home tab, or go to the room with the first accessory you added to the scene to find it there.
You can also use Siri to activate certain scenes.
Set Up Automation
The best part of setting up any smart home is being able to create automation so that your various smart home accessories can turn themselves on and off based on the time of day, your current location, or other triggers.
Here are some examples of useful automation you may want to set up:
Turn off all the lights and lock the doors when you leave
Turn the lights on and bring the temperature down at sunrise
Use a smart switch and sensor to turn on a fan when you go in the office
The possibilities go on and on. The only requirement for creating automation is that you need an Apple TV, a HomePod, or an iPad to use as an Apple home hub.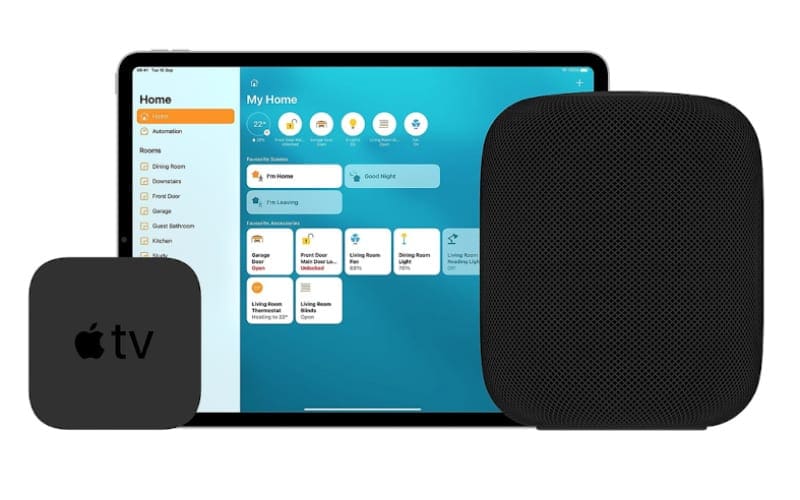 You also need to use an Apple home hub if you want to control your smart home accessories when you're away from home.
After you've connected your home hub, open the Home app and go to the Automation tab to get started. Tap Create New Automation, then choose the trigger you want to use to start your automation, choosing from:
People Arrive
People Leave
A Time of Day Occurs
An Accessory is Controlled
A Sensor Detects Something
On the following page, you can choose the exact settings for your automation trigger, such as the exact time of day or who needs to arrive or leave.
Finally, choose the scene you want your automation to trigger or select the individual smart home accessories—and their subsequent settings—that you want your automation to control.
How Did You Set Up the Apple Home App?
Smart accessories offer a wealth of possibilities in the ways you can set up your home, especially when you start creating automation to make your accessories turn on and off by themselves.
But all these possibilities can make it incredibly daunting when it comes to setting up your own home. It's difficult to know where to start or what you're even able to do with your accessories.
That's why we want to hear from you.
How have you used the Apple Home app to set up your smart home? What are the most useful accessories you own? What are your favorite accessories? And have you ever considered using Siri Shortcuts to take your smart home controls to the next level?