I'm a big proponent of using your tech to not only entertain you but improve your life. Whether that means working out more, finding time to hit your New Year's Resolutions, or building your interpersonal relationships. In today's post, I'm going to continue this theme by sharing ten of my favorite iPhone budgeting apps.
The apps in this post will be varied in price, approach, and design so that anyone reading this can find something that fits what they're looking for. You may even find that some of these are so different you want to download more than one.
With this in mind, let's get into it!
The 10 best iPhone budgeting apps
Perhaps the most loved and beginner-centric budgeting app on this list is You Need A Budget, or YNAB. YNAB is not only a great budgeting app but an educational app, too. It includes videos and other content to help you learn the fundamentals of budgeting.
These materials help you learn how to cut down on your spending, reduce your debt, and structure a budget that will build better financial habits. In other words, it's a lot more than just a budgeting app.
That said, YNAB also has the key components of all iPhone budgeting apps. It keeps track of your money, tells you what you can and can't spend, and helps you stay on track.
The two drawbacks of this app are that it doesn't have any automated tracking (you have to enter all of your transactions manually) and it's expensive. You'll pay around $84/year to use it unless you're a student, in which case you can use it for free for one year.
My favorite app on this list of iPhone budgeting apps is Daily Budget. I like it so much that I included it in my Best iOS Apps Of February 2021 article. I've been using it daily for almost two years now and imagine that you might end up loving it as much as I do.
This is a super simple app that requires you to do most of the work. You input your monthly income, bills, and savings goals. Then the app divides each of these amounts by the number of days in the current month and adds and subtracts them accordingly. So if your income is $50/day and your bills and savings are $20/day, then Daily Budget will add $30 to your budget every day.
From there, you add in your transactions each day to see how your budget is growing or shrinking. You can create long-term goals, spread purchases out over time, view analytics of your spending, and so much more.
Though this app requires a lot of work on your part, it puts you in touch with your spending. Nothing is automatic, and I think that's what makes it such a strong and simple app.
An app that is very different from YNAB and Daily Budget is Mint. I have mixed feelings about Mint. It's an app I used to use for my budget that I ended up never actually using. It automates almost everything for you, so you never really need to do anything.
For some people, this is exactly what they're looking for. Since Mint will connect to your bank account, track your income and spending for you, you can just check it now and then to see how you're doing.
While this might be a bit more accurate than an app like Daily Budget, I found that because it does everything for me, I never end up using it. There was no impetus for me to, so I just ended up ignoring it.
If you want something free that will integrate with and automate your budgeting for you, Mint is pretty high up on this list. But if that kind of system makes you complacent, then this probably isn't one of the iPhone budgeting apps you should consider.
Next up is EveryDollar. EveryDollar is an app by Dave Ramsey's team, a popular financial guru. The app gets its name from its goal, which is to help you keep track of every dollar you earn. At the end of each month, every dollar you earned will have been spent, either on bills, debt, goods, or savings.
If you're an action-oriented budgeter, then this is a great app to have. Rather than passively tracking and reacting to your spending like a lot of budgeting apps, EveryDollar wants you to take control of your income.
This app comes with free and subscription options. In looking it over, I think the vast majority of users could easily get by on the free version. If you want to sync it up with your bank account, though, the paid version is for you.
For those that share their finances with a partner, Goodbudget is an excellent option. It uses the old-school envelope method in digital form. The envelope method is where you set aside money for different spending categories at the beginning of the month. If you spend all of the money in that category, you have to wait until the next month to spend more. If you end the month with extra, you can use the extra however you want.
Goodbudget is available on every platform (including the web) syncs across your devices, and makes it easy to create a shared account. Perfect for couples, roommates, and friends.
The one limitation of Goodbudget is its budgeting model. While the envelope method is great for some (particularly those with a fixed monthly income) it can be tough to implement if your income varies from one month to the next. And some might find it to be a little too simple for their tastes.
That said, if this is a style of budgeting that you like and you have someone to share your budget with, Goodbudget is a classic.
If you prefer to budget manually on your computer, without any automated fluff or the need to always be taking your phone out of your pocket, then a spreadsheet application like Excel might be right for you.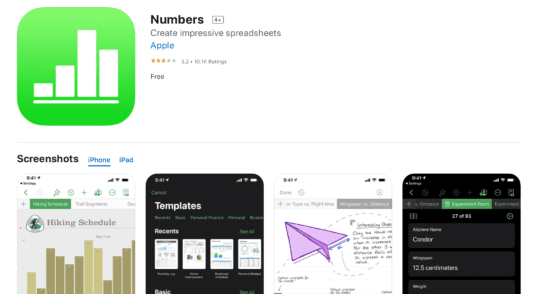 Despite being desktop-first applications, you can find each of these apps (Microsoft Excel, Apple Numbers, and Google Sheets) on your iPhone. And all of these except for Microsoft Excel is free.
So how do you budget using a spreadsheet application?
That's the drawback of using these apps. Since they aren't made for budgeting, you'll have to do all of the budgeting yourself. This can take a while to figure out and set up, and even after you set it up, you'll still be entering everything by hand.
The benefit of these apps is that they're highly organized, perform calculations automatically, and make it easy to separate your budgets by year, month, weeks – whatever you like.
Here are some links to help you get started with them:
Wally is a super minimalist, easy budget tracker that anyone can use. I'd say it's comparable to Mint, with a more pleasing interface and fewer suggestions. Wally stays out of your way and just provides you with the data you're looking for.
Similar to Mint, Wally can connect your various financial accounts and monitor all of your transactions. These transactions are then categorized to give you an idea of where your money is going and how you can spend it more responsibly.
The most unique feature of Wally is that it's very internationally friendly. It connects to financial institutions of all kinds, currencies, and regions. You can even track your cryptocurrency spending using this app. So if you don't live in the US, this might be one of the better options on this list.
Separate from the groups of automated iPhone budgeting apps that don't get in your way is PocketGuard. Unlike these other, non-obtrusive apps, PocketGuard is made to comment, advise, and interrupt your spending so that you can start to build better habits.
It does this by connecting to all of your financial accounts and aggregating that data in one location. It then not only monitors your spending in various categories but picks out trends and brings them to your attention.
PocketGuard even picks out recurring bills and subscriptions that it thinks you might've forgotten about so that you can unsubscribe from these services. Overall, I think this is one of the best apps for someone who has never approached budgeting before. It'll help you go from not knowing anything to being a vigilant budgeteer in no time.
Nearing the end of our list, we have Spendee. Spendee is unique among these iPhone budgeting apps in that it has abundant features for shared budgeting. That means you can add other users' budgets to your app, making it great for roommates, couples, and families.
Beyond that, Spendee is a pretty straightforward app. It does charge a subscription fee of $2.99/month after the first week (which is free), so that's something to keep in mind.
In short, Spendee is on par with options like PocketGuard but with the sharing features of Goodbudget, making it a solid alternative to Goodbudget for those who don't like the envelope method.
Last but not least on this list of iPhone budgeting apps is Quicken. If you've been around longer than the iPhone, you probably remember Quicken as being one of the first and only accounting apps.
Like Mint, Quicken is owned by Intuit, and though not nearly as popular as its toothpaste-flavored cousin, Quicken is a much more developed, rich app.
Unlike Mint, which is just a straightforward budgeting app, Quicken is a fully-fledged accounting app. It not only monitors your bank accounts and transactions but also helps you plan for retirement and track the value of your property.
For these reasons, I'd call this a more "grown-up" budgeting app. If you want something that will help you manage your finances, investments, and spending, Quicken is the comprehensive solution you're looking for.
Find the right iPhone budgeting apps for you
And that's the end of today's list! Hopefully, you found at least one item in this list of iPhone budgeting apps to help you get a better handle on your finances.
For more app suggestions and everything else iPhone, be sure to check out the rest of the blog here at AppleToolBox.
Until next time!