In today's post, we're going to be touching on a topic that hits pretty close to home: ADHD. Specifically, we're going to be looking at the best ADHD apps for iPhone users.
While I haven't been personally diagnosed with ADHD, it's something that several of my family members and even my partner have been diagnosed with. And as a result, I've seen secondhand just how much it can impact someone's life. In my experience, it's especially difficult for adults, as many of the support systems for children with ADHD are completely absent in adulthood.
To help, I've compiled a list (in collaboration with my loved ones who have ADHD) that covers tools you can install on your iPhone for managing your ADHD. The majority of these apps are geared towards helping you keep track of tasks and items, while others touch on relationships with others and your own emotional well-being.
Additionally, I'll dive into it in more depth at the end of this post. But please, know that no app is going to be a true replacement for professional help. They're more like supplements, helping fill in the gaps. Oftentimes, mental healthcare is a privilege, but if you have the opportunity to engage with it, please do.
What makes these apps the best ADHD apps
Before jumping into this article, I did want to touch on what I was looking for when creating this list of the best ADHD apps. Of course, the primary focus is going to be on time and task management, as this is usually the most pragmatic challenge for those with ADHD.
However, it's far from the only challenge. So I've also included tools that will help you with your finances, relationships, and emotional wellbeing.
The one gap in this list is a tool for finding a support group, which I think is very important for anyone dealing with mental health issues. I've left it off of this list because I couldn't find any tools myself, but I would recommend joining a forum or online group for those with ADHD, such as the ADHD subreddit.
They will help you with time management
As mentioned, the majority of these apps are going to center on time management. In my experience, this is the number one thing that plagues those with ADHD, and it's even a challenge for neurotypical individuals.
That's why the bulk of this article is going to center on apps in this vein. Even apps that are geared towards managing your emotional wellbeing and your relationships will still be task-oriented in this post.
To be clear, I am aware that this is not the only thing that ADHD individuals struggle with. But for managing the pragmatic challenges of ADHD, it's a great starting point.
You'll have an easier time keeping track of your thoughts and emotions
Another segment of tools mentioned in this list of the best ADHD apps will help you keep track of your thoughts and emotions. These are tools that I use myself for mental health purposes, and I think they'll be a great benefit to a lot of readers.
These apps will lie somewhere between a journal and a check-in, giving you a place to recover and be still as you move through your day.
These apps will help you focus and build habits
Lastly, many of the best ADHD apps that I've covered in this list will help you focus and build habits. This ties into time management as well. However, rather than simply focusing on when things are due and being more productive, these tools will help you develop sustainable routines.
For instance, some of these apps will give you a timer, during which you'll dedicate your attention to a task until the timer is up. You can use these sorts of tools in conjunction with a task management app, so that you not only know what you need to do, but you can manage your attention while completing what you need to do.
The best ADHD apps for iPhone users
With that out of the way, it's time to start covering our picks for the best ADHD apps for iPhone users. Not all of these apps are free, and many are not exclusive to the iOS platform. However, I've done my best to find apps that will be readily available to the most amount of users.
I sincerely hope these tools are able to help you, and as always, I am not affiliated with any of these apps in any way. The opinions and suggestions in this post are my own honest thoughts and feelings.
First up on our list of the best ADHD apps is an app that a lot of you have probably used (including me). It's an app I recommend often: Forest. The idea behind this app is super simple. You start a timer, and when that timer is finished, a digital tree is added to your digital forest.
If you don't finish the timer, then your tree dies, and you have a dead tree in your forest. The goal is to grow as beautiful of a forest as possible with as few dead trees as you can manage.
Additionally, while a timer is going, you can't close the app. If you swipe it away, the tree will die. So this forces you to stay off your phone, which can make it easier to complete the task you need to work on.
That could be accomplishing work, finishing homework, doing a chore, cleaning up your room, or simply spending time outside. You have total freedom over how you choose to spend the time, so long as you aren't spending it glued to your iPhone.
Next up is another app I use all of the time, Finch. This is a great app for anyone struggling with mental health issues. It's a mental health companion, providing resources and tools that help you not only complete and focus on habits and tasks, but also your emotional wellbeing.
Essentially, in the Finch app, you have a digital pet finch. You then set a handful of tasks for yourself to complete each day. These can be anything you like, from finishing your work to brushing your teeth to learning to studying music. It's totally up to you.
Each time you complete a task, your pet finch gets energized. When they're completely energized (meaning you've completed enough tasks for that day), your finch will go on an adventure. You can complete more tasks to speed up that adventure.
When your finch returns from its adventure, it'll start to level up and provide you with coins that you can use to upgrade your finch. The more you participate in the app, the cooler and older your finch will get.
As mentioned, though, Finch isn't just about completing tasks. It's also about taking care of yourself. So you can simultaneously use this app to journal, check in with your mood, make a gratitude list, and engage in other proven self-help methods.
This app was recommended to me by a mental health professional, and it's an app that I love recommending to others with mental health challenges. Be sure to check it out, it's a must-have!
Another one of the best ADHD apps is Asana. Or Trello. Honestly, they're basically the same thing. Both are Kanban board apps, which you're probably familiar with if your work team uses any kind of task tracking software.
Fortunately, you can just as easily use these apps yourself without outside of work. Asana and Trello allow you to columns showing the progress you've made on a particular task. For instance, you could have the following columns:
Come up with an idea for a drawing
Sketch out the drawing
Fill in the sketch
Color and shade the drawing
Share the drawing on Instagram
Once you've created your columns, you'll then create tasks to place on these various columns. Say you want to draw a frog, a cat, and the moon. You would create three tasks labeled "Frog", "Cat", and "Moon" and place them in the first column. As you make progress on each task, you can move them through your columns, ultimately completing them.
The idea is to not only organize your tasks and the progress you've made on them, but also to prevent yourself from giving up on and forgetting them. It's really common for ADHD individuals to start a project, get halfway through, have an idea for a new project, start the new one and abandon the first one.
With a tool like Asana/Trello, you'll have a much easier time keeping track of what you want to work on. Fewer projects will fall by the wayside, and you'll ultimately get more done.
If you're familiar with Mint, then you may be wondering how it made it on our list of the best ADHD apps. That's because Mint is a budgeting app – what does that have to do with ADHD?
In my mind, Mint does something very valuable for those with ADHD. It helps you start automatically managing your finances, keeping track of your bills, budget, savings, and more. And unlike other budgeting apps, it does it with very little interference from you.
Mint integrates directly and securely with your bank account That means it'll instantly and automatically pull your expenses and spending together in one area. You don't have to remember or do anything manually.
For those with ADHD, this can make it much easier to visualize your finances. Rather than it being this amorphous, constantly changing and vague part of your life, you can start to make it more concrete. This will help you have more control over your spending, bills, and savings, which can in turn improve your quality of life.
The next suggestion on our list of the best ADHD apps is one that probably won't be for everyone. Headspace is an app for learning and continuing a meditation practice. There are actually a ton of apps for this out there, and you can even get by with just watching YouTube videos or reading articles. It takes very little to meditate successfully, other than practice.
That said, Headspace can be a great tool when you're first starting out. This will help you gradually work up your skills, and there isn't a lot of spiritual aspects to it, so anyone can give it a go without feeling excluded.
It's no secret that meditation is a great tool for individuals dealing with a variety of mental health issues. It helps you stay present, endure unpleasant emotions, get in touch with yourself, and process complex circumstances. It can also help you boost your emotional maturity.
These challenges aren't necessarily specific to individuals with ADHD, but they are things that those with ADHD may have a harder time with. So give it a shot, see if it's for you, and move forward how you see fit.
Potentially the most popular to-do app, Todoist is truly one of the best ADHD apps. If you haven't used it and you're looking for an app that keeps track of your tasks, this is definitely one to check out.
To be clear, Todoist doesn't necessarily do anything overtly groundbreaking. It's just a really solid task management app. There are a few touches, though, that make this especially useful.
The first is that it uses natural language parsing, or NLP. That means that you can add tasks to Todoist just by typing details about them. For instance, if you want to create a task for doing this dishes tomorrow when you get home, you simply type, "Do the dishes tomorrow when I get home". The app will interpret that and create a task for tomorrow called "Do the dishes", and it'll set up a location-based alert.
This allows you to add new tasks really quickly, even if they have some specific settings. Todoist also supports collaboration with others, is available on nearly every device, and has a simple design that anyone can get the hang of.
Of course, not every to-do app is going to be everyone's cup of tea. If you're not a fan of Todoist, then you might end up liking Focus To-Do. Focus To-Do is another one of the best ADHD apps that focuses on task management.
The big difference between Todoist and Focus To-Do is that Focus To-Do has a pomodoro function. For those that don't know, a pomodoro timer is a timer with breaks built in. The idea is to work in short spurts broken up by short breaks. Typically, that means working for fifteen minutes, taking a five minute break, working another fifteen minutes, taking another five minute break, and so on.
This works for people with ADHD for a few reasons. For one thing, it's easier to avoid losing motivation or interest in a task. After all, you only have to maintain that interest and motivation for fifteen minutes. Additionally, you have the quick reward of being able to take a break, where you can quickly reset.

During your break, it's probably a good idea to do things that will engage and reward your ADHD. For instance, you may want to try playing with something physical in your hands, or going for a walk and leaving your desk. Something that breaks up the monotony and keeps you feeling active and engaged.
You can technically use your breaks to go to the restroom, or scroll on your phone, but generally, that's not going to be enough to really reset your mind space.
Also, it's worth pointing out that the pomodoro technique employed by Focus To-Do isn't for everyone. In my personal experience, I've found that it helps me for a week or so, but eventually, it just becomes distracting and interrupting. Instead, I like to measure the amount of work I get done rather than how long I spend working on it. I do still take frequent breaks, though, which I have found helps me keep my productivity up.
If you've never tried to pomodoro strategy, then I would say that it's definitely worth trying. I just feel that it's worth noting that it won't be as effective for everyone. If it doesn't work for you, don't feel bad – just try something else!
The next app on our list of the best ADHD apps is one geared towards students. That's myHomework. This is an app that I used throughout college, and it was truly a big help. It's essentially the same thing as Todoist, except that it focuses solely on schoolwork.
You can add your classes to a calendar, add assignments according to the class they were assigned in, and check things off as you work through them.
Again, this isn't too different from most task management apps. It's just especially helpful for students. So if you're in school or college, try this one out!
Yet another task manager, OmniFocus 3 is a pretty true alternative to Todoist. There is very little separating these apps besides their design. OmniFocus 3 is maybe a little more organized, grouping tasks together based on tags and project groups that you create.
OmniFocus 3 also provides you with a calendar view, so you can see what you have due and when. This allows you to quickly get an idea of what you're going to spend the day doing, so you can prep accordingly.
If you're having a hard time deciding between OmniFocus 3 and Todoist, I recommend giving them both a shot. Start with Todoist, see what you think, and if it isn't clicking, switch to OmniFocus 3. If it still doesn't click, then in all honesty, these sorts of task managers might not be for you.
AirTags
Alright, I'm bending the rules with this one because, technically, AirTags aren't an app. But they are a great tool for those with ADHD who are looking for a way to keep track of their things.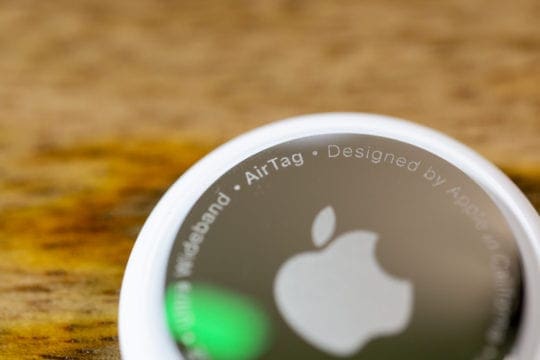 If there's one thing I've learned from living with a partner who has ADHD, it's that keeping up with your bits and bobs is almost impossible. Several times a day, we're looking for someone's wallet, keys, bag, etc. Everyone struggles with this to some degree, but my experience has been that ADHD can greatly exacerbate the likelihood that you'll misplace your things.
Fortunately, AirTags aren't too expensive and are incredibly useful. You just place one of these little plastic disks in a bag, attach them to a keychain (you will need an accessory for that), slip or tape one in your wallet, whatever works best for you.
Then, you activate the AirTag with your iPhone. You'll then be able to find that item in the Find My app on your iPhone. You can also play sounds on the AirTag, making it that much easier to find what you've misplaced. And if you have a newer iPhone, you can even get an arrow to appear on your iPhone that points in the direction of your AirTag once you're within twenty feet or so.
And even though AirTags use Bluetooth, any iPhone will relay the position of an AirTag back to you. So if you leave it in a public space, like an airplane, restaurant, or bus, you'll still get notifications about where your AirTag is.
The only real drawback of AirTags is that they're exclusive to iPhone. So if you don't have an iPhone, you're out of luck.
Screen Time
This is another suggestion that kind of bends the rules of our list on the best ADHD apps. That's because Screen Time isn't really an iPhone app, but an iPhone feature.
For those that don't know, Screen Time is a feature introduced to Apple devices a few years ago that allows you to put limits on your app usage. I think this was originally intended for children so that parents can limit what apps they have access to and for how long.
However, I have gotten a lot of use out of it for myself, so there's definitely no reason why Screen Time should be limited to use with kids.
You can play around with Screen Time settings by going into the Settings app on your iPhone and scrolling down to Screen Time. There, you can set rules for how long you can be on a particular app or a category of apps each day. You can even set specific limits for different days of the week.
This is a really helpful way to make sure you aren't letting your time get sucked away by scrolling through apps mindlessly. If you're like me, then you probably already have an idea of what apps you're spending too much time on. So go ahead and create a limit for those apps!
If you're like me, then you may find that even after you've used up a limit on an app, you keep using it anyway. If you're having that hard of a time cutting down on your app usage, then I recommend creating a Screen Time passcode that only your partner knows. That way, when you run out of time on an app, they can help fill in the gaps where your self-discipline fails.
As we approach the end of our list of the best ADHD apps, I am going to cover two more task management apps that are especially helpful for those with ADHD. The first one is OurHome.
The reason that OurHome is particularly useful for ADHD individuals is that it is meant to be shared between members of a household. That means that, rather than using an app like this on your own, you'll have the support and accountability of the other people in your home. That could be roommates, a partner, or another loved one.
OurHome can also be used to assign and track chores between a parent and their child with ADHD. One of the reasons that OurHome is effective is that it gamifies and rewards participation in completing tasks, so you can incentivize children (or yourself) to get things done.
So if you've tried other task-tracking apps and had a hard time following through with them, OurHome might be the thing that ends up helping you.
Last but not least, there's Brili Routines. Brili Routines is an app that has been specifically designed with ADHD in mind. There are two versions of this app, one for ADHD adults and one for ADHD children and their parents.
Basically, what Brili Routines does is help you create and stick to routines. In Brili Routines, a routine is a series of tasks that you create. So you can create a morning routine that includes brushing your teeth, taking a shower, making breakfast, and going for a walk. Or you could create a work routine that involves a pomodoro style of working. There are templates within the app for you to follow or modify as you need.
In short, Brili Routines has a lot of the same core features that other apps like it have. However, it also has some unique features that are geared towards making it ideal for those with ADHD. So give it a shot and see if it works for you!
Apps are a great starting point, but they're not a replacement for professional help
Before closing out this post on the best ADHD apps, I did want to mention something that I feel is important. And that's the fact that, of course, apps for managing your ADHD are excellent! They can help you build routines, complete your work, adopt new strategies, and strengthen the wellbeing of your emotional state and your relationships.
All that having been said, it's true that none of these apps is a replacement for professional help. Nor should they be! Professional help fulfills a unique and important role, and if you have the ability and need, it's something that you should pursue earnestly. That could mean acquiring medication or simply visiting a therapist to help you build a healthy and sustainable lifestyle.
I and my partner are both actively involved in accepting professional mental health care, and from our personal experience, it's been very positive. So please, if you can and have a need for it, never hesitate to reach out for help – that's why it's there!
Start using the best ADHD apps today
And that's it! Those are our recommendations for the best ADHD apps for iPhone users. Hopefully, you were able to find at least a few tools to add to your phone that will help you have a focused, productive, and sustainable day.
For more insights, news, and guides on all things Apple, check out the rest of the AppleToolBox blog.
See you next time!