When you try to set up your AirTag, you may get a strange alert that prompts you to upgrade your account security. You're then informed that AirTag uses end to end encryption to keep your location information private. Unfortunately, when you go to Apple ID Settings, there are no additional security settings you can change.
What to Do if AirTag Prompts You to Upgrade Your Account Security
Enable 2FA and Find My
First things first, enable two-factor authentication and Find My. Navigate to Settings, select your account, and then tap Password & Security. Select Turn On Two-Factor Authentication.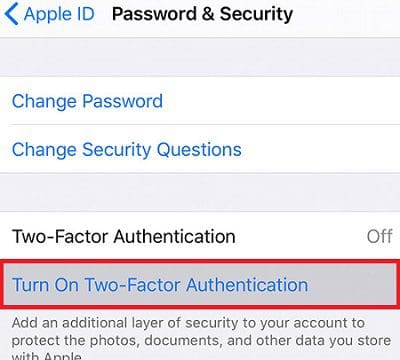 Then, go back to Settings, tap your name, and enable Find My. Restart your iPhone and check if AirTag still prompts you to review your account security settings.
If the issue persists, install the latest iOS version on your iPhone. Make sure your Location services are working properly. Additionally, switch to a different network connection, and check if you're still getting the same alert. If the issue persists, you may want to restart your router.
If you have multiple AirTags, keep only the one you want to set up near your iPhone. Turn your iPhone off and on again, and try to add your AirTag again. If you try to set up your AirTag immediately after rebooting your iPhone, it may not work. Instead, wait for 3-4 minutes after rebooting your iOS device, and then add the AirTag.
Sign Out of iCloud
Sign out of your iCloud account, and restart your iPhone. After the first attempt, you should be able to allocate a name for your AirTag. When the security alert pops up again, switch the phone off and back on, and try again.
Reset Your AirTag
If the problem persists, try resetting your AirTag.
Remove your Airtag's cover and battery.
Then, replace the battery.
Press down on the battery until you hear a sound.
Remove and replace the battery four more times.
The fifth sound should be different from the previous four and confirms the device has been successfully reset.
Put the cover back and align the three tabs with the three slots of your AirTag.
Press down on the cover, and rotate it clockwise until it locks in place.
If nothing works, contact Apple Support for further help.
Conclusion
If your AirTag prompts you to upgrade your account security settings, enable Two-Factor Authentication and Find My. Then sign out of iCloud, restart your iPhone and sign back in. Additionally, update your iPhone, and then restart your router and iPhone. If the issue persists, reset your AirTag.
Did you manage to connect your iPhone to your AirTag? Which solution worked for you? Let us know in the comments below.