Almost two weeks ago, Apple unveiled a slew of new products and devices at its Spring Loaded event. These included the rumored iPad Pro lineup refresh, along with a new Purple iPhone 12 color option. We even saw a rather major and surprising update arrive for Apple Podcasts with Podcast Subscriptions.
Related Reading
But wedged right in the middle of the iPhone and iPad announcements was a little tracking device that we've been waiting years for. The Apple AirTag was finally debuted, after being rumored for the better part of two years.
What Is the Apple AirTag?
Put simply, the AirTag is Apple's competitor to the Tile trackers. Explained further, the AirTag makes use of Apple's Find My network using the ultra-wideband chip (U1) that originally debuted in the iPhone 11. Since its debut, the U1 chip is found in all sorts of devices, ranging from the iPhone to HomePod Mini and even the Apple Watch.
This technology is a low-power method of connectivity to communicate with other devices with the same ultra-wideband chip. While it's great for these devices to be able to communicate, there needs to be some way for you to interact with both of these. And that's where the Find My app comes into play.
Between using the U1 chip in the AirTag and in your iPhone, Precision Finding is the method for actually locating the AirTag. For now, it's only a one-way street, meaning that you can't use the AirTag to find your iPhone. Although it would be pretty awesome to have a button on an AirTag to have your iPhone make some noise. But hopefully, we'll see something similar in the future.
How To Set Up AirTag
In true Apple fashion, the process for setting up an AirTag can't be any easier. It's as simple as removing the plastic tag, placing the AirTag near your iPhone, and following the on-screen instructions. The biggest question, especially if you only purchased one, is what you're going to attach it to.
Unbox your Apple AirTag.
Pull the plastic tag out of the AirTag.
Hold AirTag near your iPhone.
Follow the on-screen instructions to set up AirTag.
During the process to set up AirTag with your iPhone, there are just a few steps that you need to follow. You'll first need to Name the AirTag, by either selecting from one of the generated options like Kyes or Backpack, or you can add a custom name. From there, you'll be asked to confirm that you wish to register the AirTag to your specific Apple ID. After being shown a few screens describing what the AirTag is capable of, you're then taken right into the Find My app and shown where your AirTag is.
First impressions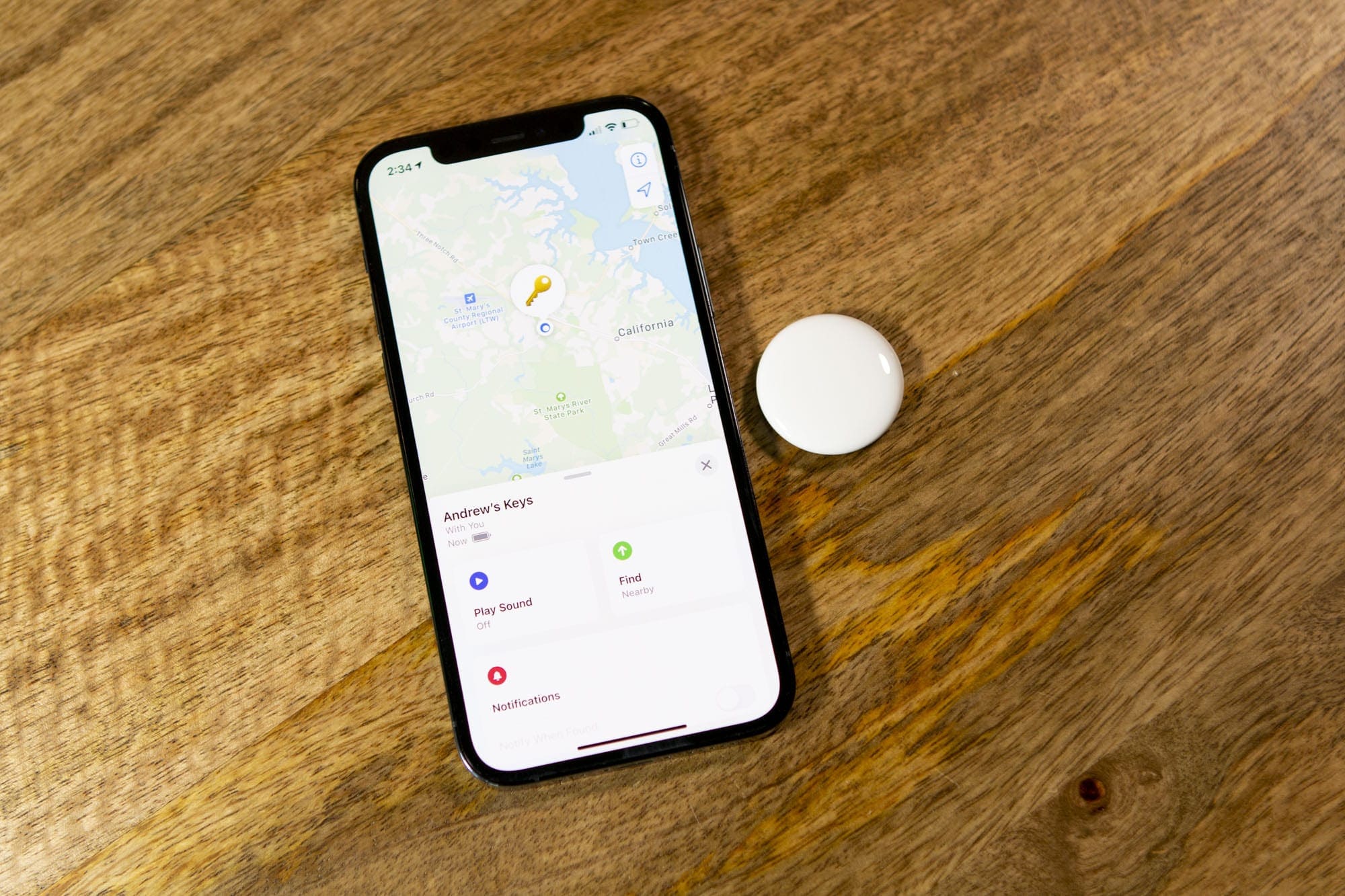 Our first impressions of the AirTag aren't really lackluster or overly exciting. Outside of throwing this in a loop accessory and adding it to your key ring or in your purse, there's really not much else to use it for at the moment. However, we can definitely see the usefulness of the AirTag once the world begins returning to some type of normalcy and traveling isn't as risky.
Firing up the Find My app instantly shows where your AirTag is while providing a few other options:
Play Sound
Find
Notifications
Lost Mode
Rename Item
Remove Item
This is all pretty standard and what you would expect. But in case you weren't aware, there's actually a tiny speaker built into the AirTag. This enables the ability to play a sound when tapping the button in the Find My app. As you would expect, it appears that Apple has thought about everything when it comes to how you may end up using the AirTag.
Conclusion
Unless you have a thick enough wallet or a small enough pocket to place the AirTag in, you're likely going to want something to attach the AirTag to your key ring or to your luggage. Thankfully, there are quite a few accessories that are already available from various retailers. We've rounded up a few of our favorites:
As a reminder, the AirTag is being sold for $29 for one, or you can get a four-pack for $99. Let us know in the comments below if you've grabbed one of these, and what you'll be attaching it to!
Andrew is a freelance writer based on the East Coast of the US.
He has written for a variety of sites over the years, including iMore, Android Central, Phandroid, and a few others. Now, he spends his days working for an HVAC company, while moonlighting as a freelance writer at night.