The Find My app is a terrific tool for locating your friends, family, and devices. Of course, it's available on iOS and Mac, but you can also use it on your Apple Watch running watchOS 6 or later. So there's no better way to keep track of where your kids or other family members are than right from your wrist.
To help you see if your child is home from school or made it to the mall safely, here's how to use the Find My app on Apple Watch.
Related:
Find your friends on Apple Watch
It's really simple to use the Find My (Find People) app on Apple Watch to see someone's location. Just follow these steps.
Select the Find People app on your Apple Watch.
You'll immediately see a list of contacts who have shared their locations with you. Use the Digital Crown to scroll through your list. You can see the current city and distance from you for each contact.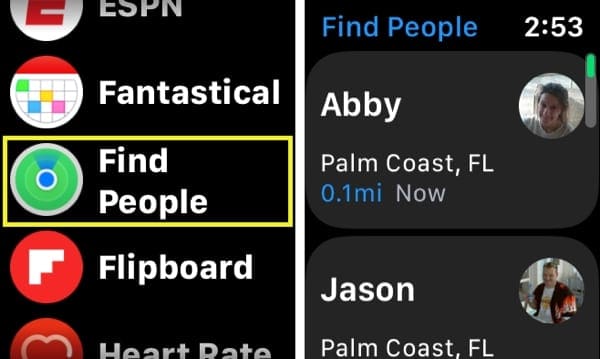 Tap to select a contact and you'll see more details including their current location's address and a small map view of their spot. You can also tap to get directions to their location, contact them, and enable notifications (see below).
Send or receive notifications
Like on your other devices, you can enable notifications for Find People on Apple Watch. You can get alerts about your friend's location as well as notify them when you leave or arrive.
To receive a notification of your friend's location, tap Notify Me and turn on the toggle. You can decide to get the alert when they leave their current spot or arrive at yours.
To send a notification of your location, tap Notify [friend's name] and turn on that toggle. Decide if you want to notify them when you leave your current location or arrive at theirs.

Add a friend to Find People on Apple Watch
If you want to add a friend or family member, you can do it right from your Apple Watch.
Open the Find People app on your Watch.
Tap Share My Location.
Select dictation, contacts, or keyboard to choose a contact.
Pick a phone number or email address for your contact.
Choose how long you want to share your location from three options: one hour, until the end of the day, or indefinitely.
Your friend will receive a notification that you are sharing your location with them and will be prompted to share theirs with you, if they like. Assuming they agree, that contact will show up in your list.
To stop sharing your location with a contact, select them from the list in Find People and tap Stop Sharing.
Find friends fast
Both the Find My app on iOS and Mac and the Find People app on Apple Watch give you convenient ways to keep track of who you need to, when you need to.
Are you going to find your friends or family members from your wrist?
If you're having trouble with the Find My app or Find People on Apple Watch, let us know or take a peek at the Apple Support site for the feature.
Sandy worked for many years in the IT industry as a project manager, department manager, and PMO Lead. She then decided to follow her dream and now writes about technology full-time. Sandy holds a Bachelors of Science in Information Technology.
She loves technology– specifically – terrific games and apps for iOS, software that makes your life easier, and productivity tools that you can use every day, in both work and home environments.
Her articles have regularly been featured at MakeUseOf, iDownloadBlog and many other leading tech publications.