A small number of users have reported a green tint to their iPhone screens. This problem is most prominent with iPhone 11 Pro and 11 Pro Max devices, but could potentially affect any iPhone with an OLED screen.
It's likely this green screen issue is the result of a software bug. But there are still several steps you can take to fix it yourself.
Related:
About the iPhone green tint problem
This problem causes the screen to appear green immediately after waking your iPhone from sleep. It doesn't affect all users and seems most prominent on newer devices.
The tint vanishes after two to three seconds, allowing the iPhone to display colors accurately again. Even while your iPhone screen appears green, you can use the touchscreen as normal. This issue shouldn't stop you from using your iPhone.
Users report that the green tint problem is most likely to occur at night when they're using Dark Mode, Night Shift, or low brightness. It's also a subtle change that could go unnoticed by many users.
The tint doesn't show in screenshots. If you want to capture this problem to share with Apple, you need to take a photo of your screen using another device.
Which iPhones does the green tint problem affect?
The green tint problem mainly affects iPhone 11 Pro and iPhone 11 Pro Max devices. However, there are also reports from iPhone X and iPhone XS users, suggesting that the green tint problem affects any OLED iPhone.
The iPhone 11 uses LCD rather than OLED and appears to be unaffected so far. If you experience this problem on an iPhone 11 (not an iPhone 11 Pro), please let us know in the comments.
Here is every OLED iPhone that might experience the green tint problem:
iPhone 11 Pro Max
iPhone 11 Pro
iPhone XS Max
iPhone XS
iPhone X
What to do if your iPhone screen is tinted green
If your iPhone screen is tinted green, here are all the steps you can take to fix it. Make sure you back up your iPhone before following them. That way your data is protected if something goes wrong.
Step 1. Update to the latest version of iOS
Users first reported green tint problems after updating to iOS 13.4.1. This suggests the issue is software based, which means we need to wait for Apple to release a new update that fixes it.
Although iOS 13.5 and 13.5.1 haven't resolved the green tint problems yet, Apple is aware of the issue and working on a solution. Apple may have released a new update since publishing this article. So you should make sure your iPhone is running the latest version of iOS.
To update your iPhone go to Settings > General > Software Update. Choose to Download and Install any available updates.
If the latest iOS update doesn't fix your green tint problems, keep checking back for future updates that might fix it.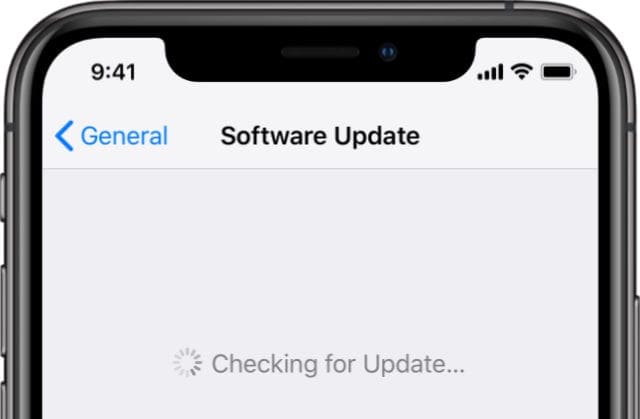 Step 2. Restart your iPhone
Turning your iPhone off and on again is an effective solution for a wide range of problems. If your iPhone screen keeps turning green, try closing down every app and restarting the device before moving on to more extreme solutions.
Swipe up from the bottom of the screen (or double-click the Home button) to view every app. Then slide each app off the top of the screen to close it.
After closing down every app, press and hold the Side button with the Volume Down button and slide to power off when prompted. Wait 30 seconds, then press the Side button again to restart your iPhone.
Step 3. Erase and restore your iPhone
We already mentioned that this green screen issue doesn't affect every iPhone; it doesn't even affect every iPhone 11 Pro or iPhone 11 Pro Max. That means there's a chance you could fix the issue by completely erasing and restoring your device.
If you do this correctly, you can rewrite every line of software on your iPhone, eliminating random bugs that might be causing this problem. We suggest you use DFU mode to restore your iPhone, which rewrites the firmware as well.
Be sure to create a new backup of your iPhone before erasing it. Otherwise, you'll lose your photos, messages, apps, and other media.
After backing up, follow our guide to restore your iPhone using DFU mode. You need access to a computer to do this.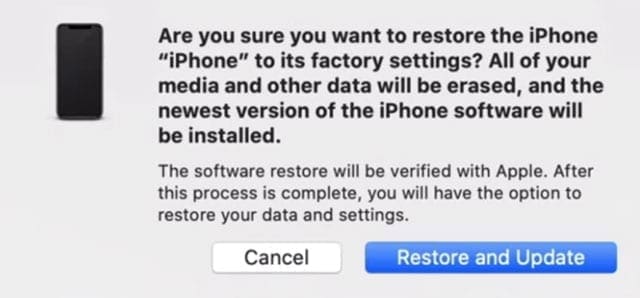 Step 4. Contact Apple Support
Apple's support advisors say they're aware of the green tint problem and that Apple is working on a solution. However, there are still several good reasons for you to contact Apple Support personally if you experience this issue.
Firstly, you might be suffering from a different problem specific to your device. For instance, a fault in your display or liquid damage on your device could also result in a green tint on your iPhone. You should speak to Apple to rule out these potential problems, which demand different solutions.
Secondly, even if you are suffering from the same green tint problem as everybody else, reporting it to Apple alerts the company to how widespread the issue is. This could help to ensure Apple appropriately prioritizes a solution.
The best way to tell Apple about your green screen problems is by using the Get Support website. You can choose to open an online chat, schedule a phone call, or book an in-store appointment to speak to Apple's advisors.
Step 5. Change your display settings
If your iPhone is still plagued with a green tint after waking from sleep, you might be able to resolve it by changing your display settings. This is only a temporary workaround since it involves disabling features you probably still want to use.
Try changing the following settings to fix the problem until Apple releases a software patch for it:
Go to Settings > Display & Brightness.
Tap Light and turn off the Automatic option to disable Dark Mode.
Use the slider to turn the Brightness to 50% or higher. We also recommend you disable the True Tone option.
Then select Night Shift and turn off the Scheduled option.
Now go to Settings > Accessibility > Display & Text Size to turn off the Auto-Brightness option and stop your iPhone dimming the screen again.
Green tint isn't the only problem with OLED screens
An OLED screen on your iPhone offers deeper blacks and more vibrant colors. But it comes with potential problems as well.
We already discussed the green tint problem on OLED iPhones, but you also need to beware of OLED screen burn. This happens after your iPhone displays the same image for too long and it burns permanently into the screen. Check out our other articles to find out how to avoid screen burn on your iPhone.