There was a time when it was impossible to save your game data in a video game. Every time you sat down to play, it took you back to the start. Now, on an iPhone or iPad, it can seem impossible to delete that data, and you're forever returning to your old saved games.
Related Reading:
Whatever your reason for wanting to delete game data on your iPhone, it's often easier said than done. There are more than a few places your iPhone game data can get saved, so we've shown you how to find and delete it below.
Troubleshooting: Why Can't I Delete My iPhone Game Data?
You probably already tried deleting the app and downloading it again from the App Store. Once upon a time, this would have done the trick. But more often than not these days, you saved game data comes back with the app.
This is great news for people upgrading or restoring their iPhone, who don't want to lose their game data. But those of us looking for a clean slate need to search a little harder to find it.
Without knowing which game you're playing, we can't say exactly how to delete the data from your iPhone. It could be in any of the following places:
Your iPhone storage
Your iCloud or Game Center account
One of your social media accounts
Your account for that particular game developer.
Try each of the steps below to delete iPhone game data wherever it is stored. And let us know which step worked for your game in the comments at the bottom!
Reset Your Game Data Inside the App
The simplest solution is to reset your game progress within the game itself. When this is possible, you don't need to delete or reinstall anything and you don't need to root through your iPhone settings.
Open the app on your iPhone and look for an in-game Settings, Options, or Menu screen. Usually, this is a button with three horizontal lines or a gear icon.
If you find some in-game settings, search every page for an option to Reset, Restart, or Erase. This option might be in reference to game data, saved games, or game progress.
If you can't find a reset option, search online for instructions from the developer:
How to reset [game] data on iPhone
Disconnect the Game From Your Social Media Accounts
When you connect a game to your Facebook, Instagram, or Snapchat account you get to share scores and progress with your friends. It's quick and easy to sign up because you don't need to make another new account.
But if your game links with a social media account, the iPhone's game data might be stored there as well. Whenever you reinstall the app, it links with your social media again and loads the existing save.
Search through the in-game settings and menu screens again. Look for an option to sign out of social media.
Now search through your social media account settings on the website for Facebook, Instagram, Snapchat, etc. Look for an option to disconnect from mobile games or apps.
In Facebook, for example, go to Apps and Websites from the Settings menu. You can see every game linked to your Facebook account and click Remove. And if you want to see which games you've deleted later, click on View removed apps and websites.
Delete the App and Game Data From Your iPhone or iPad
If you haven't already, try deleting the game from your device then downloading it from the App Store again. There are a couple of different ways to do this. Either of them should delete your game data as well, but try both methods to make sure.
Tap and hold the game until you see Remove App appear, before confirming that you want to follow through with that decision.
If that doesn't work, go to Settings > General > iPhone Storage/iPad Storage. Scroll through the list and look for the game you want to delete. If you find it, tap to open more options and select Delete App. Once again, this should remove the app and all associated data from your iPhone or iPad.
Note that offloading an app DOES NOT delete data. It will remove the app and free up some space, but your preferences will remain for when you redownload it.
Delete Game Data From Your iCloud Account
These days, lots of iPhone apps store data in our iCloud account. This is great for syncing progress across devices or protecting game data against loss. But when you delete a game from your iPhone, the game data remains in iCloud.
On your iPhone, go to Settings > [Your Name] > iCloud > Manage Account Storage. Scroll through the list and look for the game. If you find it, tap for more options and choose to Delete Data From iCloud (or something similar; it may not say those exact words).

Reset Your Account With the Game Developer
Often, a game asks you to create an account on the developer's website. You use this same account for each of the developer's games and it usually saves your game data.
If you needed to sign into an account for your game, try to delete your game data from that account or create an entirely new account to replace it.
Once again, this means searching through the in-game menus. Look for account management options, and if you don't find anything in the app try signing in on the developer's website.
Sometimes, the developer doesn't give you an option to delete game data. In this case, you need to create a brand new account with the developer and sign into that instead.
Turn Off Game Center on Your iPhone
Game Center is a social network for gaming that allows you to share scores, compete in multiplayer games, and compare achievements with your friends. Apple removed the Game Center app from iOS 10, but it's still present in your iPhone settings.
Because Game Center doesn't have anywhere to save game data, there's nothing to delete. However, a mobile game might see your old high scores or your profile in Game Center and use that to reload your progress.
Go to Settings > Game Center and select Sign Out. Game Center will automatically turn off after you've done that.

Sign Out of Your Apple ID Account
It's unlikely, but possible, that you need to sign out of your Apple ID to delete the game data on your iPhone. This is an extreme step, but you can try it without risking any data.
Still, we recommend you back up your iPhone to iTunes or iCloud first. Just in case. 
From your iPhone Settings, tap your name at the top before scrolling down and choosing to Sign Out. Enter your Apple ID password if prompted. Then, if you have the chance, choose to keep a copy of all the data on your device — it may take some time to save.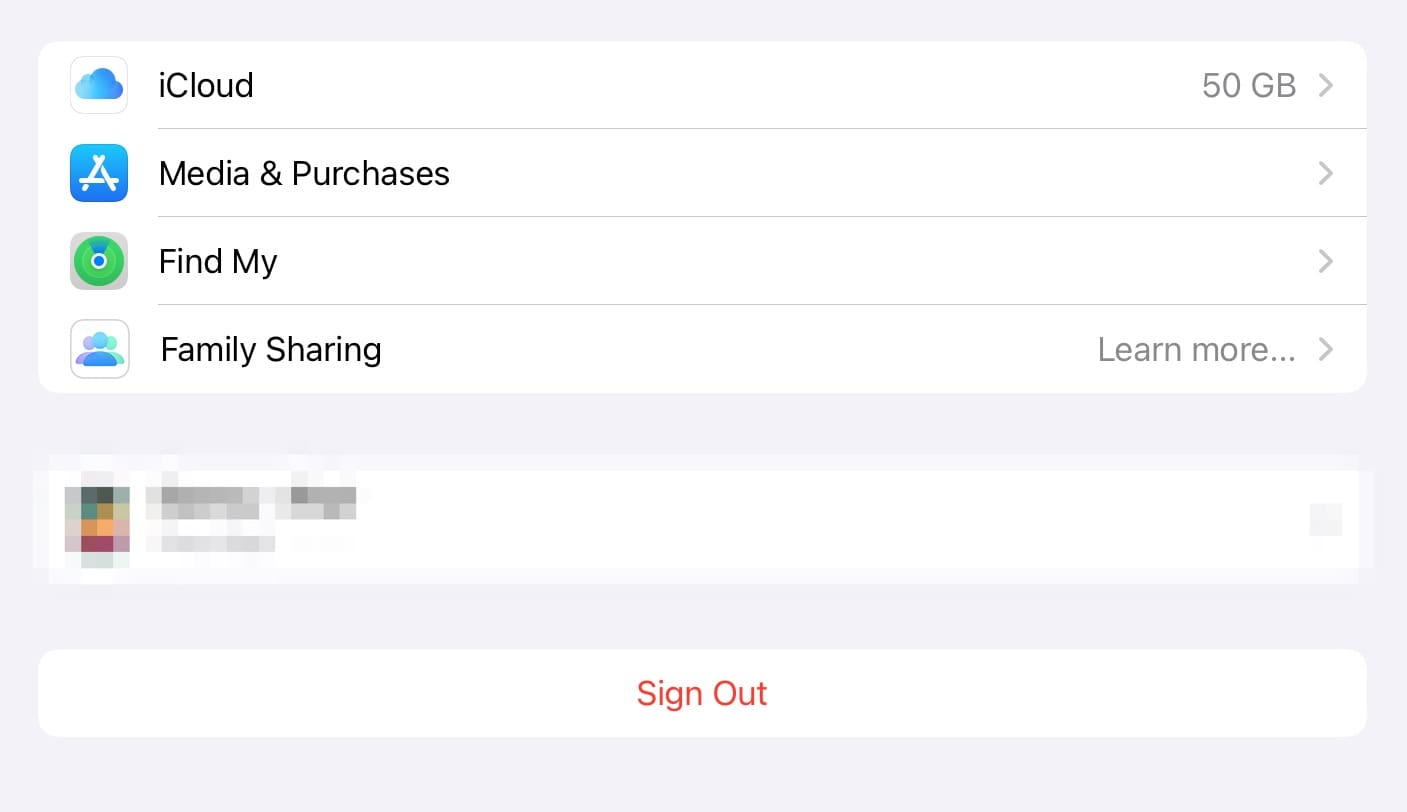 If this successfully resets your game progress, you might consider creating a new Apple ID account to start using. Visit appleid.apple.com to do so. 
You need to add your old and new Apple ID accounts to the same Family Sharing network if you want to keep access to your iTunes and App Store purchases.
Download the Game on a Different Device
Finally, if you have a second iOS device, you could download and play the game on that instead. This could be an iPad, an iPod touch, or an old iPhone.
Before you download the game again, make sure you sign out of everything on the second device: Apple ID, iCloud, and Game Center. Otherwise, your game data might return when you open the app.
You can use your existing Apple ID account in the App Store but use a different account for everything else. Consider this to now be your gaming device!
It's Easy to Reset Your iPhone or iPad Game Data
Whether you want to start the entire game again for fun or because you feel like it's necessary, you shouldn't struggle too much to reset your iPhone or iPad game data. You can try signing out of the Game Center, along with resetting your progress via the developer's app if possible. In some cases, it might be easier to simply create a new account.
The steps to reset your game data will vary depending on the title you've chosen, and it may be harder in some cases than others. Nonetheless, you should have a solid enough framework to follow — having read this guide.
If you tried something else that worked for you, feel free to let us know in the comments!