The iCloud Message sync feature from Apple has been a much-anticipated feature for quite some time now. With every new iOS release, we have checked to see if the feature made it to our devices. iOS 11.4 is here to help you fulfill that desire!
The ability to save your messages in the iCloud and have it synced across all your Apple devices briefly appeared when Apple released the original iOS 11 betas but was quickly removed for some internal reasons.
Why Use the iCloud Message Sync Feature
Many of us like to save our old iMessages and text messages. If you use messaging on your Apple Watch today, you know that it requires you to explicitly delete a message in order to remove it.
In other words, it does not sync automatically with your iPhone Messaging service. You would guess that deleting a message from your iPhone will auto-delete it from your watch, but that doesn't work without Messages in iCloud.
There are users who also prefer setting up their iPhone as a new device when major iOS upgrades are released. The idea being that any bugs in the existing software are completely removed when installing the new iOS. These users have had to struggle to figure out a way to retain their message history.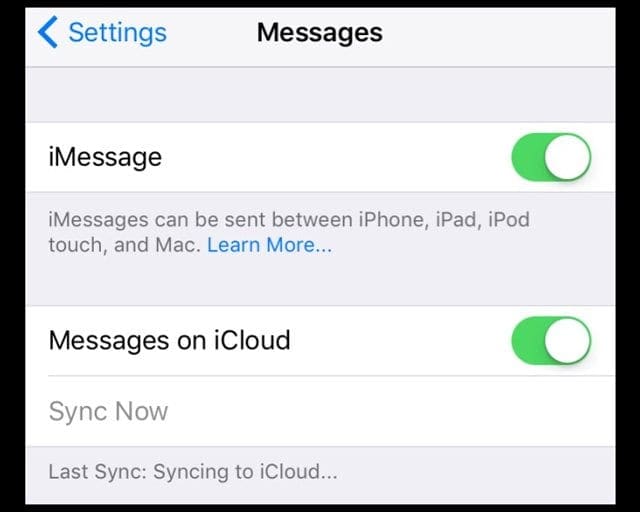 About Messages in iCloud
Messages in iCloud aims to keep all your text conversations up-to-date across all your Apple devices, including iPhone, iPad, Apple Watch, and Mac.
Whenever you set up a new Apple device or when you delete a message from one device, with Messages in iCloud enabled that change syncs to all your devices. No more deleting on each and every device!
Why Should I Use Messages in iCloud?
It stores all your messages, photos, and other attachments in iCloud

It frees free up space on your devices, like those 16GB iPhones/iPads

All your messages appear when you sign into a new device with the same iMessage account

When you delete messages and conversations they are instantly removed from all your devices
Message backups have always been available prior to this new feature that Apple introduced. So what's the big deal about this feature?
Well,
Yes, your messages were already accessible on all your devices, but that's only for the messages that they started receiving once they were connected to iMessage.
If you get a new iPad and sign into iMessage, you will now get all iMessages that go to your Apple ID or phone number FROM THAT POINT ON, but you don't get to see the conversations from BEFORE you got the iPad (unless you restore from a backup).
Messages in iCloud allows your new devices to get ALL stored messages in iCloud and syncs them in real time. Now you don't have to restore from a backupto see your existing messages.
More importantly, if you delete a text or iMessage or attachment on one device, it will be deleted on your other devices (that have Messages in iCloud enabled). You don't have to go manually delete the item from all of your devices. (Apple Watch doesn't do iCloud sync yet. You have to delete it manually or it auto expires after 30 days. We haven't tested any new changes in watchOS 5 beta as it related to the syncing feature).
Like To Save All Your Texts, Messages, and iMessages?
Messages in iCloud is for you! Apple optimized this feature for all the ifolks that love to save their conversations BUT don't have a lot of device storage (like all those 16GB iPhones out there!)
Messages in iCloud stores everything–we mean EVERYTHING including attachments, photos, etc in iCloud. And that frees up some of your device's storage so you can download other things, like more music, apps, photos, and so forth.
What You Should Know about Messages in iCloud Feature:
You need to update to the latest iOS version (iOS 11.4), and macOS (10.13.5 or higher) in order to have this feature.
When you delete a message, photo, or conversation on one device, it's removed from all of your devices.
You need to have the Apple ID in iMessage match the Apple ID being used for iCloud. It doesn't need to match the iTunes/App Store ID.
You need 2FA enabled.
Messages in iCloud is turned off by default. You can turn it on by going to Settings -> Tap your name at the top -> iCloud -> Messages
It is best to leave your devices to sync overnight while they are plugged in.
If icloud for messages is not working as desired, sign out and sign in to iCloud and then sign out and sign in to iMessage. This should take care of message sync issues.
Worried About Privacy on Messages in iCloud?
All your messages are encrypted end-to-end. So no one else, including folks at Apple, can read that data. 
Apple has always been a big believer of user security and privacy features. According to their security document, the imessage sync feature in icloud is encrypted and secure.
"Messages in iCloud also uses end-to-end encryption. If you have iCloud Backup turned on, a copy of the key protecting your Messages is included in your backup. This ensures you can recover your Messages if you've lost access to iCloud Keychain and your trusted devices. When you turn off iCloud Backup, a new key is generated on your device to protect future messages and it is not stored by Apple."
Tap on Settings > Apple Id > scroll down and make sure that you have enabled iCloud backup. The only caveat is that since the key is stored in iCloud backup, Apple will have access to it and can share with authorities in the case of a warrant ( for the uber security users). If you want it totally secured and only accessible to you, then you can turn off iCloud backup if you are worried about it.
A copy of this key is also stored in your iCloud keychain which is again protected by your device passcode.
NYTimes recently did a detailed article about Apple and access to user data. You can also read more about security and setup in this white paper from Apple.
Does Messages in iCloud count against my 5 GB storage limit?
Yup, it does. When you use Messages in iCloud, all of your texts, iMessages, and any photos or attachments you send OR receive count against your total iCloud storage.
So if you use the free 5GB iCloud plan (that's what comes with any Apple ID,) you may need to upgrade to a paid plan if you intend to store all your texts, your photos, and any other documents and app data.
iCloud Storage Plans start at 50GB for USD $0.99/month. There's also a 200GB and 2TB plans for additional monthly fees.
We have added a iCloud storage saving tip at the bottom of this article.
Consider Sharing Storage with Family Sharing!
The good news is that as of 2017, you can now share your storage with family so everyone doesn't need a separate plan (anymore!)
When you share a family storage plan, your photos and documents stay private. Everyone still has their own accounts with iCloud (it works the same as if you have your own storage plan.)
Family storage sharing gives everyone access to the iCloud storage plan but you only manage one plan. 

Check how much iCloud storage you currently have
On your iPhone, iPad, or iPod touch

For iOS 10.3 or later, go to Settings >Apple ID Profile > iCloud and tap iCloud Storage or Manage Storage
For iOS 10.2 or earlier, go to Settings > iCloud > Storage

On your Mac, go to Apple Menu > System Preferences > iCloud > Manage
On your PC, open iCloud for Windows
Before you enable Messages in Cloud
Update your iPhone and iPad to the latest iOS and your Mac to the latest macOS
Set up iCloud and make sure that you're signed in with the same Apple ID on all of your devices
Check your iCloud storage plan–Messages in iCloud counts against your iCloud plan, so consider updating to bigger plan if needed

Free iCloud accounts come with 5 GB of total storage

Turn on two-factor authentication for your Apple ID
Make sure to take a backup of your messages before you hit the sync button. I prefer using my MacBook to take a complete backup
How to Use iCloud Message Sync?
On your iPhone and iPad
Update to iOS 11.4
Go to Settings > Apple ID Profile > iCloud
Toggle on Messages
Open the Message App
Your device automatically changes your Keep Messages setting to Forever now that Messages in iCloud is on 

To change your keep messages timeframe, open Settings > Messages
On your Mac
Open Messages
In the menu bar, choose Messages > Preferences > Accounts
Tick the checkbox next to Enable Messages in iCloud
Don't See Messages in iCloud on your Mac?
This feature requires macOS High Sierra 10.13.5 or higher. So sorry Mac OS X and macOS Sierra folks
Some users have found that inspite of upating to the required macOS for this feature, they cannot locate the 'enable messages in icloud' checkbox on their MacBook.
If you find yourself having this issue on your MacBook, the following sequence of steps should help you.
Log off from your iCloud account.
Log off from your Messages app.
Relogin to your iCloud account.
Open Messages app, open Preferences pane, login to your Messages iCloud.
Close Preferences pane, and open it again.
The setting for enabling messages to icloud should show up.
Two-factor authentication for your Apple ID Required!
If you are not yet set up for 2FA, follow the prompts and you can easily set it up. Once you have done that, it requests you to enter your device passcode. 
This feature also requires that you have the iCloud backup enabled on your device
Upon confirming your credentials, the auto sync will start on its own. You don't have to do anything. Depending on the size of your messages, you may see the status at the bottom of your screen. It says 'Syncing Messages with iCloud…'
What is interesting is that all my devices had different message histories and every time I added an additional device, it added in the unique messages on that device into iCloud and copied all the missing messages to that device.
Messages in iCloud Option not appearing in iCloud Settings?
If you don't see the Messages in iCloud toggle after you updated to iOS 11.4, it's likely that iOS is cataloging the size of your Message App Data.
Many of our readers found out that there was no "messages" option under icloud apps immediately after updating to iOS 11.4. Some experienced a long delay, up to 24 hours, in seeing this feature option after updating. 
So it's perfectly normal if it doesn't show up straightaway
Don't panic! Wait a few hours and check again.
The appearance of this Messages in iCloud toggle depends upon the number of messages (and all attachments/photos) that iCloud needs to upload.
How-To Check messages that are in iCloud using my iPhone
Once you set up and enable the messages in icloud feature, you should allow it some time to sync it up. What has worked for us is to enable the feature and plug the device overnight. Its also important to make sure that you have adequate iCoud storage space if you intend on using this featire.
Once the messages have been synced, you can locate them on your iPhone:
Tap on Settings > Apple Id
Tap on iCloud
Next tap on Manage Storage
Tap on Messages and here you can select the conversation thread to see if it has completely updated.
Don't Want Messages in iCloud?
On your iPhone and iPad
Go to Settings > Apple ID Profile > iCloud
Turn off Messages
On your Mac
Open Messages
In the menu bar, choose Messages > Preferences > Accounts
Untick the checkbox next to Enable Messages in iCloud 
When you turn off Messages in iCloud on an iPhone or iPad, your message history is included in a separate iCloud backup.
How to Save iCloud Storage when using Messages in iCloud
Many of us have upgraded our iCloud plans to take advantage of the new Apple features.  There was a lot of hope that Apple would increase the free 5GB storage to a higher storage offering during WWDC but that never happened.
If you are struggling with your iCloud storage plan after enabling messages for iCloud, here is a quick tip that might be helpful in freeing up your iCloud storage space.
Enable Messages in iCloud, let them sync (if you don't have enough space skip this step. )
Delete iCloud backup
Restart phone
Enable iCloud backup
Repeat on all devices
We were able to save off more than 60% of the iCloud space using this simple tip. We hope that you find this useful. It appears that sometime the iCloud backup ends up creating double backups. This will help in removing the extra backup thereby freeing up your iCloud storage.
Wrapping it up
We think Messages in iCloud is great for those folks with small storage devices and who want to keep their text messages indefinitely. With Messages in iCloud, all your texts sync between devices and update automatically. That way, you always have the same messages showing up.
And when you do decide to delete a message, photo, attachment or conversation on one device, Apple's iCloud synching removes it from all of your devices (signed in with the same Apple ID, of course.)