Apple's Far Out event has concluded, which means it's time to figure out whether the changes introduced during the event are enough to warrant an upgrade. Compared to years past, it might not seem like you really should upgrade, but here's our take on the iPhone 13 vs iPhone 14.
Related Reading
iPhone 13 vs iPhone 14: Spec Comparison
| | | |
| --- | --- | --- |
| | iPhone 13 | iPhone 14 |
| Display | 6.1-inch Super Retina XDR | 6.1-inch Super Retina XDR |
| ProMotion | No | No |
| Resolution | 2,532 x 1,170 @ 460ppi | 2,532 x 1,170 @ 460ppi |
| True Tone | Yes | Yes |
| Build | Aluminum | Aluminum |
| Processor | Apple A15 Bionic | Apple A15 Bionic |
| CPU Cores | 6-core CPU | 6-core CPU |
| GPU Cores | 4-core GPU | 5-core GPU |
| Storage | 128GB, 256GB, 512GB | 128GB, 256GB, 512GB |
| IP Rating | IP68 | IP68 |
| Battery Life | Up to 19 hours | Up to 20 hours |
| Front Camera | 12MP TrueDepth | 12MP TrueDepth w/ AutoFocus |
| Rear Cameras | 12MP Wide / 12MP Ultrawide | 12MP Wide / 12MP Ultrawide |
| Connectivity | 5G (Sub-6GHz / mmWave) / Gigabit LTE / Wi-Fi 6 / Bluetooth 5.0 / Ultra Wideband | 5G (Sub-6GHz / mmWave) / Gigabit LTE / Wi-Fi 6 / Bluetooth 5.3 / Ultra Wideband / Emergency SOS via Satellite |
| Colors | Midnight, Starlight, Pink, Blue, Green, (Product)Red | Mightnight, Starlight, Blue, Purple, (Product)Red |
| Dimensions | 5.78 x 2.82 x 0.30-inches | 5.78 x 2.82 x 0.31-inches |
| Weight | 6.14 grams | 6.07 grams |
| Price | $699 | $799 |
iPhone 13 vs iPhone 14: Reasons To Upgrade
At first glance, there's not much of a difference between the iPhone 13 vs iPhone 14. Aesthetically speaking, everything is the same across the board, including the 6.1-inch Super Retina XDR display, with the only real change coming in the way of different colors. But as you might expect, when you start diving deeper into what the iPhone 14 has to offer, the changes become much more apparent.
Better GPU and More RAM
Starting off with the processor, while it's true Apple is using the same A15 Bionic chip from last year's models, the iPhone 14 gets a bit of an upgrade. Gaming performance and graphical-intensive tasks should get a boost as the iPhone 14's chip uses a 5-core GPU.
For comparison, the iPhone 13 used a 4-core GPU, and both devices are still powered by the same 6-core CPU. With mobile gaming becoming more prevalent, it was important for Apple to continue delivering incredible graphical performance on its base model iPhone.
Surprisingly, Apple added some more RAM to the iPhone 14 and iPhone 14 Plus. Now, your iPhone will have 6GB of RAM, allowing it to perform tasks more reliably, and reducing the frequency of apps needing to be reloaded when you switch back and forth. The iPhone 13 and 13 Mini sported 4GB of RAM, which is fine, but more RAM never hurts.
Improved Cameras
Easily the biggest reason to choose the iPhone 14 over the iPhone 13 is the camera hardware. On paper, it looks like Apple is using the same 12MP wide angle and ultrawide sensors, but there's much more going on here.
For one, the primary wide-angle lens on the iPhone 14 is using a larger sensor with an f/1.5 aperture. This sensor also uses 1.9-micron pixels, which enable it to provide up to 49% improvement in low-light performance over the iPhone 13. Thanks to the upgraded Image Signal Processor, this allows Apple to introduce its "Photonic Engine", a feature available on all four iPhone 14 models. Along with helping to improve low-light performance, this also automatically adjusts the colors that are shown whenever you snap a photo.
Cinematic Mode is getting an upgrade on the iPhone 14, for those who care, as you can now record 4K HDR video at 30fps. On the iPhone 13, this was, and still is, capped at 1080p. Action Mode is an all-new feature that vastly improves the image stabilization, essentially removing the need to use your iPhone with a gimbal when taking pictures or recording video.
No Price Hike
This one's a bit more surprising when you look at the iPhone 14 Pro and Pro Max. But it was still nice to see that Apple did not increase prices for the iPhone 14 lineup. Of course, the iPhone 14 Plus is an all-new device with a much larger screen compared to the iPhone 13 Mini, warranting a higher price tag and a new place in the lineup. But you can still get the standard iPhone 14 for just $799, along with whatever trade-in deals or promotions are available through your carrier.
iPhone 13 vs iPhone 14: Reasons Not To
If you're like us, chances are you are already planning on upgrading to the iPhone 14, even if you already own the iPhone 13. But if you're on the fence, there are a couple of reasons why you might want to hang onto your iPhone 13 for a little bit longer.
Say Goodbye To The SIM Card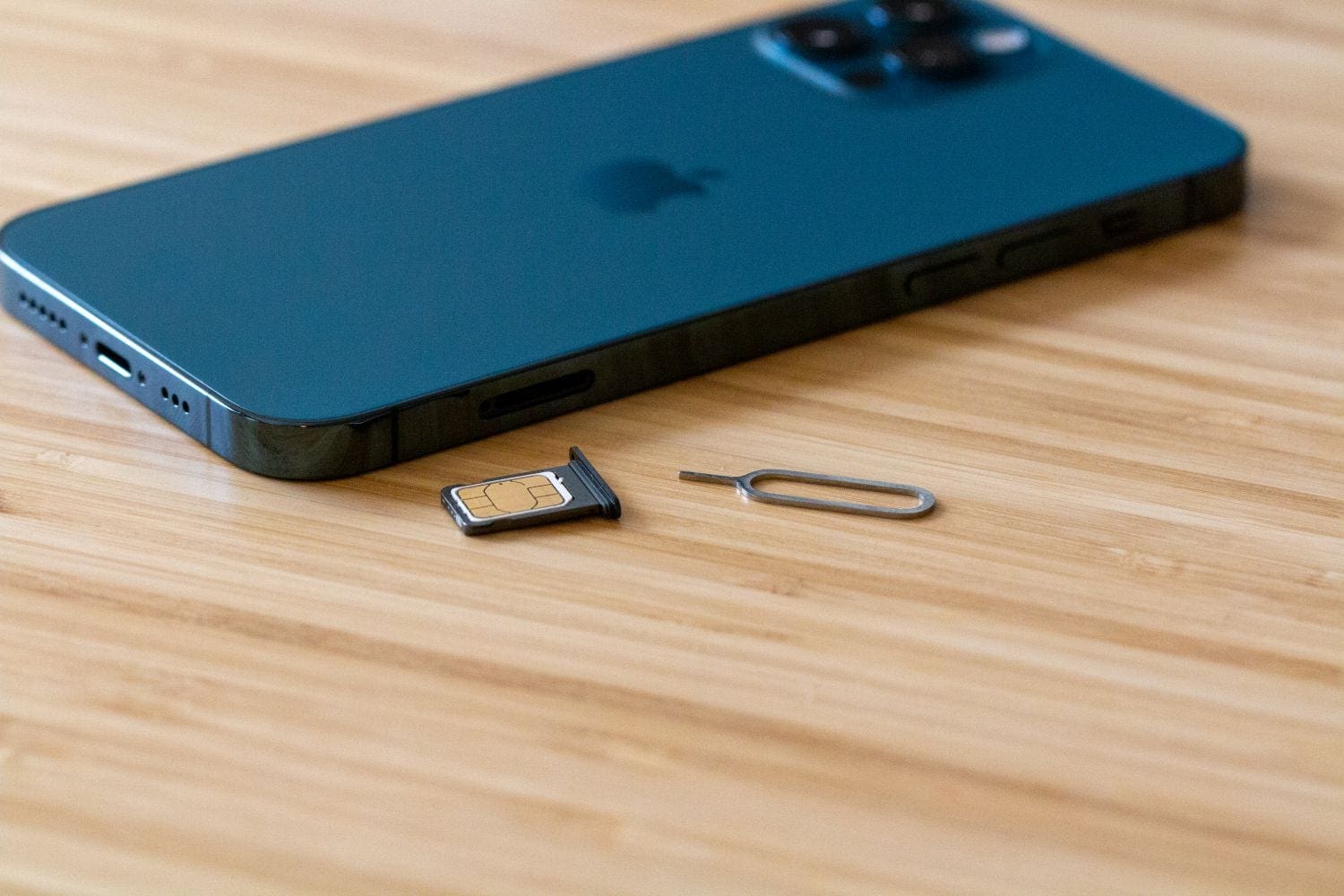 Now, this might not be much of an issue for those who don't tend to switch between different devices frequently. But for the first time ever, the iPhone 14 lineup will not feature a traditional SIM card slot. Instead, all four models will rely solely on eSIM technology.
eSIM is short for Electronic SIM cards and removes the need for you to open the SIM card slot on your iPhone. Instead, set up your network connection can be done right from the Settings app on your iPhone, removing some of the potential headaches found with setting up a device.
The first iPhone to be released that used an eSIM was the iPhone XS and XS Max back in 2018. Since then, just about every new iPhone model ships with eSIM capabilities, provided that the functionality is available in your country. Other countries make use of a dual SIM card slot, wherein you actually insert two SIM cards into the same tray and can switch between them.
And while this change might not seem like it matters much, your opinion can quickly change if you travel outside of the country. Instead of just picking up a $10 SIM card to use in the country you're visiting, you'll have to either pay roaming fees with your existing carrier, or attempt to sign up for an eSIM after you land. It can be a bit of a headache compared to just physically taking out one SIM card and putting in another.
The iPhone 15 Will Be a Bigger Upgrade
While having the additional GPU core and more RAM, along with better low-light performance is nice, it's really not enough. All of the fancy new features such as the Dynamic Island, Always-On Display, and the 48MP main camera upgrade are limited to the iPhone 14 Pro series. There were rumblings that the iPhone 14 would finally get ProMotion, with its variable refresh rate, but those rumors turned out to be false.
Instead, we are kind of expecting Apple to bring a more drastic upgrade to the iPhone 15 and iPhone 15 Plus next year. It wouldn't come as a surprise if Apple brought its Dynamic Island, AOD, and ProMotion display to the non-Pro iPhones in 2023.
Andrew is a freelance writer based on the East Coast of the US.
He has written for a variety of sites over the years, including iMore, Android Central, Phandroid, and a few others. Now, he spends his days working for an HVAC company, while moonlighting as a freelance writer at night.