The iPhone 13 Pro is a rather intriguing device in 2021, as Apple has included all of the same (and awesome) features from the iPhone 13 Pro Max. This includes better battery life and the ProMotion display, while adding a bit of thickness and weight. But it also means that you'll likely be looking to grab one of the best iPhone 13 Pro cases. We've rounded up some of our favorites for you to decide on.
Related Reading
Can you use iPhone 12 Pro Cases with the iPhone 13 Pro?
The short-answer to this question is simply, no. With the improvements to the camera hardware and the larger battery, this forced Apple to create a device that is both thicker and heavier than the iPhone 12 Pro. And along with the new camera hardware, the actual camera module is larger on the iPhone 13 Pro, so the older camera cutouts aren't large enough.
Best iPhone 13 Pro Cases
The Caseology Vault case is easily one of the best iPhone 13 Pro cases with its slim and lightweight design. Although flexible, this case also offers a sandstone texture that feels great in the hands, and the inner WaveShock pattern helps with shock absorption.
Although many of your cases will just work with the built-in MagSafe magnet on your iPhone 13 Pro, it's always nice to have a little bit extra reliability. That's why Spigen created the Mag Armor case there's a dedicated conductive magnetic ring built on the inside. With this in tow, all of your MagSafe accessories will continue to work flawlessly.
If you just want a solid and lightweight case, then the Spigen Thin Fit is the way to go. The case is made from a combination of polycarbonate and TPU materials to provide as much shock absorption as possible. And although all of the buttons are covered by the case, Spigen ensures that they are still tactile and responsive.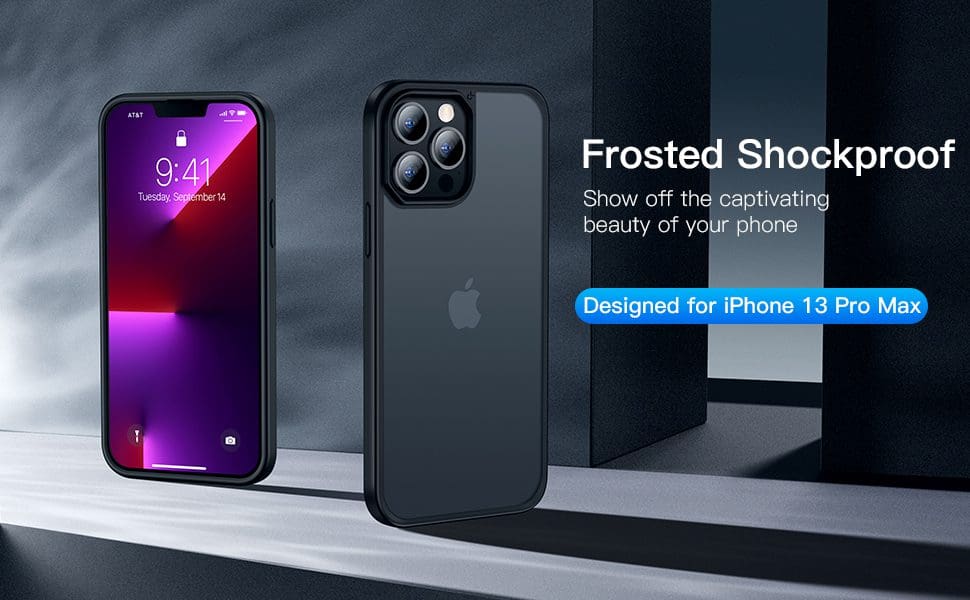 Slim, comfortable to hold, and military-grade protection. That's what you'll get with the CASEKOO Frosted case, along with a unique frosted translucent finish on the back. This allows you to still show off that Apple logo, without completely covering up your iPhone. Plus, the bezels around both the camera and screen are raised, to prevent accidental scratches.
Speck cases have been around for years and years, and for good reason. They are simply just some of the best cases out there. The company is back with a contender for the best iPhone 13 Pro Cases thanks to the Speck Gemshell. This case is crystal clear, offers 8-feet drop protection, and even includes an anti-microbial layer to reduce 99% of bacteria.
The CYRILL Color Brick is a unique case in that it offers a different take on the colors you might be used to having. There are three options to choose from including "Dusk", "Cream", and "Kale". And the case itself offers a form-fitted design with plenty of protection without adding too much bulk.
Most of the time when you get one of the best iPhone 13 Pro cases, you'll also be looking for a screen protector. But with the TAURI Defender, you won't need to as the company includes the case, a tempered glass screen protector for the main display, and one more for the camera module on the back. This gives you 360-degrees of protection, so your iPhone can withstand pretty much anything.
Caseology has been closing the gap to other phone case makers when it comes to the best iPhone 13 Pro cases. This is, in part, thanks to the Caseology Parallax and its unique Hexa Cube design on the back of the case. The texture adds a little bit extra grip, and there's even a specific area on the sides of the case to help provide even more grip.
The TORRAS Slim Fit case is for those who don't care about a bunch of fancy colors and just want a little bit more protection than rocking your phone without a case. The Slim Fit adds just 0.03-inches of thickness and weighs just 0.65 ounces, while sporting a minimal design. Plus, TORRAS offers a 365-day warranty with one free replacement, so you'll be covered if something happens to your case.
MagSafe isn't for everyone, as there are some that would prefer to have a case that protects the iPhone, adds a wallet, and includes a kickstand. With the Sheyee Wallet Case, all three of those checkboxes are marked off. And, the case is still thin enough that it supports wireless charging.
Apple's Silicone Case with MagSafe is obviously one of the best iPhone 13 Pro cases. The silicone exterior is soft to the touch, yet grippy enough to help ensure it doesn't slip out of your hands. And of course it's MagSafe compatible, so it works with all of your existing MagSafe accessories.
There are three new color options for the Apple Leather Case to celebrate the release of the new iPhone lineup with Dark Cherry, Sequoia Green, and Wisteria. Apple also offers the more-traditional "Midnight" and "Golden Brown" if you want something a bit more conservative.
Some of the best protective cases are those that include multiple layers. The i-Blason Ares is a good example of this, as the dual-layer design has been certified to withstand drops from up to 20-feet. There's also a built-in screen protector to prevent scratches, and the the bezels around the camera have been raised to prevent any accidental scratches.
The Poetic Revolution is arguably one of the best iPhone 13 Pro cases for those looking for the most rugged option. This case has been military-grade drop tested, and includes both a built-in kickstand and a built-in screen protector. Poetic even includes an extra front frame for those who would prefer to use a tempered glass screen protector.
Andrew is a freelance writer based on the East Coast of the US.
He has written for a variety of sites over the years, including iMore, Android Central, Phandroid, and a few others. Now, he spends his days working for an HVAC company, while moonlighting as a freelance writer at night.