For Apple fans everywhere, Christmas has arrived as the iPhone 13 was announced today during the company's 'California Streaming' event. This was the latest online-only event, as the world continues to deal with the ongoing pandemic. But even without anybody in the stands, Apple did not disappoint.
Related Reading
iPhone 13: Design and Specs
After the iPhone 12 brought such a dramatic overhaul to the overall design and aesthetic compared to the iPhone 11 series, we weren't expecting much to change with the iPhone 13. Apple delivered, as the company retains the flat edges with curves going around the four corners of the device.
However, the prayers for a smaller notch have finally been answered. Apple has slightly trimmed down the notch to give users a bit more screen real estate to work with. Although some have been hoping that the notch would just disappear, that's not the case just yet. But a slimmed down notch is more than welcome as it is.
A15 Not M1
Under the hood, we have the expected upgrades, as the Apple A15 is providing all of the processing power. Apple claims the A15 is 50% faster compared to the competition. While stopping short of just also calling it the "M1X" to match up with the Mac and iPad Pro. The A15 provides better 5G connectivity along with WiFi 6E compatibility.
Apple is notorious for not sharing specific details when it comes to its new devices, and the trend continues with the iPhone 13. We aren't sure just yet how much RAM is under the hood, but the iPhone 13 Pro and Pro Max have likely been upgraded just a bit.
One of the surprising and welcome announcements, at least for the iPhone 13 Pro and Pro Max, comes via storage. For the first time ever, you can get either iPhone 13 Pro model with up to 1TB of onboard storage. Meanwhile, here's how the storage breaks down across the board:
iPhone 13 / iPhone 13 Mini: 128GB / 256GB / 512GB
iPhone 13 Pro / iPhone 13 Pro Max: 128GB / 256GB / 512GB / 1TB
Even Better Displays
Because the iPhone 13 lineup retains the same design as its predecessor, this means we have the same advertised display size across the board:
iPhone 13 Mini: 5.4-inches
iPhone 13 and iPhone 13 Pro: 6.1-inches
iPhone 13 Pro Max: 6.7-inches
But in the case of the iPhone 13 Pro and iPhone 13 Pro Max, Apple is finally adding ProMotion. This means that for the first time on an iPhone, we have a faster 120Hz refresh rate. Apple was expected to introduce this with the iPhone 12 Pro and 12 Pro Max, but the inclusion was scrapped at the last minute. Now, the iPhone 13 Pro and 13 Pro Max can match up better with some of the best Android phones. Similar to what is found on the iPad Pro models, ProMotion automatically adjusts between 10Hz and 120Hz refresh rates, depending on what content you are viewing. This is done to provide a smooth experience across your device, while also helping to preserve battery life where possible.
Bigger Batteries
Battery life was one of the biggest complaints across the board over the last year, with the exception of the iPhone 12 Pro Max. Apple is attempting to rectify that with the iPhone 13 series, as all four devices are sporting larger battery capacities.
The doesn't come as much of a surprise, at least with the 13 Pro and Pro Max, as the faster 120Hz refresh rate will drain more power compared to the standard 60Hz refresh rate. But with the iPhone 13 Mini and iPhone 13, a bigger battery should definitely make more people happy.
Especially considering that the 13 Mini will provide an additional hour and a half of battery, while the iPhone 13 pushes that to an extra 2.5 hours compared to last year's models. These numbers also translate over to the iPhone 13 Pro and Pro Max compared to the respective devices from last year.
iPhone 13: Cameras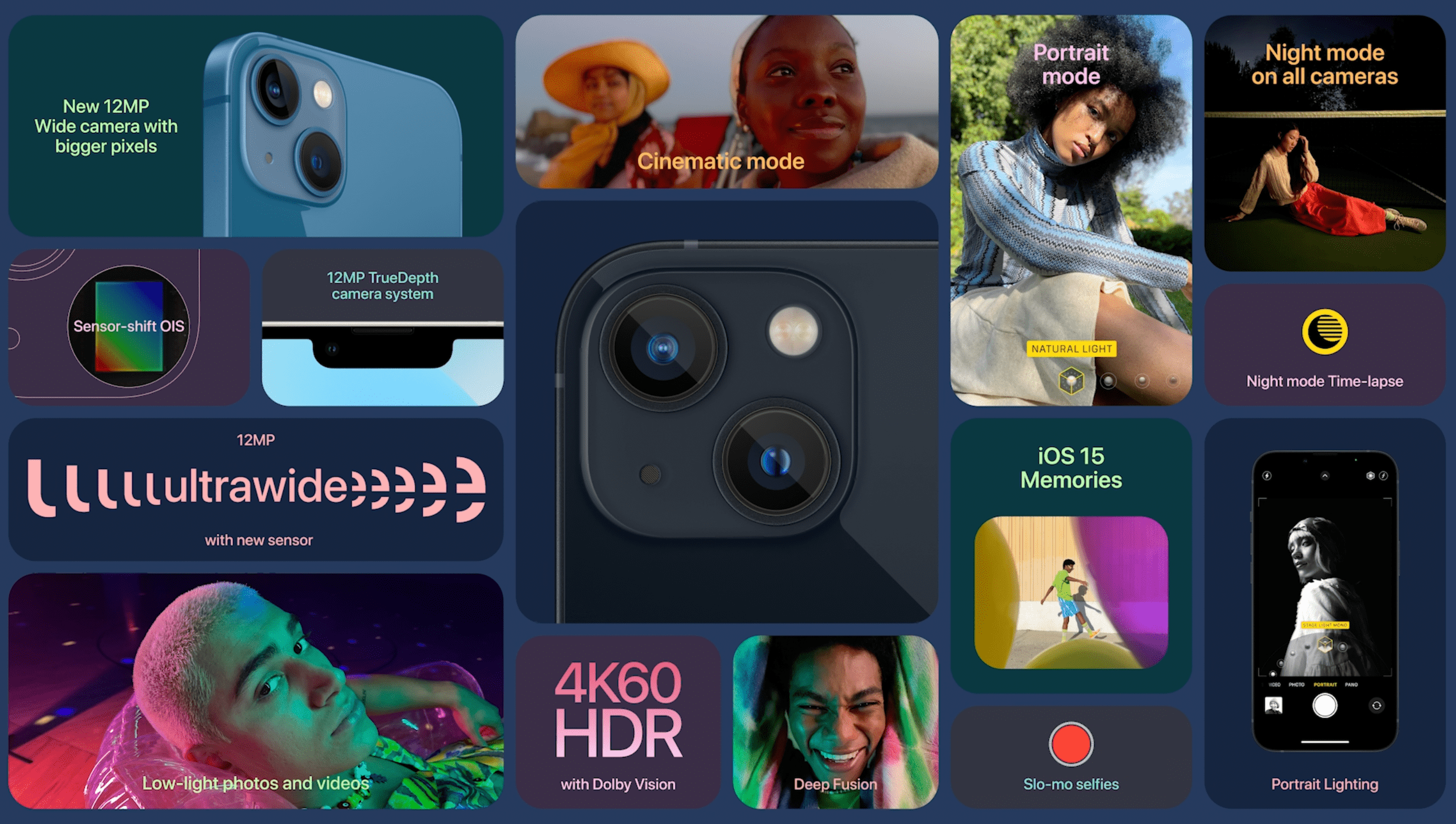 With the iPhone 13 and 13 Mini, Apple is touting these phones as offering the "most advanced dual-camera system." This is thanks to the new wide-angle camera with its 1.7 µm pixels sensor size, offering 47% more light in to provide more clean and brighter photos. After debuting with the iPhone 12 Pro Max last year, Apple has also brought Sensor Shift over to the iPhone 13 and 13 Mini with the standard wide-angle camera.
Thanks to Sensor Shift, the sensor itself is stabilized, instead of your iPhone attempting to account for movements in the entire phone while you snap pictures and record videos. The ultra-wide camera has also been upgraded with a new sensor that is also designed to capture more light, providing better low-light photography performance.
Cinematic Mode was also introduced, combining the power of this upgraded camera system with the all-new A15 Bionic chip to create some of the most incredible videos possible. While recording, Cinematic Mode automatically changes focus, while adding depth effects throughout the video. You can make adjustments to the bokeh effects while either recording or after you've finished, and you can do so right from the Photos app or iMovie on your iPhone. Both models now also support HDR video recording with Dolby Vision, allowing you to capture videos in up to 4K up to 60fps on both the Wide and Ultra Wide camera sensors.
As for still photos, Smart HDR 4 arrives on the iPhone 13 and 13 Mini. This provides "improved color, contrast, and lighting", along with an improved Night Mode. We also now have Photographic Styles, allowing you to set custom settings to your iPhone's camera with those settings being retained even if you are using your iPhone to capture something else.
iPhone 13 Pro and Pro Max: Cameras
All of the special camera features announced alongside the iPhone 13 and 13 Mini are also available on the iPhone 13 Pro and 13 Pro Max. This includes Cinematic Mode, improved Night Mode, Sensor Shift, and Photographic Styles. However, Apple didn't stop there when it comes to its Pro-level devices.
The iPhone 13 Pro and Pro Max now feature the largest wide-angle sensor ever used on an iPhone, measuring in at 1.9 µm pixels. This, paired with the f/1.5 aperture offer less noise and faster shutter speeds resulting in better, more vibrant photos while providing better details. Apple claims that this new sensor provides up to 2.2x better performance over the iPhone 12 Pro, and 1.5x better performance compared to the iPhone 12 Pro Max.
As for the ultra wide camera, we have a wider f/1.8 aperture along with a new autofocus system. This will provide a 92% improvement over last year's models when it comes to low-light performance. And thanks to the autofocus system, you can now use your iPhone to capture macro photography. At a minimum distance of just 2 centimeters, you no longer need to rely on third-party solutions just to get those truly unique and stunning macro shots. Plus, you can also use Macro with Slo-mo and Time-lapse videos.
Rounding out the bunch is the new 77mm telephoto camera. This new lens provides up to 3x optical zoom, combining with the other cameras for a total of 6x optical zoom range.
Moving to videography, the iPhone 13 Pro and iPhone 13 Pro Max will support "ProRes". Think of it like ProRaw but for video capturing, retaining "higher color fidelity and less compression". Between ProRes and Dolby Vision HDR, this is the first and only smartphone in the world capable of to provide an "end-to-end workflow" for videographers.
iPhone 13: Price and Availability
If you were hoping to get your hands on a new iPhone 13 today, you'll have to wait a little bit longer. Pre-orders for the iPhone 13 lineup are set to begin on Friday, September 17th. Then, the phones will be officially released on Friday, September 24th.
As for pricing, Apple surprisingly kept everything the same compared to the iPhone 12 lineup. Here's what each device is priced at:
iPhone 13 Mini: $729 (64GB) / $779 (128GB) / $879 (256GB)
iPhone 13: $829 (64GB) / $879 (128GB) / $979 (256GB)
iPhone 13 Pro: $999 (128GB) / $1,099 (256GB) / $1,299 (512GB) / $1,499 (1TB)
iPhone 13 Pro Max: $1,099 (128GB) / $1,199 (256GB) / $1,399 (512GB) / $1,599 (1TB)
There were rumors that at least the Pro models would get a price bump due to the new display technology. However, to bring a 120Hz refresh rate and new display type without raising the price is a welcome surprise.
Andrew is a freelance writer based on the East Coast of the US.
He has written for a variety of sites over the years, including iMore, Android Central, Phandroid, and a few others. Now, he spends his days working for an HVAC company, while moonlighting as a freelance writer at night.