If you upgraded to an iPhone X, you're in store for some basic gesture re-learning. Quite a few of the gestures that we've used over the past 10 years are history, including even basic things like swiping up to access Control Center. It's time to consciously exercise those muscle memories and learn some new tricks, starting with your Home Screen. Yes, it's gonna take some getting used to, but in a few days or so, it will again be automatic, no thinking required! So if you're wondering things like how to open control center on iPhone X or access Notifications, Siri, and other Home Based functions, this article's for you!
So let's get to it!
Related Articles
Let's Head Over to the Home Gesture Bar and the Notch!
Okay, if you haven't heard there is no Home Button on the iPhone X–not on the front, not on the back. So how to get to your Home Screen? You visit your iPhone X's Gesture Bar! Folks also call it the new home indicator. On your iPhone X, you get to the Home screen by tapping and holding that gesture bar at the bottom of the screen and swipe all the way up to the top of the screen. 
Wait a Minute, isn't this how you summon Control Center on iPhone X?
Nope! With the iPhone X, Apple changes the way we invoke our phone's Control Center. Instead of swiping up from the bottom, we swipe up from the top-right corner. Yes, you heard correctly–Control Center is now accessible by swiping DOWN from the right side of your screen's notch (where you see your location services, Bluetooth, and battery status icons.) 
Hold up, isn't this how you summon Notifications?
Yes and No. With the iPhone X, you still swipe down for Notifications. But instead of swiping down anywhere on the top of the screen, you are now limited to swiping down from the left side of your screen's notch to access your notifications on the iPhone X.
Yup, it's confusing without a Home Button!
Without a home button, Apple chose to add the new Gesture Bar. The gesture bar always sits at the bottom of your iPhone X's screen, whether in portrait or landscape mode. Via this bar, you access your home screen, app switcher, and your app slider to see and move between all open apps.
There are quite a few things that change without a Home Button, including how you take screenshots, access Siri, forced restart, how to pay for things with Apple Pay, and any other features that used Touch ID. We are all bound to make mistakes as we re-learn these changes until once again everything goes into our muscle memory autopilot. But until then, here's how you do some of those common things on your iPhone X.
Press and quickly release the Volume Up button. Then press and quickly release the Volume Down button. Finally, press and hold the Side button until you see the Apple logo.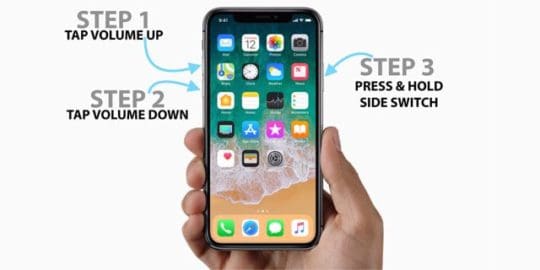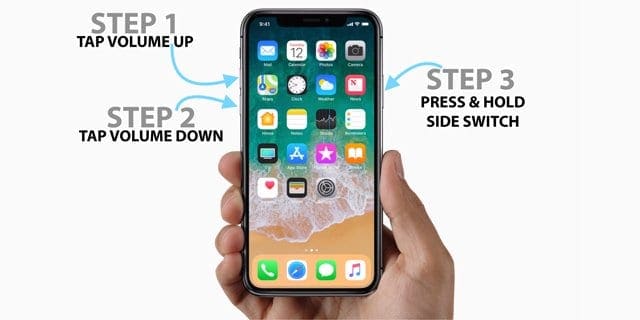 Access Siri
Get Siri's attention by pressing and holding the side button (the power button.)
Pay with Apple Pay
To use Apple Pay, double-tap the side button. Your iPhone X needs to authenticate your identity using Face ID or use your password if you do not want to use Face ID. 
Snap a screenshot
We're all so used to pressing Home and Power to get a screenshot. Now with no Home Button, press the side and volume up buttons together to take a screenshot.
Emergency SOS
Gone is the 5 taps on the Power button! Instead, on your iPhone X, you need to press and hold the side button AND one of the two Volume buttons at the same time to access SOS. This trick works on iPhone 8 models as well.
Your Accessibility Shortcut
For many, this is a necessary feature. Since its inception, triple-clicking the Home Button always brought up your shortcut. But now with no Home Button, what to do? On the iPhone X, we triple press of the side button OR triple tap with three fingers on the screen to bring up our accessibility shortcut.
Turning off your iPhone X is a little different too!
Apple gives us two ways to turn your iPhone X off
Hold down both the side and volume up or down buttons together for a few seconds
Or use the shutdown option in Settings>General (scroll all the way down to find this option)
Summoning it up!
Yup, it's gonna take some time and practice getting used to not having a Home Button and re-learning those basic things like how to open control center on iPhone X. But soon enough it will be easy-breezy and you'll forget why you ever needed that Home Button in the first place.