Got a new iPhone X Series and can't figure out how to force it to restart? Just like the iPhone 8 and original X, Apple changes its method to restart the newest lines of iPhone–again!
Unfortunately, if you try and force a restart using iPhone 7's way of pressing Volume Down and Power, you get a very loud and disturbing emergency alert (this series of buttons now activates your iPhone's Emergency SOS feature.) And from personal experience, it's quite distressing.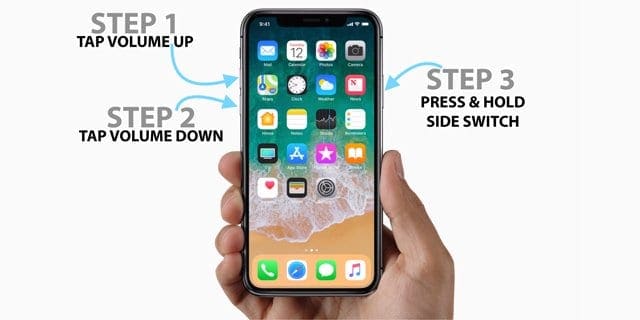 Why Force a Restart?
A forced restart is a hardware level restart while a normal restart (powering off and powering back on) is at the software level. That's why a forced restart works even when your iDevice is completely frozen or somehow malfunctioning.
Remember first to try a regular restart (powering your device off and then back on) before you try a forced restart.
That's because a forced restart prevents iOS from following normal shutdown procedures–things that actually protect your phone or iDevice.
A forced restart is like pulling the plug on your computer when it's not working or unresponsive–there are times when we need to do this because there aren't other options.
But we need to tread carefully. So always, always try a normal restart first!
RELATED ARTICLES
How-To Force Restart Your iPhone X, XS, XR, and the 8 and 8 Plus
Now, it's a 3-Step process
Tap (quickly push in & release) the Volume Up button
Then Tap (quickly push in & release) Volume Down button
Press and hold the Side button until you see the Apple logo, then release

If you see the slide to power off option, keep holding down the Side button until the Apple Logo appears on your screen
Force Restart Older Model iPhones
On an iPhone 7 or iPhone 7 Plus

Press and hold both the Side (Power) and Volume Down buttons until you see the Apple logo 

On an iPhone 6s and earlier, iPad, or iPod Touch

Press and hold both the Home and the Power button until you see the Apple logo
Force Restart With Your Settings App in iOS 11+
For folks using iOS 11 and above, there's an additional way to force your iDevice to restart using an accessibility feature called AssistiveTouch in iOS 11's Settings App.
Assistive Touch adds a round and white on-screen button that has quick action options, including Restart. To use this feature, you must first toggle on AssistiveTouch and add in Restart to your customized menu options.
Using AssistiveTouch to Restart
Go to Settings > General > Accessibility
Scroll down and tap AssistiveTouch
Toggle Assistive Touch ON

A small circular button appears on-screen–this is your quick action menu

Select Customize Top Level Menu
Tap any icon and select Restart from the list of options
Choose Done to save 
Use AssistiveTouch Restart Option
Go to your Home Screen
Tap the Assistive Touch on-screen button and select Restart 
Your device restarts and the Apple logo appears on-screen
What happens if I force restart the old ways?
If you're trying to force a restart using the iPhone 7 way, you'll get the Emergency SOS features–and boy, you'll know it! An emergency alert sounds, your SOS screen appears, and everything on your device lets you know this is for serious business ONLY.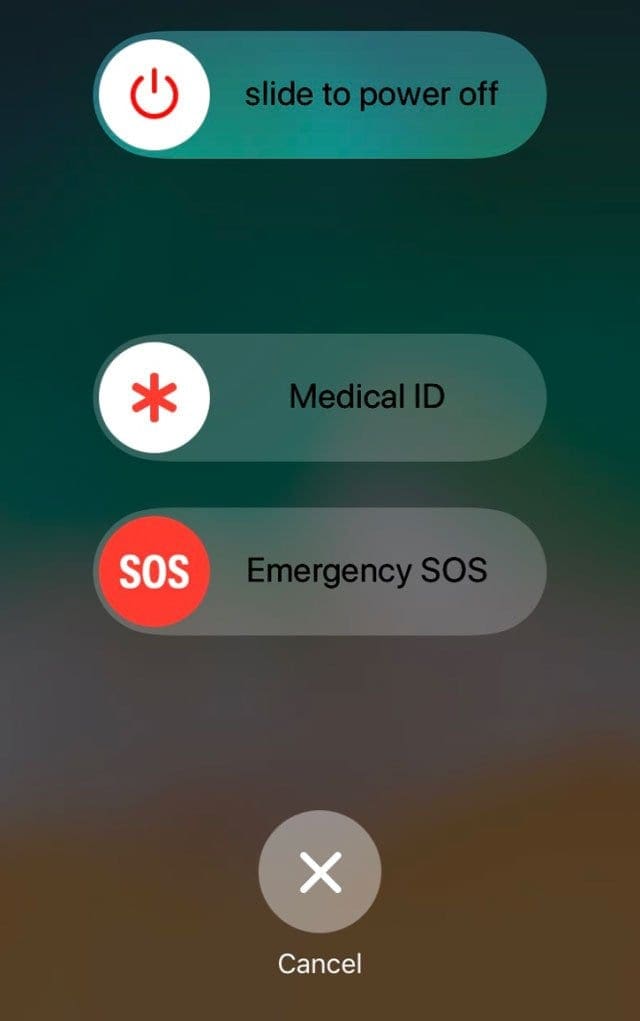 If you try the older way of pressing Home (for iPhone 8 and 7) and Power, you'll get a lovely screenshot of whatever's on your display at that moment!
Believe me; I've done this a million times and counting! I'm thankful that in iOS 11+, there's a quick way NOT to save those inadvertent screenshots. If you don't know this trick, it comes in very useful!
How-To Delete Accidental Screenshots on iPhones with iOS 11 and above
Immediately after you accidentally take a screenshot, tap that screenshot's preview in the lower left corner of your screen.
When the edit menu opens, press Done in the upper-left corner followed by Delete Screenshot from the pop-up menu. That's it! And thankfully, you won't have a bunch of undesired screenshots taking up space in your Photos library.
Have A Lot of Accidental Screenshots?
If you forget to delete the accidental screenshots and it grows over time, there's another way in which you can review all the screenshots on your iOS device and get rid of the accidental ones.
In order to review your screenshots on your iPhone X Series phone or iPhone 8/8+, tap on Photos app to open it.
Next, tap on albums at the bottom right corner of your screen. This will bring up all the albums in your photos app.
Scroll down till you see the folder "Screenshots".
If you have many albums, you can also use the search button on top right of the screen and search for Screenshots to locate the folder.
Once you are in the folder, you can review the screenshots and delete the ones that were accidentally taken.
For most of her professional life, Amanda Elizabeth (Liz for short) trained all sorts of folks on how to use media as a tool to tell their own unique stories. She knows a thing or two about teaching others and creating how-to guides!
Her clients include Edutopia, Scribe Video Center, Third Path Institute, Bracket, The Philadelphia Museum of Art, and the Big Picture Alliance.
Elizabeth received her Master of Fine Arts degree in media making from Temple University, where she also taught undergrads as an adjunct faculty member in their department of Film and Media Arts.