Sometime in the last week, you may have noticed a little card in your Apple Wallet app like this:
This little card is here to announce Apple Cash Family, a new addition to Apple's cash services geared towards families with kids and teens.
In this post, we'll cover everything new in this feature, as well as how to use it.
Let's get started!
What is Apple Cash Family?
Apple Cash Family is an extension of Apple's Family Sharing features and enables parents and guardians to send money to family members who are under 18 years old. You can think of this as an allowance through your kid's iPhone or Apple Watch.
Along with sending your kids money, you can also do the following:
Limit who your kids can send money to. You can control who they text money to or limit them to in-person transactions only.
Get notified when your kids make a purchase. When you drop your kids off at the mall, you'll know where they shopped.
Lock your kid's Apple Pay account. At any time, you can lock your kid's account, preventing them from spending their Apple Cash.
View your kid's Apple Cash balance.
How does it work?
Apple Cash Family is based in the Wallet app on iPhone, iPad, and Apple Watch. You can send your kids money the same as you would anyone else – through the Apple Pay option in the Messages app.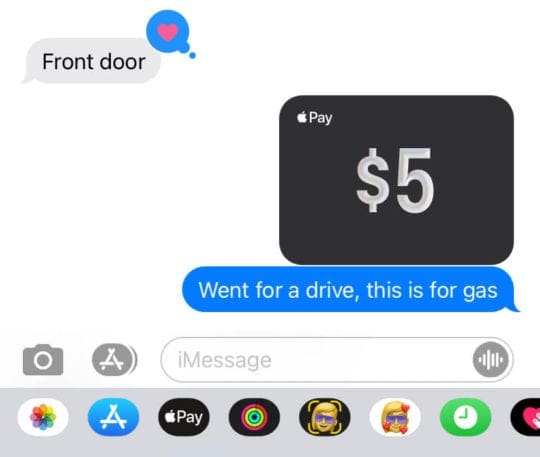 Once sent, you can view your child's balance and edit their permissions in the Wallet app. Like all Apple Pay transactions, this is accomplished through the Green Dot Bank, a long-time partner of Apple.
To manage your kid's Apple Cash, you'll need to have them added to your Family Sharing in the Settings app. We'll cover this below.
Who can use Apple Cash Family?
There are two tiers for managing this feature. The first is the Family Organizer, who has total control over your kids' spending. The second is anyone listed as a parent or guardian. These managers are only able to view your kid's balance, transactions, and receive notifications for your kid's transactions. Typically, one parent would be the Family Organizer while the other would be a parent/guardian.
Anyone under the age of 18 can use this feature, though they must own one of the following devices:
iPhone 6 and later
Any iPad, iPad Air, iPad Pro, or iPad Mini with FaceID or TouchID (if the iPad is not paired with a phone number, it will need to be a cellular model)
Any Apple Watch (if you are using Family Setup for your kid's Apple Watch, the Watch will need to be a cellular model)
Each of these devices must be updated to the latest software available.
How to use Apple Cash Family
To start, one 18+ Apple user in your family will need to open the Settings app, tap their name at the top of the screen, then Family Sharing and Set Up Your Family.
Once you've added your family members, you'll need to set up Apple Cash. To start, open the Settings app, scroll down and tap Wallet & Apple Pay, turn Apple Cash on, tap Apple Cash in your payment cards, tap Continue, and follow the instructions to set up Apple Pay.
With both of these taken care of, you're ready to start settings up Apple Cash Family. To do so, open the Settings app and tap your name at the top of the screen. Next, tap Apple Cash, choose one of the kids in your Apple Family, and tap Set Up Apple Cash.
This will walk you through a series of steps that include identity verification and making sure your child meets the requirements. A few minutes later, you should be good to start using Apple Cash Family!