If your Apple Watch auto answers incoming calls, you've come to the right place. This issue can be extremely annoying, especially if your device answers calls you don't want to take. This unexpected problem often occurs when you turn your wrist to see who's calling. Let's see how you can prevent your watch from answering incoming calls.
What to Do if Apple Watch Keeps Answering Calls by Itself
To clarify, your Apple Watch is not supposed to answer calls automatically when you raise your wrist. This indicates something's triggering that strange behavior. Check if there's anything partially covering the screen of your watch.
Maybe you accidentally brushed the Answer button without even noticing it. If this issue doesn't occur again, there's nothing to worry about. However, if it occurs every time you get a call, check your Accessibility settings.
Disable Auto-Answer
If your Apple Watch automatically answers incoming calls, most likely this is because the Auto-Answer option is on. On your Apple Watch, go to Settings, select Accessibility, and then scroll down to Auto-Answer Calls. Simply disable the auto-answer option, and check the results.
You can also use the Watch App on your iPhone to disable the auto-answer feature. Launch the app, go to My Watch, and select Accessibility. Then, scroll down to Auto-Answer Calls and disable the option.
Get the Latest Updates
Updating your Apple Watch to the latest watchOS version can help you fix many annoying glitches. On your watch, go to Settings, tap General, and select Software Update. If a new watchOS version is available, tap Install. Restart your device, and check if you notice any improvements.
If an unexpected software bug is causing your watch to answer calls automatically, chances are the latest watchOS version contains a fix for it.
Unpair Your Devices
If the issue persists, unpair your Apple Watch from your iPhone.
Place your watch and phone close together
Open the Apple Watch app
Select My Watch
Tap All Watches
Tap the Info button next to your watch
Then, tap Unpair Apple Watch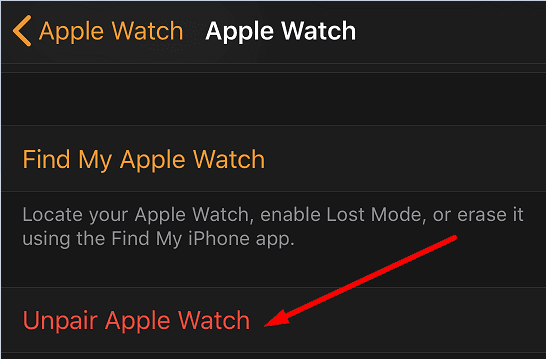 Restart your devices, pair them again, and check the results.
Conclusion
If your Apple Watch keeps answering incoming calls on its own, go to Settings, and disable Auto-Answer Calls. Then, update your device to the latest watchOS version. If the problem persists, unpair your Apple Watch from your iPhone.
Did you manage to solve the problem? Which of these solutions worked for you? Let us know in the comments below.