As someone who uses both iOS and Android, there are definitely pros and cons to both platforms. One of the biggest benefits of Android is that it's Open Source and extremely customizable. From changing the system font, to using a different launcher, or using a third-party SMS application instead of the default option, the possibilities are truly endless.
Related Reading
Apple seems to finally be opening up the walled garden just a little bit, with the introduction of widgets, the App Library, and now, the ability change some more default apps. While you still can't enter Jiggle Mode and place your icons anywhere, having the option to add some widgets and change some default applications is still refreshing.
You don't need Apple's apps anymore
One of the great things about apps like Safari, Chrome, and Firefox is that they can be synced across all of your devices. However, when it comes to iOS and iPadOS, you have been stuck using Safari or Safari's WebView every time you clicked a link from an email, from a friend, or elsewhere.
Speaking of emails, the same issue has been true for the Mail app. Although you can download and use a third-party mail application, whenever you clicked a "reply-to" link, you would be taken into Apple's Mail client.
That's no longer the case with iOS and iPadOS 14, as Apple has now made it possible for you to switch your default browser and email apps. You can finally use Google Chrome on your iPhone, start browsing some webpages, and then open those same pages up on your computer, or vice-versa.
This is not the first time that we've seen Apple make it possible for users to change the default application. All the way back in 2016, Apple made it possible for developers to bring their custom keyboard applications to iOS. The biggest difference here is that while you can use these keyboards for about 95% of your interactions, iOS still limits the ability to use them whenever a password needs to be entered. When that occurs, iOS switches back to the default keyboard, and then back again to whichever custom keyboard app you have set as the default.
How to change your default browser in iOS 14
So far, we have only found Google Chrome to be the only app that allows you to change the default browser. And the settings for this aren't exactly in the same place you would expect them to be. Instead of heading into the settings for Safari, you actually need to head into the app settings for Chrome. Here's how you can change your default browser.
Download Google Chrome from the App Store.
Open the app and sign in with your Google account.
Open the Settings app on your iPhone.
Scroll down until you find Chrome in the list of apps, and select it.
Tap on Default Browser App.
Select Chrome from the list.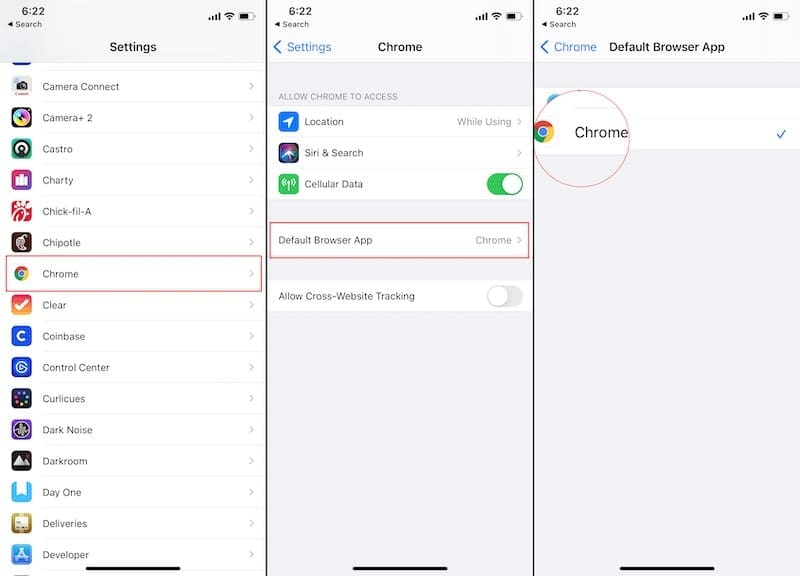 Once you've switched over, you don't have to do anything else. Just move Chrome over to your Home Screen (if it's not already there) and enjoy! From now on, every time you open a link from another app, a new Chrome tab will open, instead of another tab in Safari. Additionally, we know that an update to the Firefox iOS app is in the works, which enables this feature, but that update is not available as of yet.
Andrew is a freelance writer based on the East Coast of the US.
He has written for a variety of sites over the years, including iMore, Android Central, Phandroid, and a few others. Now, he spends his days working for an HVAC company, while moonlighting as a freelance writer at night.