We use our AirPods to listen to a variety of things–music, podcasts, audiobooks, movies, and more! So when our AirPods aren't loud enough to snuff out the background, it's a problem!
So let's learn how to pump up the volume and so we can listen to all our favorites again.
Quick Tips 
Try These Quick Tips To Get Your AirPods Sound Louder
Toggle off Low Power Mode
Turn off any Volume Limit or Sound Check
Unpair, then re-pair your AirPods

Check and adjust the EQ playback settings

Calibrate your iPhone and AirPods
For Android devices, enable Media Volume Sync
Related Articles
We have written many articles about the Apple AirPods and for a good reason. These are some of the best first-generation products to come out of Cupertino in quite some time.
There are a lot of different tips and tricks to maximize the usefulness of AirPods, but we are always finding more. There are also a few complaints, despite the competitive pricing and reliability of this product from Apple.
One such complaint is that your AirPods may not sound as loud as you would like. 
Now that the AirPods have been out for some time, folks have discovered a few ways to hopefully boost the output. Here are the ways you can improve the sound of your AirPods.
Turn Off Low Power Mode
We discovered by chance that low power mode seems to reduce the maximum volume potential on our AirPods.
So try toggling off low power mode (if possible) and see if you can pump that volume up. 
The easiest way to turn off low power mode is via Control Center but if that's not an option, go to Settings > Battery and toggle off Low Power.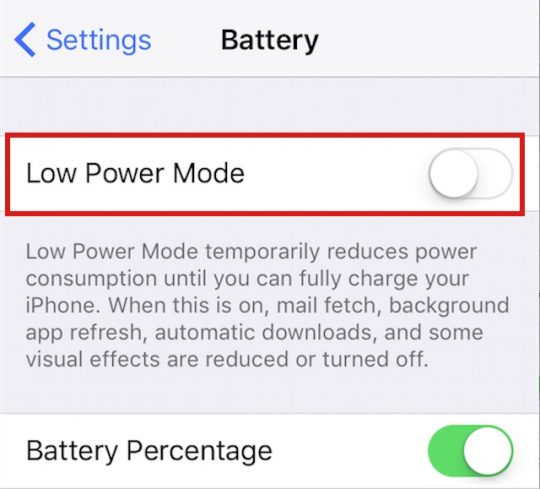 Check Volume Limit and Sound Check
Despite what you may think, there are a couple of options in the Settings app to adjust the sound. These include Volume Limit and Sound Check.
These can sometimes hurt the playback of media coming from your iPhone to your AirPods (or other headphones).
To check these, here are the steps:
Open Settings

Scroll down and select

Music

Select

Volume Limit

Adjust the Volume Knob all the way to the end
On the first "Music" page, you will see whether Volume Limit is enabled or disabled by a simple "On or Off." Tapping that section will allow you to move the knob back and forth to your liking.
As for Sound Check, the process is just as simple:
Open

Settings

Scroll down and select

Music

Toggle

Sound Check
By default, this is turned off, but the Sound Check functionality can hinder the playback of your media. So if it has been turned on accidentally, you'll want to go ahead and turn this back off.
Simply unpair and re-pair your AirPods
If you're technical at all, you likely have heard the adage of "turning it off and then back on." Even in today's world, this can still have a desirable effect of randomly fixing problems.
In the case of the AirPods, you can't just turn them off, but you will need to unpair them from your iPhone completely.
Here are the necessary steps to unpair and re-pair your AirPods:
Forget your AirPods on your iPhone Bluetooth page

Turn off Bluetooth on iPhone

Reboot iPhone

Turn Bluetooth back on

Put AirPods in pairing mode and re-pair to iPhone

Done!
You'll see that the third step states to reboot your iPhone after the AirPods have been unpaired.
This is to help ensure that the connection between your iPhone and AirPods is entirely severed, making it easier for you to re-pair the AirPods after the fact.
Pump up the Bass
Another method that you may not have considered is checking out the EQ playback settings. Again, we navigate into the Settings app.
Here are the steps to adjust your EQ
Open

Settings

Scroll down and select

Music

Under

Playback

, tap

EQ
From here, you are greeted with a slew of different equalizer settings that are automatically built into your iPhone.
There is an EQ option for just about any situation that you could think of, but if you are focused on music, you may want to select Bass Booster.
If you're a frequent podcast listener, the Spoken Word option may be best for you.
This can also be adjusted based on whatever you happen to be listening to.
You will just need to head back into the Settings app to adjust the EQ levels on your AirPods.
Calibrate the sound between your iPhone and AirPods
If you are still running into issues, then you may need to attempt to calibrate the sound between your AirPods and iPhone.
This is done by the following means:
Turn the volume all the way down

Disconnect (do not unpair) the AirPods via Settings > Bluetooth

Keep the AirPods in your ear

Play audio using your iPhone's speakers

Turn the volume all the way down

Reconnect the AirPods

Adjust your audio accordingly.
When it comes to disconnecting, we do NOT mean to completely unpair them. Instead, while your AirPods are connected and playing media, open the Settings app and select Bluetooth.
From there, toggle Bluetooth to the 'Off' position. After the volume on your iPhone has been turned all the way down, toggle the Bluetooth back to the 'On' position.
What about AirPods and Android?
Don't worry; we haven't forgotten those Android users out there that have fallen in love with the AirPods. This sound limitation issue has also affected owners of Android devices
This option may not be available to every Android device, because not every device features the same software options.
However, you can give the following steps a shot if you need to get the volume back to normal on your AirPods.
Open Settings
Tap Connections
Select Bluetooth
In the top right-hand corner, tap the three dots for more options

Turn

Media Volume Sync

on
Don't See These Options?
For other Android devices, tap the volume up or down, and the volume control appears. Then, tap the down arrow just next to the volume control. From the available volume sliders, choose Bluetooth. Adjust it up as desired.
This may not solve your issues, but it's a start, and then you might want to look into possible EQ options available in the Settings of your Android device.
If you have any other ideas, be sure to comment below!
Is One AirPod Louder Than The Other?
Is your right AirPod sounding louder than the left? Or vice-versa?
If you find that one AirPod is loud, while the other is quiet, it's usually an accessibility setting making that change.
Go to Settings > General > Accessibility and scroll all the way to the Hearing section.  
Look for the slider that has Left (L) and Right (R) options. Move the circle to the center and see if that even out the audio between your AirPods.
If your problem is that sound is only playing in one AirPod, check out these tips.
AirPods Sound Muffled?
Try cleaning your AirPods! 
It's possible that ear wax, skin, and lint are clogging one or both of those AirPod speakers. Try the tips outlined in this article and learn how best to clean your AirPods today.
What to do next?
If you have tried all of the different options above and things still aren't sounding right, you may be out of luck. Some folks like to listen to their volume all the way up, and something may have gone awry within the affected AirPod.
Regardless of whether you are still under the Apple Warranty, you can still take your AirPods to the local Apple Store and get the Genius Bar to check them out for you. 
Then, the experts at Apple can help provide a better idea of whether they need to be replaced or not.
Conclusion
After owning my AirPods for more than a year, I have been lucky to say that these have even survived a few cycles in the washing machine. These headphones are still firing on all cylinders and sound absolutely phenomenal.
I can't wait to see what Apple has in store for the 2nd-generation product, which could launch sometime in 2019.
If you have any more questions about these and need some guidance, be sure to hit us up in the comments below, and we'll be more than happy to answer any questions!
Andrew is a freelance writer based on the East Coast of the US.
He has written for a variety of sites over the years, including iMore, Android Central, Phandroid, and a few others. Now, he spends his days working for an HVAC company, while moonlighting as a freelance writer at night.