Okay, I confess that I am AirPod Double Tap and Squeeze challenged. Some days it works and then other days it doesn't, with no rhyme or reason. But with a lot of frustration!
It doesn't matter if I'm choosing Siri, Next Track, or Play/Pause or whatever the heck else is listed under "Double-Tap On AirPod."
It just doesn't consistently work for me. So I'm stuck with a sore ear from all that tapping AND a song that I cannot play or pause using just the AirPod.
Quick Tips
Squeeze AirPods Pro and tap AirPods 1 & 2 Series
For Airpods 1&2, tap just above the stem of the AirPods

Try tapping your ear lobe instead of the AirPod
A triple tap often works better than a double tap

For AirPods Pro, squeeze the force sensor on the stem
Related Articles
Unlock Your Device 
Before you do anything else, unlock your iDevice and then try your AirPod Double Tap or Squeeze.
When the screen is off double tapping and squeezing don't do a darn thing!
If your screen is asleep (black) then your iDevice is in what Apple calls a locked state. Press the Home or Power button or swipe up to awake it and unlock it.
Then try squeezing or double-tapping your AirPods!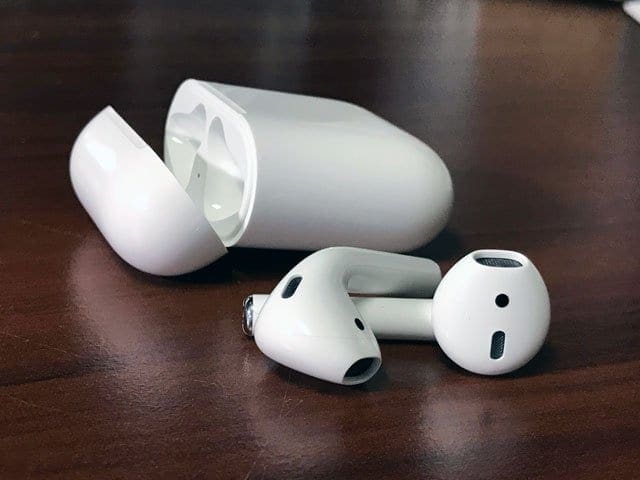 Location Matters
But there is a method to the AirPod Double Tapmadness. And it's all about location (location, location!) Perfecting your Squeeze or Double Tap means you're tapping in the correct location.
For AirPods Pro
For folks using Apple's Pro AirPods model, that place is between the AirPod head and the end of the stem–you should see and feel an indentation. That's your AirPod Pro's force sensor.

Squeeze once to play or pause music
Squeeze once when a call is incoming to answer the call
Squeeze twice to skip forward on a track
Squeeze three times to skip back on a track
Squeeze and hold that squeeze to switch between Active Noise Cancellation and Transparency mode
And yes, it takes practice to get this down!
For AirPods Series 1 & 2
That special spot is just above the stem but below the top slit speaker. Not on the stem or above that speaker.
It takes some patience and a little time but the payoff is consistent AirPod Double Tap return.
So follow the mantra "practice makes perfect."
Try your ear lobe instead!
One of our readers suggests tapping on the back of your ear instead of on the AirPod itself.
For us, it works like a charm!
How's it Work?
The AirPod Squeeze or Double Tap works using its built-in motion accelerometer. This accelerometer allows the AirPod to know when you squeeze the force sensor or tap it twice to activate Siri, Play/Pause, Next or Previous Track, or Off (depending on how you set-up it up.)
Your AirPods feature some amazing tech in such a small package.
Customize your AirPods Pro's force sensor
Go to Settings > Bluetooth
Tap the "i" next to your AirPods Pro
Locate Press and Hold AirPods and choose Left or Right
Choose how you want your AirPod Force Sensor to work–Noise Cancellation or Siri
When you select Noise Cancellation, you get additional options when you squeeze

Check or uncheck which options you want
To activate, press and hold the AirPods Pro force sensor on the stem of an AirPod until you hear a chime
For the AirPods Pro, its Active Noise Cancellation and Transparency mode work best when you run the Ear Tip Fit Test to ensure your AirPods Pro fit your ear size best.
Choose Your Double Tap Function for AirPod Series 1&2
It's very important to know what the double-tap does.
To set your AirPods' double-tap functionality, open your AirPods case or place one in your ear and go to Settings > Bluetooth > Your AirPods and tap the "i" next to your AirPods name.
Locate the section DOUBLE-TAP ON AIRPODS and choose the options you want. For folks using iOS 10, your options are limited to  Siri, Play/Pause, or Off.
This sets the default for both the left and right AirPods.
iOS 11+ AirPod Additional Double Tap Options for Left AND Right!
For folks using iOS 11 and higher, you have some additional options for Next Track and Previous Track as well as Siri, Play/Pause, and Off.
And you can set the left AirPod with a different function than the right AirPod.
For example, you set your Right AirPod's Double Tap to Play/Pause while your left AirPod's Double Tap advances to the Next Track or invokes Siri.
This additional functionality is a nice added touch to iOS!
But Size Doesn't Matter
You heard it here. Just because your AirPods are small doesn't mean they are brittle or fragile. Don't treat them with kid-gloves; use a firm tap, not a light pat.
Squeeze with a bit of force or double-tap like when you are tapping numbers into a calculator or playing piano keys. Go ahead and tap your AirPods that firmly. In my attempts to get this right, I learned that I needed to tap a lot harder to get steady results.
So squeeze or tap harder than you think necessary, and you'll probably get better, more consistent results.
Wouldn't it be great if Apple added a sensitivity selector, similar to the 3D Touch Sensitivity Selector, with options for light, medium, and firm tapping?
None of us would need "schooled" on how to do the AirPod Squeeze or Double Tap!
Well, there's some good news, folks using iOS 13 or iPadOS have some additional sensitivity options for their squeeze! Just head to accessibility settings.
Change your AirPods's press speed and duration
Visit Settings > Accessibility
Scroll down and tap AirPods (if you don't see this option, make sure your AirPods are connected)
To manually change, under Press Speed and Press and Hold Duration choose an option other than the default
And for AirPods Pro users, if you want to enable Noise Cancellation with One AirPod, toggle it on so when only have one AirPod in your ear, noise cancellation still works!
Awesome Reader Tips! 
You can also access some settings in Control Center. When wearing both AirPods, touch and hold the volume slider until you see the additional controls. Choose Noise Cancellation, Transparency, or Off
My Apple Watch lets me choose some options as well when listening to music, podcasts, or any audio source. Just tap the AirPlay icon to choose between Noise Cancellation, Transparency, or Off
Reader Sean suggests tapping on the back of your ear just above the lobe, instead of on the AirPod itself. He's had great success using this method so why not give it a try and see if it works for you!
James has a different solution. Just triple-tap your Airpods instead of double-tapping. For James, this works every time!
For most of her professional life, Amanda Elizabeth (Liz for short) trained all sorts of folks on how to use media as a tool to tell their own unique stories. She knows a thing or two about teaching others and creating how-to guides!
Her clients include Edutopia, Scribe Video Center, Third Path Institute, Bracket, The Philadelphia Museum of Art, and the Big Picture Alliance.
Elizabeth received her Master of Fine Arts degree in media making from Temple University, where she also taught undergrads as an adjunct faculty member in their department of Film and Media Arts.