Whether listening to music, watching movies, or playing games you want to experience sound in stereo. That's why it's so frustrating if your AirPods or headphones are only playing in one ear!
Many of you may have got Apple wireless AirPods for Christmas. Or maybe you're fishing your old iPhone headphones out of the drawer for a New Year run. Whatever the circumstances, it's dizzying and annoying to discover the sound only coming from one side.
This is a frustrating problem with a few possible causes. So, untangle your cables or charge up your AirPods because we've got you sorted right below.
Are they clean and dry?
First things first, you've gotta clean your gear and keep your AirPods dry.
Dirt, lint, or even ear wax can clog the headphones and block the sound. Give your AirPods or headphones a thorough inspection looking for debris. This is especially problematic for those of you prone to stuffing headphones in a pocket or bag when you're done with them. Use a case in the future.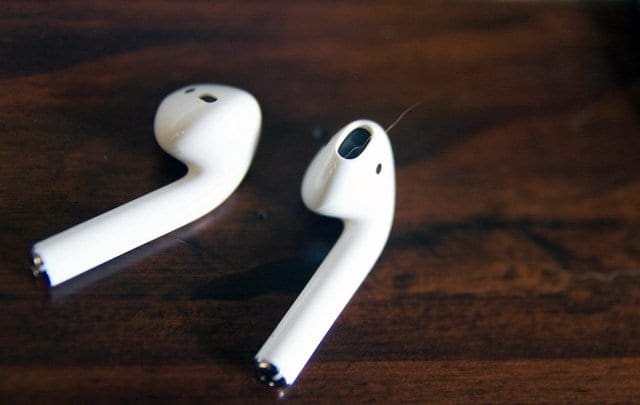 If you find any debris on the earbuds just wipe it away with a dry cloth.
If your AirPods are damp, a dry cloth should do the trick. But if they are wet, use a microfiber cloth to soak up any remaining liquid.
Microfibre cloths are particularly good for this since they won't leave new fibers all over the headphones. For those tricky nooks and crannies just grab a cue-tip from the bathroom and wipe everything away.
If you suspect your AirPods got soaked or dropped into water or another liquid, check out this post about drying your Pods!
Related posts:
Check your stereo balance
Many users don't realize that iPhones, Macs, and Windows PCs have a setting to move sounds all the way to the left or the right. It's there to help hearing-impaired users, but if your AirPods or headphones are only playing in one ear it could be that this setting has been adjusted by mistake.
Adjusting the stereo balance on an iPhone:
Go to Settings > Accessibility (for older iOS, Settings > General > Accessibility)
Scroll to the Hearing category and tap Audio/Visual and ensure the slider is midway between L and R (for older iOS, it's under Hearing)
Adjust the slider so it's in the middle

Above the slider, switch the Mono Audio toggle to the off position
Adjusting the stereo balance on a Mac:
Open System Preferences > Sound > Output
Select the name of your AirPods or headphones from the Sound Output menu
Ensure the slider is midway between Left and Right
Go to System Preferences > Accessibility
Scroll to Audio and uncheck the Mono Audio checkbox
Disconnect, reset, and restart!
The solution may be to reconnect and restart your devices.
For old-fashioned iPhone headphones that's as simple as pulling the headphones out and restarting your device. However, when reconnecting the headphones be sure to press the headphone jack all the way into the port on your device. If the jack is only partly inserted the audio will playback quieter and only on one side.
Apple AirPod users have a few extra steps ahead of them. They need to unpair the headphones and reset them using the case, follow the steps below to find out how.
Disconnecting and resetting wireless Apple AirPods:
Open the Bluetooth menu on your device and choose to Forget the Apple AirPods
Return the AirPods to their charging case but keep the lid open
Hold the setup/reset button on the back of the case for 15 seconds

Resetting your AirPods is as easy as holding the Setup button.

Keep the button held until the light beneath the lid flashes amber
The AirPods have now been reset, restart your device and pair them as new
Test another pair and reset settings if needed
Just in case you haven't done so already, you should try listening to something on your device using another set of headphones. Doing so could help to narrow down whether the headphones are at fault or not.
If you find that a different set of AirPods or headphones are only playing in one ear as well, it's likely that your headphones are fine but your device is at fault. Try to reset settings on your device (taking care not to delete precious data) to see if that resolves your issues.
Doing so on an iPhone is as simple as going to Settings > General > Reset and then tap Reset All Settings.
You'll notice things like screen brightness, volume, and notification settings go back to their default but your personal data will be fine.
Left AirPods weaker than the right ones, why?
The position of the mic on the left AirPod may be the answer.
AirPods default to the left mic first, and only to the right mic if the left pod is removed from the ear.
You can manually force the right mic by selecting that option from Settings >Bluetooth >Your AirPods > Microphone.
Setting to Always Right AirPod for the microphone now might extend your use time since it won't be trying to use more power in the left pod and thereby save battery life on the left AirPod.
Speak to Apple
By now we hope you've got your headphones working again. But if you're still struggling to get stereo sound, you might be able to find more help from Apple themselves.
Visit Apple's Get Support website and reach out to Apple for more assistance.
For this issue, we suggest you choose the options More > AirPods > Audio Quality regardless of which Apple headphones you're using.
Through telephone or online support Apple can talk you through additional troubleshooting steps or schedule an in-store appointment if needed.
We hope you found this post useful and are enjoying stereo music or side-swishing sound effects. Let us know in the comments which tip fixed your issue or if what you really needed was to book that hearing test at long last!
Reader tips
Take both your AirPods out of your ears, wait for 20-30 seconds, and then put them back into your ears at the same time
Ask a friend, family member, or co-worker to call you and accept the call via your AirPods–worked for me!
On a Mac, go to your Mac's sound preferences (CMD + Space, then type sound), choose the "output tab", and under "select a device for sound output" select your airpods by their name. Then, move the Balance slider to the center
Make sure that when you reset your Airpods using the setup/reset button on the back, that you press and hold the button in long enough to actually reset them, usually about 15 seconds until the status light flashes amber. Mistakenly, I was pressing that button for only a few seconds and ended up in pairing mode instead of reset mode!
I had to "forget" my AirPods on all my devices (with the same Apple ID) first–including my Mac–before I could get it working again!