Now that quite a few devices out there no longer feature headphone jacks, using wireless earbuds like Apple's AirPods is more and more the norm for mobile folks on-the-go. But like its predecessor EarPods, AirPods get dirty and waxy over time. So every now and again, you need to clean your AirPods and give them a good old-fashioned tidying!
Related Articles
Clean Your AirPods: The Symptoms
The more you use your AirPods, the more they pick up what's around them. That's why it's so important to store your AirPods or other wireless buds in a case when you're not using them. If you are someone who tosses your AirPods or wireless buds into and out of your bags, pockets, etc., you are likely to pick up lint and other debris much faster than those storing their Pods in a case. So please, keep them in the case when not in use.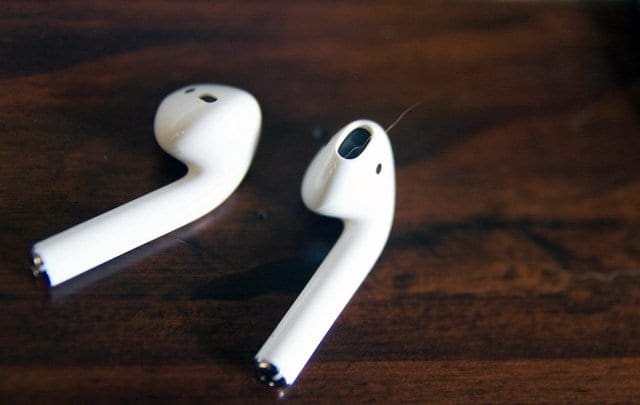 When you start noticing a reduction in sound quality coming out of your Pods, your AirPods' speakers might just have a lint and wax build-up. Look closely at your AirPods' speaker screens–that's the mesh that covers the speakers. Check if they're dirty or clogged. While the mesh is meant to protect the speaker elements, it also collects dirt, lint, wax, and other debris inside and along the small holes.
Other symptoms include muffled sound, static, and other types of audio interference. If you notice a slow decline in sound quality (versus a sudden drop), the first thing to check is the physical condition and cleanliness of your AirPods or other wireless earphones.
Clean Your AirPods: The Solutions
Set a Routine
The easiest thing is to clean your AirPods after each use (or at least every day.) That way, any debris, wax, or lint is removed straight away, so it doesn't collect and build-up into something unmanageable. For daily cleaning, wipe your AirPods using a microfiber cleaning cloth, similar to what you probably use to clean your glasses and sunglasses. Be sure to wipe over all parts of your AirPods or wireless buds, including the speaker screens–be gentle, no need to put a lot of pressure.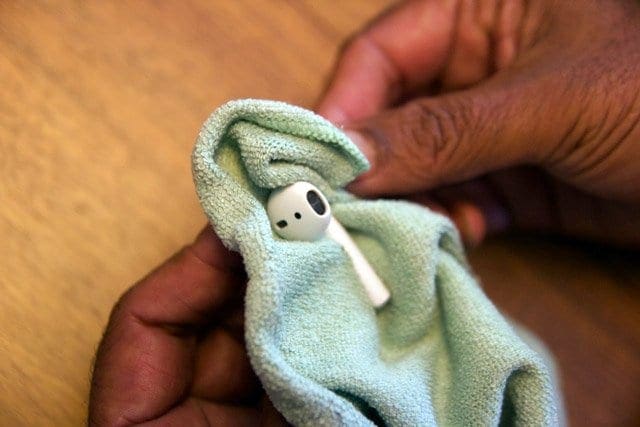 We do not recommend using Q-Tip or anything like that because these tend to shed.
Why Microfiber?
Microfiber cleans better than traditional cloths, like cotton or paper towels, due to the small size of each of a cloth's fiber (about 1/100th the diameter of a human hair.) Each fiber has a system of spokes, and it's these that trap dirt at a much higher rate than woven cloth or paper. That power means you do not need to use a cleaning agent to pick up any dust or debris.
Microfiber allows us to follow Apple's warranty rules and avoid using solvents and other products that potentially allow moisture into the openings of your AirPods.
A little H2O, isopropyl alcohol, or a disinfecting wipe is okay
If something is really stuck on your AirPods, adding a little water or isopropyl alcohol to your microfiber cloth is okay. You can also use a disinfecting wipe–just make sure it doesn't contain any bleach before you use it!
Make sure you wet the cloth with a little water or isopropyl alcohol and NOT the AirPod. Using warm water is best and preferably distilled water, where minerals and other contaminants found in tap water or spring water are removed. Once the cloth is wet, wring out all the excess liquid first, then wipe your AirPods.
Is it okay to use a disinfectant on my AirPods or EarPods?
Apple now says it is okay to use a 70 percent isopropyl alcohol wipe or Clorox disinfecting wipes on your AirPods or EarPods. Do not use anything containing bleach!
Just make sure the wipe or cloth is damp, not wet and then gently wipe the exterior surfaces of your AirPods or EarPods.
It's critical that you do not clean the speaker mesh with any wipes or liquids–these may cause damage.
And of course, don't submerge the AirPods in water or any other liquid. If water enters the interior of the Pod, it could damage the speaker or hardware.
Finally, if using a little water, liquid, or damp wipe, let your Pods dry for at least 15 minutes before you put them back on or back in the case.
It's important to let them dry naturally. So don't use a fan, hairdryer, or anything else–those could make your problems worse by blowing things into your AirPods.
Though some people recommend hand sanitizers and bleach-based solutions, these are actually really bad for tech devices. These types of alcohol cleaners damage polish and may even damage the hardware. So if you need a little moisture to loosen things up, stick to water.
A Super Duper Clean
If you're one of those iFolks who waits until it just ain't working right, you need a more sophisticated approach. First, clean your AirPods or wireless buds with a microfiber cloth. Then, use an anti-static brush to clean a little deeper into the places that collect dirt, like your speaker screens and the seams. Gently brush these parts in one direction only. Do not brush back and forth–you are more likely to push dirt and wax inside the screens if you employ a back and forward motion. So stick to one direction!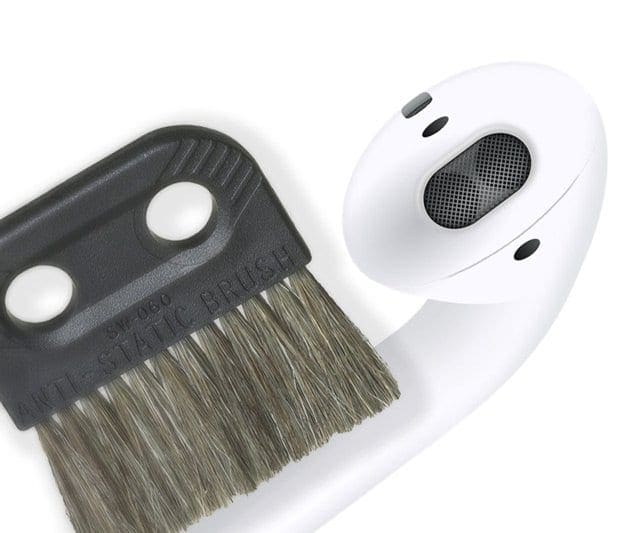 Finally, listen to your AirPods' sound quality and repeat the cleaning if necessary.
If you don't have a small anti-static brush or don't want to get one, use a SOFT and NEW toothbrush to brush out wax and other debris gently. Remember the brushing rule, always brush in one direction only–no back and forth!
Using AirPods Pro? Clean the ear tips too!
Pull off the ear tips from each AirPod and rinse the ear tips with water
Wipe the ear tips with a soft, dry, lint-free cloth or use a damp disinfecting wipe
Air-dry the ear tips before reattaching to each AirPod
Are AirPods water-resistant or waterproof?
If you have AirPods Pro, your AirPods are water resistant, but not waterproof. The Wireless Charging Case for AirPods Pro is not waterproof or water-resistant, so be careful not to get moisture in any openings. If your case comes in contact with liquid, dry it by placing it upside down with the lid open.
If you have AirPods (1st and 2nd generation), your AirPods and charging case aren't waterproof or water-resistant, so be careful not to get moisture in any openings. If your AirPods come in contact with liquid, including sweat from a workout, wipe them down with a dry microfiber cloth. To dry the case, place it upside down with the lid open.
Don't Forget Your AirPod Case!
Yup, you need to clean your AirPod case too.
Wiping this down with a microfiber cloth should remove most dirt and grime. Just make sure you clean inside as well as outside the case. Debris inside your AirPods Charging Case often causes improper AirPod charging and may impact overall performance.
And remember to clean the lightning connector too! Since this is more exposed, it tends to collect grime at a faster rate than any other part.
Reader Tips 
For me, I find that Blu-Tack Reusable Adhesive works great. I like it because it's a 100% dry cleaning method. You mold it, so it fits perfectly into each speaker or open space. Then just give it a tug to release. You end up seeing all the holes from the mesh, and anything that was stuck to the screen shows up on the tack! I use the Blu-Tack brand, but any brand of adhesive putty should work.
Here's what I do. I dip a cotton swab dip in the water or sometimes in hydrogen peroxide (that helps softens and dissolves ear wax). Then I squeeze one drop onto the mesh of the AirPod speaker. Wait a few seconds then tap your AirPod, mesh-down, onto a hard surface to remove all the liquid physically. Follow this with some compressed air to eject any remaining liquid.
All I need to do was blow some air on each speaker. Use your own or a can of compressed air–just be gentle and make sure you blow-dry air!
I'm an engineer, so naturally, I tried Duct Tape! And by golly, it worked! Yeah, it sounds a bit odd but trust me. Cut a small piece and wrap with the sticky side facing outward. Then stick it to the mesh repeatedly to remove any grime. I used this method on my right AirPod and then compared it to the left, and I definitely heard a big difference in sound quality.
For most of her professional life, Amanda Elizabeth (Liz for short) trained all sorts of folks on how to use media as a tool to tell their own unique stories. She knows a thing or two about teaching others and creating how-to guides!
Her clients include Edutopia, Scribe Video Center, Third Path Institute, Bracket, The Philadelphia Museum of Art, and the Big Picture Alliance.
Elizabeth received her Master of Fine Arts degree in media making from Temple University, where she also taught undergrads as an adjunct faculty member in their department of Film and Media Arts.