Don't panic! If your device gets wet, there's still do a lot you can do to save it. One of the best solutions is to dry your wet iPhone, iPad, or AirPods using silica gel packets. We've explained exactly how to do this below.
The most important thing to do is immediately power off a wet device. Water is less likely to damage your iPhone, iPad, or AirPods without an electrical current running through it.
After powering off your device, leave it alone and read this guide to fix it.
Related:
Two Schools of Thought on Fixing Liquid Damage
It's easy to drop your iPhone in the toilet, spill beer over your iPad, or get caught in the rain with your AirPods out. The difficult thing is knowing what to do when that happens.
If your iPhone, iPad, or AirPods get wet you might come across contradicting advice on the internet.
One group suggests sealing your device in a box with absorbent material, like silica gel or uncooked rice. The other group advises the opposite: leave it in the open to let a cool breeze dry it out.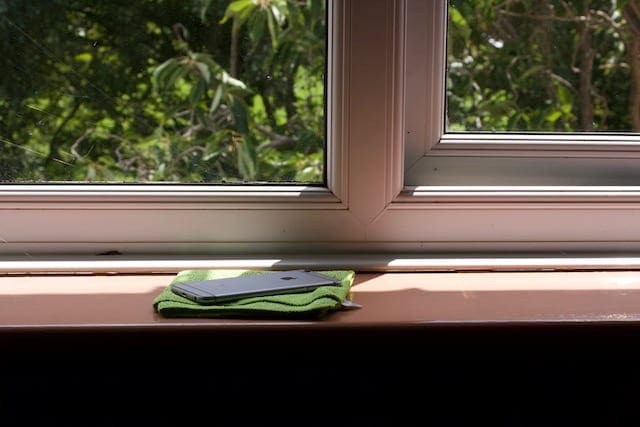 We can't say objectively which technique is better without a crate-load of liquid damaged iPhones to test. There isn't much evidence to go by and people from both sides of the fence claim their own technique is most effective.
Apple recommends you let wet devices dry in the open air. But if that feels insufficient, this article explains how to use silica gel to dry your wet iPhone, iPad, or AirPods instead.
What Is Silica Gel?
Silica gel is a desiccant, which means it dries the air around it by absorbing moisture. You've probably come across silica gel in small packets saying, "Do Not Eat!" People often ship them with clothes, electronics, and even food.
Manufacturers include silica gel with shipments to avoid a build-up of damaging moisture in sealed packages. Moisture from the air moves through the paper packet and into the clear silica gel granules inside.
Where Can I Get Silica Gel?
The cheapest way to get hold of silica gel packets is to start collecting them when they turn up with other products you buy. You often get them with electronics, clothes, and food products.
If you need silica gel quicker than that—which is highly likely if you got your iPhone, iPad, or AirPods wet—you can get silica gel from Amazon with next-day delivery or buy some from stores like Walmart.
Can I Use Uncooked Rice Instead?
A lot of people suggest using uncooked rice instead of silica gel to dry your wet iPhone, iPad, or AirPods. Like silica gel, uncooked rice is also a desiccant that absorbs moisture from the air around it.
Also, you probably have plenty of uncooked rice in your house already.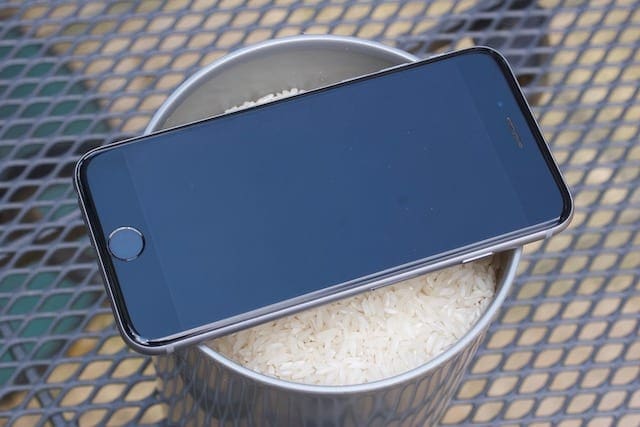 However, uncooked rice is far less absorbent than silica gel, and possibly even worse than leaving your device to dry in the open air. If you do use rice, wrap your device in a paper towel first to avoid getting grains stuck in the Lightning port.
How to use Silica Gel to Dry Your Wet iPhone, iPad, or AirPods
For the best results, follow the steps below to remove as much liquid as possible from your wet iPhone, iPad, or AirPods before putting them in a container with silica gel packets.
The most important thing is to exercise patience. If you power on or use your device before it's fully dry, you could cause irreparable damage.
Step 1. Turn Off Your iPhone or iPad and Disconnect Your AirPods
Even water-resistant iPhones aren't waterproof; turn off your device as soon as possible to avoid water shorting out the circuits inside. With an iPhone or iPad, press and hold the Sleep/Wake button then slide to power off.
Unfortunately, there's no power button for AirPods. The best thing you can do is remove them from the charging case and disconnect them from your other devices. Go to Settings > Bluetooth > AirPods > Forget This Device to do so.
Whatever you do, don't plug in your iPhone, iPad, or AirPods to charge. This could be very dangerous if they are still wet.
Step 2. Dry the Outside of Your Wet iPhone, iPad, or AirPods
If your device is wet with soda, beer, or salt water, rinse it under the tap. This sounds counterproductive, but you need to remove any liquids likely to leave sticky (or salty) residue when they drying.
If your device is powered off, this shouldn't cause any more damage.
Then use a towel, a lint-free cloth, or even a cotton t-shirt to dry the outside of your wet iPhone, iPad, or AirPods. The aim here is to absorb as much of the liquid as possible.
Don't stick anything in the Lightning or headphone ports. Instead, hold your iPhone or iPad with the port facing down and gently tap the side of the device to encourage liquid to drip out.
Step 3. Take Off the Case and Remove the SIM Card
There might be residual liquid inside your case, beneath a screen protector, or inside the SIM tray. Take your device out of its case and peel off the screen protector. Then use a SIM tool to eject the SIM tray.
Keep your AirPods out of the charging case and remove any stickers or accessories attached to them.
Use a towel, lint-free cloth, or cotton t-shirt to dry any more liquid you discover.
Step 4. Put Your Device in a Container With Silica Gel Packets
You've dried the outside of your device as much as possible, now it's time to introduce silica gel packets to do the rest. Put your iPhone, iPad, or AirPods in an airtight container with lots of packets of silica gel.
You can use a lunchbox, a plastic bag, or a Tupperware pot for this.
Don't open the silica gel packets. If you bought loose silica gel granules, wrap your device in a paper towel to keep them from getting stuck in any ports.
You need to use enough silica gel to absorb all the liquid inside your device. It's difficult to say exactly how much silica gel that is, but you're better off using too much than not enough.
Step 5. Don't Touch It for at Least Two Days
Now for the hard part. After sealing away your wet iPhone, iPad, or AirPods with silica gel packets, you need to leave it alone to dry for at least two days. Preferably even longer.
If you turn on your device to test it before it's completely dry, you might cause irreparable damage to the components inside. Just leave it alone instead.
After two days (or longer if you have the patience), take your device out of the container and power it on. You might need to charge it up again if the battery has died.
Hopefully, the liquid dried up and didn't cause any damage!
Speak to Apple Support for a Replacement Device
If your wet iPhone, iPad, or AirPods still don't work after using silica gel to dry them, you might need a repair or replacement from Apple.
Don't mention liquid damage to Apple unless someone specifically asks you about it. If Apple doesn't find evidence of liquid in your device, they might give you a free repair or replacement.
Chat to Apple Support directly to book an appointment at your nearest authorized service provider.