There's a good chance your Apple Watch is going to get wet at one point or another. Whether you get caught in the rain or go for a dip in the sea, you should make sure you know how waterproof your Apple Watch is first.
In fact your Apple Watch isn't waterproof at all, although it is water resistant. We'll explained what that means, along with how water resistant each Apple Watch is, in the post below.
Related:
The Difference Between Waterproof and Water Resistant
Apple carefully describes its latest products as water resistant, rather than waterproof. This is an important distinction for Apple Watch owners to understand since it helps avoid unfortunate accidents.
When something is waterproof, it's impossible for water to damage it.
This can't be true for your Apple Watch because if water did find a way through the casing, it would wreak havoc on the electrical components inside.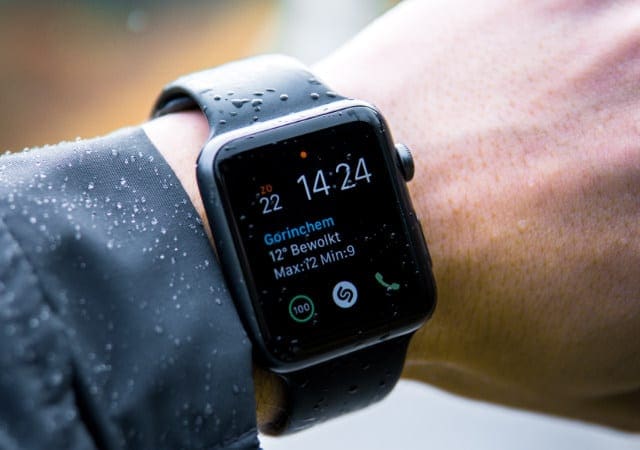 Instead, your Apple Watch is water resistant. That means it's theoretically possible for water to damage the electrical components inside, but the casing is designed to keep water out as much as possible.
Apple does this using watertight seals and limited ports or openings on the watch. Unfortunately, those seals don't stay watertight forever and your Apple Watch becomes less water resistant as it ages.
What's more, a lot of external factors can wear out the water resistance of your Apple Watch sooner, such as:
Dropping or damaging it, especially if the case cracks.
Getting soap, perfume, solvent, acidic food, insect repellent, or other liquids on the watertight seals.
Exposing your watch to high-velocity or high-pressure water, which forces its way through the seals to cause damage; this could happen when waterskiing, scuba diving, or going down waterslides.
Taking your watch in a sauna or steam room, which could result in condensation forming inside the watch.
How Do I Know If My Apple Watch Is Still Water Resistant?
The older your Apple Watch gets, the less water resistant it's likely to be. This is because the watertight seals deteriorate with time and eventually let water get inside your device.
Unfortunately, there's no way to test the water resistance of your Apple Watch. There's also no way to reseal it if you believe the watertight seals are failing.
Apple gives no indication of how long it might take for an Apple Watch to lose its water resistance. We suggest you take extra care after the first year, at which point Apple stops covering it under the standard warranty.
Exactly How Water Resistant Is My Apple Watch?
Rather than waterproof, every Apple Watch is water resistant. However, the level of that water resistance changes depending on your particular model.
We've explained the two levels of Apple Watch water resistance below, separated into Series 2 (and later) or Series 1 (and earlier).
If you don't know which model Apple Watch you have, take a look at this page on Apple's website to find out.
Water Resistance for the Apple Watch Series 2 or Later
The Apple Watch Series 2, Series 3, Series 4, and Series 5 models are water resistant up to 50m³.
That means you can submerge your Apple Watch to a depth of 50 meters (164 feet) and it should be fine. Before you do so, open the Control Center and put your watch in Water Lock mode to protect it.
In Water Lock mode, the touchscreen becomes unresponsive to avoid accidental taps. To exit Water Lock mode, turn the Digital Crown until the droplet icon fills up. This also plays high-pitched frequencies to eject water from your Apple Watch speakers.
Apple even includes water-based activities in the Workout app for the Apple Watch Series 2 or later. Track your pool or open water swims using the app; when you do so, your Apple Watch automatically activates Water Lock mode.
If your Apple Watch gets wet with anything other than clean water you should rinse it under clean water before letting it dry. This avoids saltwater, soda, sweat, or other liquids leaving harmful salt or mineral deposits on your Apple Watch.
Water Resistance for the Apple Watch Series 1 or Earlier
Apple rates the Apple Watch (1st generation) and the Apple Watch Series 1 as IPX7 water resistant. This means they're splash resistant, but you should avoid submerging them or swimming with them.
The water resistance on these earlier Apple Watch models protects against getting caught in the rain, washing your hands, and sweating during workouts.
If you want to go swimming with your Apple Watch, you should upgrade to a Series 2 or later.
There is no Water Lock mode for Apple Watch (1st generation) or Apple Watch Series 1. If you get it wet, dry the outside as much as possible using a lint-free cloth. Then lay your watch with the speaker facing down and wait for any remaining water to drip out or evaporate.
How Water Resistant Is My Apple Watch Band?
Just because your Apple Watch is water resistant, it doesn't mean your Apple Watch Bands are. Specifically, Apple's stainless steel or leather bands are not water resistant.
Avoid getting these bands wet as much as possible.
If you want to go swimming with your Apple Watch, you should use a Sport band to do so.
Find Out What to Do If You Get Your Watch Wet
Although every Apple Watch is water resistant, and most of them are fine for swimming with, you still might experience problems after doing so. Apple would label the watch as waterproof if that wasn't the case.
Most of the time this is due to residue water in the speaker port or on the screen. You can usually fix it by allowing enough time for your Apple Watch to dry out.
If that doesn't work, take a look at the following post which details other troubleshooting steps to take if your Apple Watch stops working when wet.