Did your iPhone detect liquid in the Lightning connector or port? This alarming message stops you from charging or using accessories with your iPhone until it's dry. It says you should disconnect everything and wait several hours for that to happen.
But is that all you can do? And is your iPhone safe to use in the meantime?
Related Reading:
This article explains exactly what's going on with your iPhone, including what you can do to avoid irreparable liquid damage to your device.
Why Did an Alert Say That My iPhone Detected Liquid?
This pop-up alert is fairly self-explanatory. It appears when you connect a Lightning cable or accessory to your iPhone, but either the Lightning port or Lightning connector is wet. Usually, the alert says:
Liquid has been detected in the Lightning connector. Disconnect to allow the connector to dry. This may take several hours.

It's unclear how your iPhone senses liquid in the Lightning connector. But it might get wet if you dropped it in water, got caught in the rain, or kept it in a humid environment like a steamy bathroom.
When this alert appears, it disables the Lightning connector so you can't charge your iPhone or use it with accessories. This protects your iPhone from potential damage.
What if My iPhone Is Water-Resistant?
Most modern iPhones are water-resistant, but many people mistake this for being waterproof. Just because your iPhone is waterproof doesn't mean that it's immune from liquid damage.
The metal inside of your iPhone can still stop working if liquid comes into contact. And if you get liquid inside your iPhone's charging port, the same can happen. So, you still need to be careful when using your smartphone.
Without an electrical current passing through the metal, the liquid shouldn't cause any damage — unless it leaves residue on the pins. That's why Apple disables the Lightning connector when your iPhone detects liquid in it. A current could make the metal corrode and the connector stop working.
Apple also suggests that you rinse your water-resistant iPhone with clean water if you spill other liquids on it, like saltwater or soda.
What Should I Do if My iPhone Detects Liquid?
If your iPhone detects liquid in the Lightning connector, you can keep using it without plugging anything in. However, you may want to follow the steps below to ensure your iPhone is completely dry for the best chance of avoiding damage:
Unplug any cables or accessories connected to your iPhone.
Hold your iPhone with the Lightning port facing down, then gently tap it with your palm to ease liquid out of the port.
Place your iPhone in an open, ventilated, dry space.
Wait for at least 30 minutes before using your device again.
If the same alert reappears, there may be liquid residue beneath the Lightning pins, leave your iPhone to dry for 24 hours before trying it again.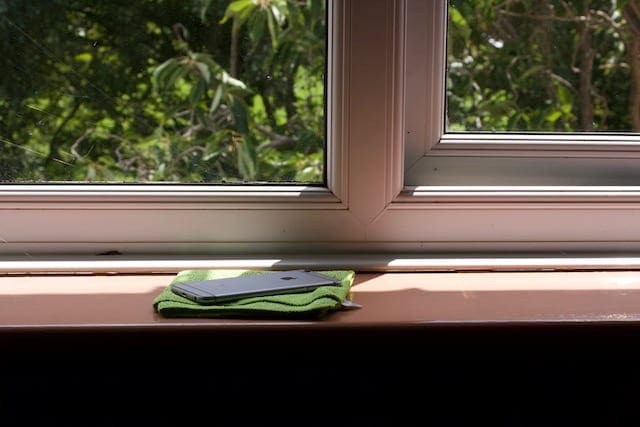 Do NOT Put Your iPhone in Rice!
There is a lot of bad advice online for liquid damaged iPhones. Most of this advice does nothing to fix your device, and in many cases, it causes more damage!
Please don't try any of the following suggestions:
Don't use a heat source to dry your iPhone, like a radiator or hair dryer.
Don't insert anything into the Lightning port, like cotton buds or tissue.
And don't put your iPhone in a container of rice or silica gel packets.
The best advice is always to leave your iPhone in the open and let it air dry.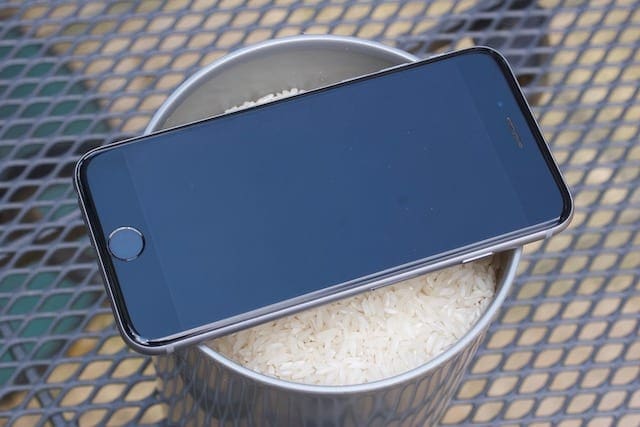 Override the Liquid Detection Alert in an Emergency
There are times when you may want to risk damaging your iPhone in order to charge it while wet. In these emergency situations, it's possible to override the liquid detection alert and charge your device even when wet.
It's worth repeating that when you do this you run the risk of permanently damaging your iPhone. If possible, you should dry the outside of your iPhone and charge it wirelessly instead.
To override the liquid detection alert, simply reconnect the Lightning cable or accessory shortly after it appears. When the liquid detection alert pops up again, tap the Emergency Override button.
How to Turn Off Emergency Override
Some of our readers have encountered problems where they can't turn off the Emergency Override feature. If you want to switch this feature off, the best thing to do is disconnect your charger. You can then plug your device in again and dismiss any Emergency Override notifications.
It's a good idea to let your charger dry before trying to charge your device as normal again.
What If My iPhone Detects Liquid When It's Dry?
On occasion, you might see the liquid detection alert when you're absolutely certain your iPhone and Lightning connectors are dry. Perhaps your gadgets are brand new or you already allowed plenty of time for them to dry out.
Use a flashlight to inspect the Lightning port for dust and debris. Obstructions in the Lightning port can confuse the liquid sensors. If you find anything in there, clear it out with compressed air to avoid damaging the metal pins.
If you can't see any debris, there's a strong chance your iPhone's Lightning port or the accessory you're trying to use is damaged. Contact Apple or the accessory manufacturer to get technical support.
Reader Tips
One of our readers said that after seeing the "Liquid in Lightning Port" message, they turned their iPhone off and on again. After that, they were able to charge their iPhones like normal. So, if you're still encountering this problem, you may wish to follow that tip.
It May be New to You, But It's Not a New Alert
The liquid detection alert isn't a new iPhone or iOS feature, but Apple has recently updated the icon. Now it has a yellow warning triangle with a blue water droplet inside it.
Let us know if your iPhone detected liquid in the Lightning connector and if the steps we outlined above helped you fix it. If you still can't charge your iPhone, take a look at this post to see what else you can do to fix it.