There's an FM chip in your iPhone, but you can't use it to listen to live radio stations. On the other hand, you can actually listen to live radio through the Music app and other third party apps.
Related:
That's actually a little-known fact among Apple users, but it's a welcome and awesome feature that you should definitely take advantage of.
What is Live Radio in iOS 13?


Apple has actually introduced the ability to listen to live radio stations in iOS 12, although it was only rolled out in select countries. It's now available in a much broader range of regions in iOS 13 and iPadOS — so that probably means you can use it.
The feature doesn't use the airwaves. Instead, it pulls live radio streams from third-party sources like TuneIn, iHeartRadio and Radio.com.
That means you can forego third-party apps like TuneIn or iHeartRadio and just use the native Apple Music app in iOS. (It also means that Siri voice commands support live radio, but we'll get to that in a bit.)
Arguably the best thing about live radio is that you don't actually need to pay for Apple Music subscription to access it. That's right. As long as you have an iPhone or iPad, you can listen to radio stations through the Music app for free — even if you're, say, a Spotify user.
This also applies to Beats 1, Apple's own music channel that's definitely worth a listen in addition to your favorite location stations.
A few things to note
Listening to live radio stations on your iOS device is actually incredibly easy, but there are a few things you need to keep in mind.
As we said earlier, you don't need an Apple Music subscription to listen to Beats 1 or Live Radio. But you may need to log in with your Apple ID.
To activate the feature, you'll need to ensure that Show Apple Music is enabled in Settings —> Music.
The feature streams live radio over the internet, not through the FM chip. That means you'll need Wi-Fi or a cellular connection to access it.
How to play radio from the Music app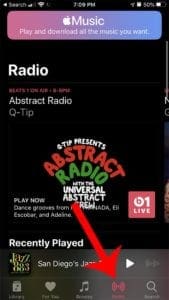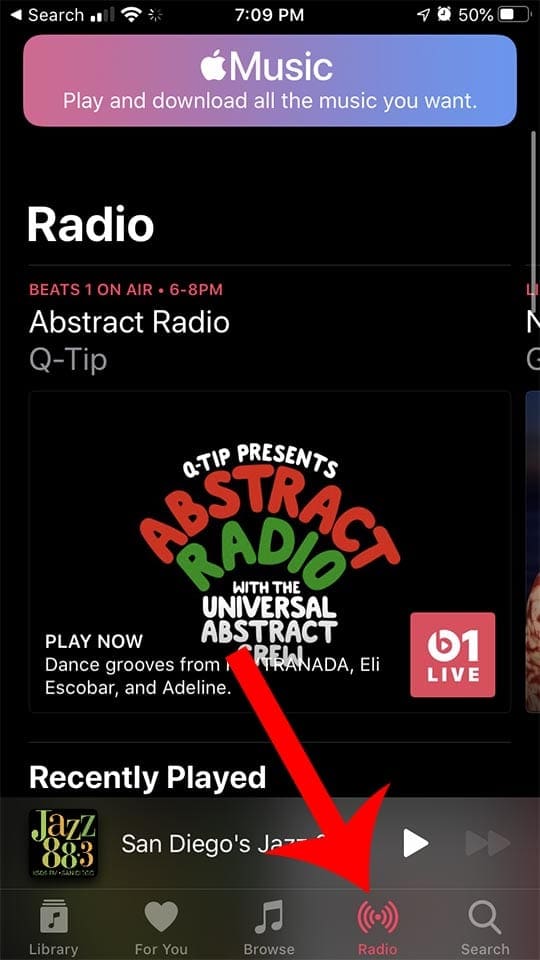 Playing live radio stations from the Music app couldn't be simpler. Here's how to do it.
Open the Music app on your iPhone, iPad or iPod touch.
Click on the Radio icon in the lower menu bar.
From here, you should see a few options for Beats 1 and other stations.
It's at this point that you'll probably notice that your favorite radio stations likely don't appear on the Radio homepage.
To actually listen to your local stations, you'll need to search them out. But searching for stations isn't done through the Radio tab — it's actually done through the Search tab.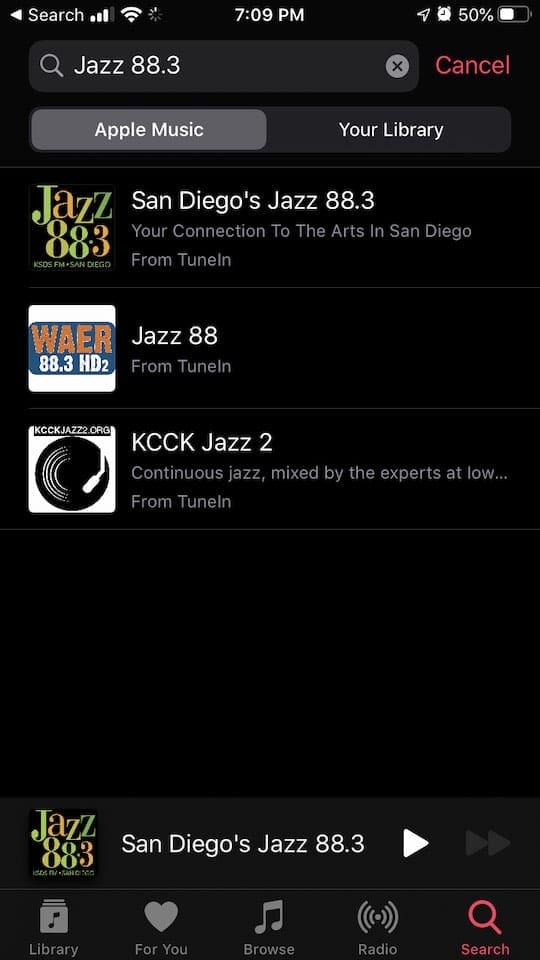 So just click on the Search tab and type in the name of your local radio station. If it's available on Apple Music, you should see it appear.
How to ask Siri to play radio
You can also ask Siri to play your favorite local radio stations. And it's pretty much just that simple.
Just say, "Hey Siri, play KTLA radio station." And the radio station will start playing, live, from Apple Music.
That being said, some users appear to run into problems getting the digital assistant to actually play their station of choice. So here are some tips to get it to work.
It appears that you need to actually say "radio station" after the station callsign or name to get it to work.
Try speaking the call sign slowly — for example, "Here Siri, play KTLA."
You may also need to add in the actual station number and name. Example: "Hey Siri, play 101.5 KGB."
Additional considerations
That's pretty much the gist of listening to Live Radio on your iOS device. But if you're having trouble getting it to work, here are a couple of things to note.
Double-check that your station is supported
While TuneIn, iHeartRadio and Radio.com support quite a large range of radio stations, they don't have every single station.
We recommend looking at each individual service to see what stations in your area are supported. If they're not on the list, you won't be able to listen to them from your iOS device.
Find local radio stations
As we mentioned, it's helpful to know both the callsign and the station number of the radio station you're trying to listen to.
A great resource for finding local radio stations in your area (or other areas) is radio-locater.com. You can see the name, genre, call number and other information about each station.
Make sure that it's supported in your country
Unfortunately, the Live Radio feature in iOS 13 is not currently available in all regions.
Apple maintains a support document with a list of all currently available Apple Music features — including Radio — on its website.
Mike is a freelance journalist from San Diego, California.
While he primarily covers Apple and consumer technology, he has past experience writing about public safety, local government, and education for a variety of publications.
He's worn quite a few hats in the journalism field, including writer, editor, and news designer.