You are probably buying a lot of apps (or other content, songs, movies, books etc.) from the iTunes Store, App Store, Mac App Store, or iBooks Store. If you are like me, you may not always remember what you bought or how much you paid? I was recently reviewing my bank statements online and noticed a charge for $31 that I did not remember.
I wanted to learn more about this charge. I knew that you might review your iTunes Store or App Store purchase history. So I thought that comparing my purchase history to my bank statement would help me recognize this charge. If you are having this issue, before requesting a refund, you may want to see your detailed purchase history. Here is how you can see a list of your transaction history:
Method # 1
To see your full transaction history, you need a computer with iTunes installed. If you do not have iTunes, see the method # 2 below.
Launch iTunes on your computer
Click Sign in, and provide your login information (your Apple ID, and password). If you have multiple Apple IDs, you need to sign in to each account to see your purchase history for each account.
After signing in, Click your name and the Account Info. You will be asked to enter your password again. Enter your password, and click View Account.
Under the Purchase History section, click See All
Here you can review your charges:
Notes: If you are using Family Sharing, you will not see other family members' purchases. You need to sign in with their Apple ID to see their purchases.
Method # 2 (no iTunes)
You may also review your purchase history by going to Apple's report a problem page. This method lets you see your purchases in a web browser.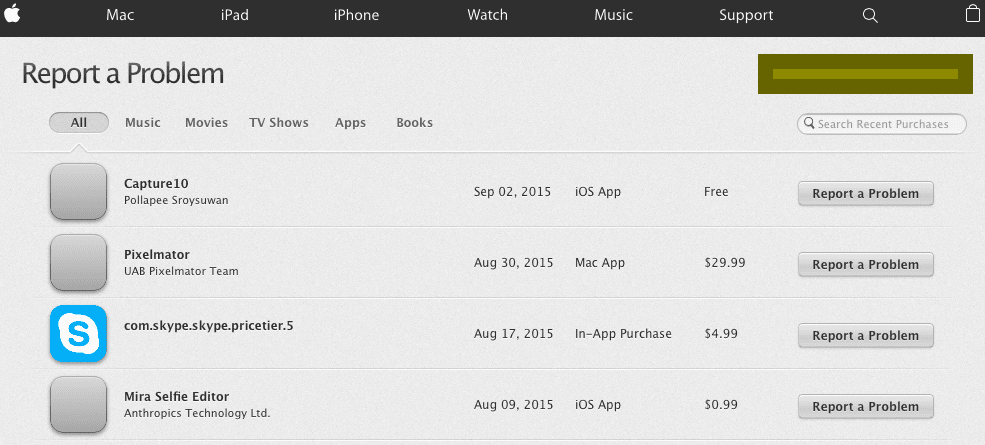 Now you can see your purchase history. However, here you will not be able see the full history. You can only view the purchases from the last 90 days. You may see the recent charges.
Obsessed with tech since the early arrival of A/UX on Apple, Sudz (SK) is responsible for the original editorial direction of AppleToolBox. He is based out of Los Angeles, CA.
Sudz specializes in covering all things macOS, having reviewed dozens of OS X and macOS developments over the years.
In a former life, Sudz worked helping Fortune 100 companies with their technology and business transformation aspirations.