When Apple released the Macintosh in 1984, it changed the entire computing industry. But after Steve Jobs got removed from the company, it entered a downward spiral, losing significant market share to competition from IBM, Microsoft, and other PC manufacturers. The Mac was in crisis. It's worth remembering Steve Job's address from WWDC 2005.
Let's talk about transitions. The Mac, in its history, has had two major transitions so far. The first one – 68k to PowerPC. That transition happened about ten years ago in the mid 90's. I wasn't here then but the team did a great job from everything I hear [laughter in audience]. And the PowerPC set Apple up for the next decade; it was a good move.

The second major transition though has been even bigger. And that's the transition from OS 9 to OS X that we just finished a few years ago; the early part of this decade. This was a brain transplant. Even though these operating systems vary in name only by one, they are worlds apart in their technology. OS X is the most advanced operating system on the planet, and it has set Apple up for the next twenty years.

Today, it's time to begin the third transition. We constantly want to be making the best computers for you, and the rest of our users. And so it's time for a third transition, and yes, it's true. We are going to begin the transition from PowerPC to Intel processors. – Steve Jobs, WWDC 2005
Apple was in its roughest position ever; the company was months away from bankruptcy. Apple's board of directors, largely the same from the Steve Jobs era, had to figure out how to save the company.
Now, over twenty years later, Apple has to save the Mac again.
Transition Four is upon us.
Transition I: 68k to PowerPC
The Mac was in crisis. While the Macintosh proved to be revolutionary, time and competition had not been kind to Apple. Microsoft's Windows has quickly taken market share due to its 'open' nature, which allowed for any manufacturer to use the platform for a licensing fee. Apple had successfully kept Mac sales afloat with desktop publishing software, however, the launch of Windows 3.0 and Windows 95 proved catastrophic for the once visionary computer company.
Apple's product line at the time had become incredibly convoluted and remained notably more expensive compared to the competition. In order to compete with recent Windows releases, Apple launched Mac OS 7, which introduced virtual memory and greater multitasking capabilities. However, it was also built to handle a more advanced system architecture. Apple began to investigate an alternative to its 68k chips and was approached by Intel. Intel had quickly taken over the PC industry with its 'Complex Instruction Set Computer' architecture and unique end-to-end manufacturing process. Apple, however, was concerned about having a shared architecture with Windows computers and giving all market share to a single company, and also suspected Intel's CISC chips would be unable to compete with Motorola's upcoming 'Reduced Instruction Set Computer' architecture.
In 1991, Apple, IBM, and Motorola created the 'AIM alliance'. IBM president Jack Kuehler had been convinced that a business partnership with Apple was necessary to compete with the monsoon of Windows OEMs, and Apple was in no position to be turning down such opportunities. While the alliance was mostly a flop, it resulted in the creation of the PowerPC Motorola processor, which OS 7 was built to support. This led to a decade of Apple machines running PowerPC chips exclusively, while Intel continued to innovate yearly.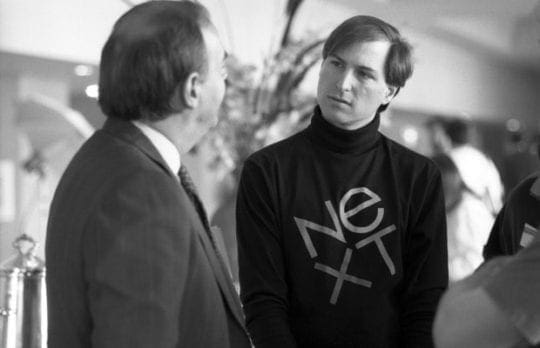 Jobs Returns
The transition to PowerPC did not end up boosting sales numbers, and the AIM alliance did little to help Apple or IBM grow. This sent Apple spiraling down to disarray; ever since removing Steve Jobs in 1995, the company found itself overcome with the non-innovative image it once loathed.
Steve, on the other hand, was doing pretty well. After being removed from the company he founded, he took some time off before funding two ventures. The first was Pixar, the now legendary movie studio that Jobs acquired from George Lucas for $25 million, and the first computer-animated film Toy Story. The second was NeXT.
NeXT aimed to make high-end workstations for the education market, some of which were the first to include revolutionary technologies, such as an optical disc drive. Despite their capabilities, hardware sales were poor. The company stopped selling machines in 1993, however, continued to work on the NeXTSTEP operating system. The OS was based on an implementation of UNIX and was built atop the Objective-C language.  This base gave NeXTSTEP the capability to be far more advanced than any previous consumer-oriented operating system.
In 1996, Apple decided it was incapable of redeveloping the Mac OS to a level needed to compete with Windows. The board of directors began searching for acquisitions to fix the problem, and NeXT was a prime target. That February, the company announced it would acquire NeXT for $427 million.
Apple's CEO at the time, Gil Amelio, was a goof. He made a number of famously bad statements and did little to help fix Apple's financial troubles. That July, Jobs convinced the board to remove Amelio. In September, Steve would take the role of Interim CEO.
The Microsoft Ceasefire
Microsoft and Apple had become notorious enemies since the release of Microsoft Windows. At the time, Jobs felt that Bill Gates had ripped-off Apple's graphical-user-interface after he showed him a demo in the early 80's. Apple had licensed elements of the Mac GUI for Windows 1.0, but Apple argued Microsoft began copying Mac features with Windows 2.0. This resulted in a years-long legal case that left the companies arguing in court.
In 1992, Apple paid San Fransisco Canyon Company to create a Windows version of Quicktime. In 1993, Intel contacted the same company and asked them to help improve the performance of Windows Video Player. Apple suspected the company used the code it made while under contract for Microsoft and Intel and proceeded to sue the parties. This led to the courts ordering a restraining order on Microsoft to stop using any code involved in the suit, and the company rolled back the changes.
It was later revealed that during this time Apple and Microsoft's legal battle hit a fever-pitch. Apple believed it had found undeniable proof that Microsoft had stolen millions of lines of code from Mac OS, while Bill Gates threatened to stop Office support on the Mac if a new suit was filed.
At the MacWorld Expo in January 1997, Jobs made his first major changes to Apple in his bid to fix the company. First, he replaced almost the entire board of directors, making himself chairman. Second, and most notably, a deal with Microsoft. The deal ended all legal battles, gave the companies patent cross-licensing, brought Internet Explorer and Office back to the Mac, and had Microsoft investing $150 million in non-voting Apple shares.
Transition II: OS 9 to OS X
Soon after taking control of Apple, Jobs unveiled the iMac. Revealed in 1998, the PC was the companies biggest product launch since the original Macintosh. The device was all-in-one and featured colorful translucent cases that could easily be moved around using a built-in-handle. The device was very much the personification of Jobs' original NeXT ambitions.
In 2000, Apple formally introduced OS X, the new Mac operating system built atop NeXTSTEP. Apple began slowly rolling out the update to devices, and by the end of 2003, all Macs shipped with OS X preinstalled. When it launched to consumers in 2001, reviews were poor. While the project was ambitious, the OS ran horribly on current Mac hardware. Some popular Mac developers initially refused to support the update.
Apple began a rapid upgrade cycle for OS X, with yearly releases available on all hardware. When OS 10.4 Tiger launched in 2005, Microsoft executive was reportedly baffled by how quickly the operating system had become a competitor.
Throughout this period, Apple continued to simplify and update its hardware lineup. Steve Jobs introduced a new product strategy, suggesting the company should only have four product lines: consumer desktop, consumer laptop, professional desktop, and professional laptop. Apple released a number of successful devices, including the PowerBook and the Mac mini.
Transition III: PowerPC to Intel
At WWDC 2005, Steve Jobs made a shocking announcement. The company was not only going to begin transitioning to Intel processors from PowerPC but had been secretly co-compiling Mac OS X since its inception to run on Intel chips. This meant Apple would not need a new OS to support the architecture change and had in fact created a dual-booting consumer-facing product.
Apple had developed Rosetta, a tool for running PowerPC based apps on Intel chips. This allowed users to use all Mac software regardless of developer support. By 2007, Apple had completely updated the Mac lineup to run on the latest Intel chipset. Additionally, an Intel-based made it theoretically possible to run Windows on Mac hardware. This became reality with the launch of Parallels Desktop in 2006 and Boot Camp.
While the transition appears effortless, the move was one of the most important in the history of the industry. Bill Gates was quoted as saying it was Jobs greatest technical achievement. By supporting the latest Intel chips, Apple was able to compete from a power perspective with Windows competition and began lowering price points. The company introduced devices such as the MacBook, MacBook Pro, and MacBook Air, and slowly began reclaiming market share.
iPhone and The Post-PC Era
On January 9, 2007, Apple made its biggest announcement thus far: the iPhone. The device featured a new technology called multi-touch and was coupled with a new mobile version of OS X.
While the exact specifics were unclear at the time, iPhone is built upon the same UNIX base of OS X and therefore has allowed the device to interact well with Mac devices as time has passed. The OS was eventually re-identified as iPhone OS, then iOS. Features such as Handoff are possible due to the inter-compatibility of the two operating systems.
In April 2010, Apple launched the iPad, a tablet computer based on the iPhone OS featuring multi-touch. While Apple had been working on the device for many years and had variants running Mac OS, Jobs eventually devised the device was more suited for iOS.
The launch of these devices and others ushered in the Post-PC era; a time long predicted where PC's are not the center of consumers digital lives. With this shift, however, also came a schism between the Mac and all of Apple's other devices. As time has passed, Apple continues to unveil devices running variants of iOS, including the Apple Watch, Apple TV, HomePod, and others. While the UNIX core of iOS and macOS remains the same, the architectural differences continue to leave a widening gap between Apple's platforms. Additionally, the success of iOS services like the App Store has not found success on the company's traditional Mac platform.
The A-Series
Beginning with the iPhone 4, Apple began developing the iPhone chipset in-house. The first Apple developed chip, the A4, was promoted as a feature of the iPhone 4. Jobs had long held the belief that Apple would ideally create all aspects of their devices, from software to hardware, and this had not yet been possible with the Mac due to the complexity of PC processor chips.
The iPhone, however, was far less complex, and Apple slowly began expanding its chip series across iOS devices. When the Apple Watch launched in 2014, the company unveiled the S1, the companies first system-on-a-chip. The chip featured all the necessities of a computer, including the processor, RAM, and flash storage.
Apple has continued to flesh out its chip creation throughout the last few years. The AirPods feature the H1 or W1 chip, which functions both as a small computer and to enhance Bluetooth capabilities. Apple's upcoming AirPower wireless charger will use a custom chip to manage power distribution between devices. Since the release of the iPhone 7, Apple has been producing GPU chips alongside CPU chips with its M-Line series.
In 2015, Apple introduced the new MacBook, the companies thinnest and lightest PC ever. The machine was made possible due to Intel's new core-M chipset, which allowed machines to run without a fan. While on paper this appeared to be Apple embracing new technologies, the company was internally planning on using the device as a springboard for its own chipset.
Marzipan
For the last two years, Apple has quietly been planning a major structural shift to its hardware and software platforms. Internally referred to as Marzipan, the initiative will realign all of Apple's products into a new shared structure for the next decade of technology.
We saw the first look at Marzipan earlier this year with the launch of Apple News, Voice Memos, and Stock in macOS Mojave at WWDC in June. All of these apps take advantage of a new framework that will be publicly available next year. The framework allows developers of iOS apps to easily port these apps to run on Mac hardware, and tweak them to take advantage of Mac features and input devices.
The second major change coming to Marzipan is a new shared UI framework for new apps, which will allow for apps to hypothetically run on all Apple platforms while having elements that adjust to the appropriate interface. That means a developer could have one codebase that appropriately adjusts elements between a Mac and an Apple TV.
The third major change is a redesigned OS. Both iOS and macOS will receive major, matching interface overhauls next year. Apple hopes to have the platforms synchronized within two years, launching feature changes simultaneously, and introducing cross-platform Apps and Siri.
The fourth major change: transition the Mac from Intel-based processors to Apple's own A-Series chips.
Transition IV: Intel to A-Series
Apple plans to begin transitioning Mac devices to A-Series chips in 2020. The company is planning on first introducing the change in the MacBook and a new low-end Mac coming later this year. Apple has been co-compiling macOS on its own chips for more than seven years. The company hopes to implement this change across the entire Mac lineup no later than 2028.
In order to truly migrate from Intel, Apple will need GPU chips for professional machines. The company reportedly has A-Series chips that will run with traditional GPUs from AMD and Nvidia, as well as in-house GPUs. Apple does not expect in-house GPU's to replace third-party alternatives for at least half a decade.
Apple has slowly been testing its own chips on Macs quietly for some time. The TouchBar, which was introduced in the 2016 MacBook Pro, uses a special T1 chip that communicates with the Intel chip and runs a modified version of watchOS. Apple's 2018 MacBook Pro and iMac Pro both feature a T2 chip to improve performance beyond the Intel chipsets capabilities.
The move will eventually allow for a harmonious Apple product lineup. With all apps built to support the A-lineup, the Mac will become part of a shared base. This move will finally fix the largest inconsistency in Apple's lineup, and pave the way for Apple's next big thing: a new computing platform based on the real world using augmented reality.