The iPhone 14 Pro isn't even available for purchase yet, but some Apple fans, ourselves included, are looking forward to what Apple might introduce later this year. Barring any catastrophic changes, we're still expecting at least one more Apple event before the calendar flips over to 2023. Apple is still expected to announce its first M1-powered Mac Pro, replacing the aging (and expensive) Intel version. But perhaps more importantly, for some at least, we're keeping our fingers crossed that Apple will soon unveil the 2022 iPad Pro.
Related Reading
Apple last updated the iPad Pro series back in 2021, as the company brought its excellent M1 chip to the iPad Pro. The 12.9-inch model is also the first to feature Apple's Liquid Retina XDR display, allowing it to double as a reference monitor in tandem with your macOS Ventura-powered Mac and iPadOS 16. And while all of that is fine and dandy, one individual, Parker Ortolani of The Verge, has created some renders that are now making us want a new iPad Pro even more.
Dynamic Island Opens The Door For More Possibilities
At the time of this writing, it's a day after the official unveiling of the iPhone 14 Pro, along with some new Apple Watch models and the AirPods Pro 2. The iPhone 14 Pro and Pro Max are particularly relevant to this piece, as Apple finally ditched the notch in favor of a different type of camera cutout. But instead of just calling it a "hole-punch selfie camera", Apple opted to completely reimagine the way that we interact with our phones.
Dynamic Island is what Apple is calling the area that has replaced the notch. Hidden by the software, this cutout at the top of the iPhone 14 Pro and Pro Max does much more than just house your selfie camera and various sensors. Instead, Apple decided to turn things up a notch (get it?), and allows for dynamic interactions with applications, notifications, and more.
A few examples of how this works include picking a song in Apple Music, closing the app, and still seeing things like the album artwork shrink into the Dynamic Island. This also applies to system UI elements such as Face ID dropping down, showing the necessary animations, and then disappearing into the island.
Changes Are Long Overdue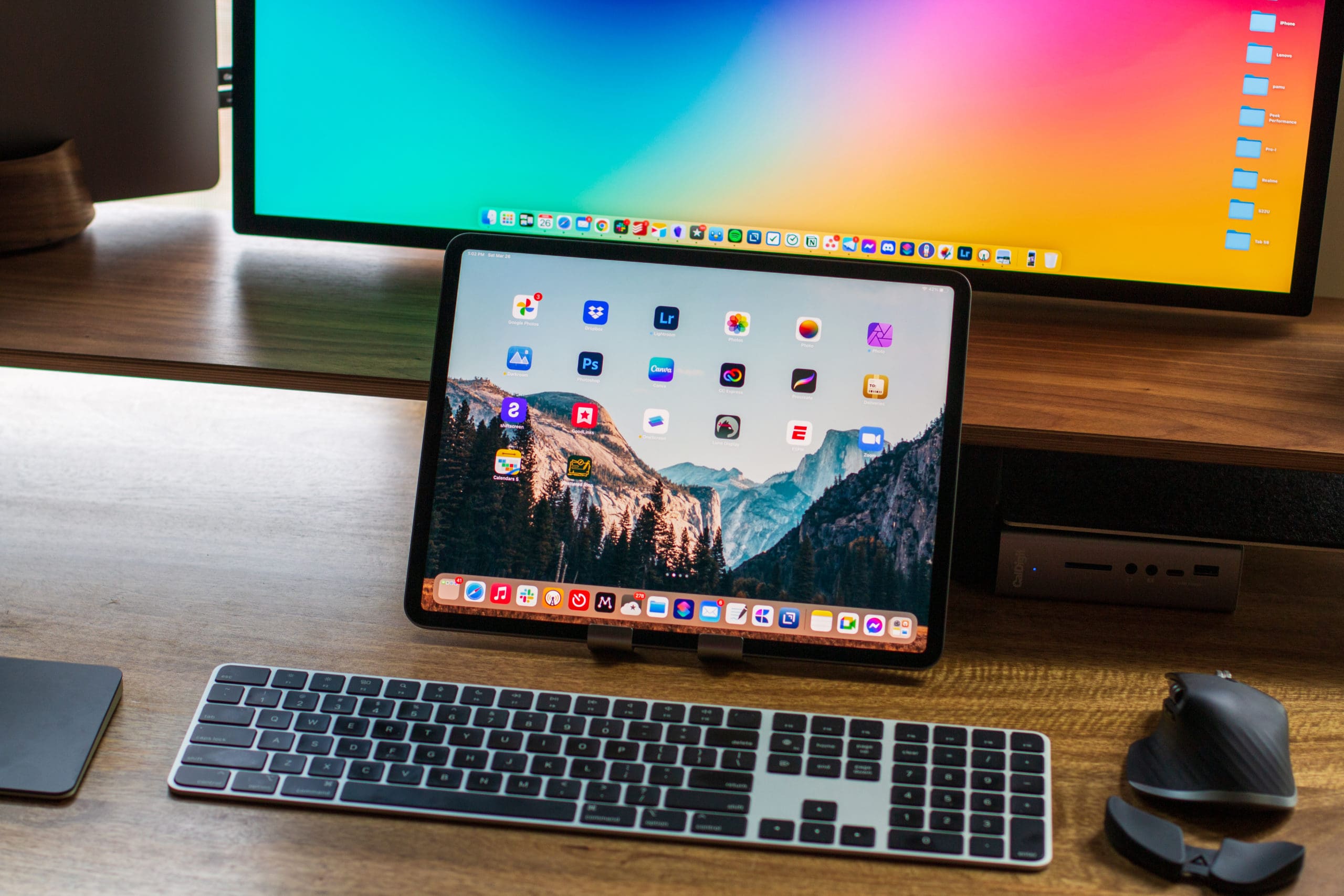 One of the primary complaints about the iPad Pro lineup, and pretty much all iPad models, is the placement of the front-facing camera. Apple's own Magic Keyboard case presents the iPad in landscape mode, which is fine, most of the time, but if you are holding the iPad in front of you, your hand is usually covering the camera. That's not to mention the awkwardness that comes with video meetings as the angle is quite a bit different compared to using something like your MacBook's built-in webcam.
Following the design changes that arrived with the 2018 iPad Pro, featuring slimmer bezels around all four edges, we have been hoping that Apple would move the webcam to something a bit more laptop-like. I mean, it's clear that Apple still wants everyone to treat the iPad Pro as a laptop replacement, but software aside, this is just one of those quirks that have become frustrating.
The reason why I'm speaking more in the way of the iPad Pro as opposed to other iPad models is that Apple is positioning the products very differently. Apple also puts its most bleeding-edge technology into the Pro models, such as the Liquid Retina XDR display on the 12.9-inch 2021 model that doubles as a true reference model with iPadOS 16. ProMotion also arrived on the iPad Pro first, before making its way to the iPhone 13 Pro and then the 2021 MacBook Pro.
There are concerns that Apple has a certain affinity for the notch found on the 2021 MacBook Pro and 2022 MacBook Air. However, the unveiling of the iPhone 14 Pro and Pro Max might have just revealed the reason why the iPad Pro's camera hasn't moved.
By implementing the Dynamic Island into the iPad Pro, Apple could slim down the bezels even further, while moving the camera to the "top" of the screen when it's viewed in landscape mode. And thanks to Parker, we have a better idea of what this could actually look like, as they have created a few official-looking Apple-like promotional images.
Dynamic Island on iPad Pro
In these renders that Parker created, they show what a new iPad Pro would look like with the Dynamic Island cutout at the top of the screen. These also reveal what an iPad with even slimmer bezels could look like. It's also not as far-fetched of an idea as you might believe, as some rumors suggest Apple is working on development for a larger 15-inch iPad Pro. One way Apple could achieve this without completely breaking the mold is to ditch the current camera module configuration and use the floating bar.
Immediately, this would free up plenty of screen real estate to put a larger display in the same form factor as the current 12.9-inch iPad Pro. The status bar area would still be reserved for various shortcuts, but these would appear based on the app that is currently being used. For example, Translation and text adjustment buttons would appear when you're using Safari. A small Spotlight button could appear when you're on the Home Screen, plus all of the great features that Dynamic Island already enables on the upcoming iPhone 14 Pro lineup.
Screen real estate is extremely important now, more than ever thanks to the introduction of Stage Manager with iPadOS 16. As it currently stands, you can have up to four app windows concurrently being shown on your display at any given time. But this decision also forced Apple to introduce a new "More Space" option in the Display Zoom settings on iPadOS 16. And while the final version isn't due until sometime in October, we'll keep things simple by saying that it's still not enough screen space to comfortably work in more than two or maybe three apps at a time.
Bringing Dynamic Island to the iPad Pro would be an absolute game changer, and it has immediately reignited my excitement for a new iPad Pro model in 2022. Until now, I was planning on sticking with my 2021 12.9-inch iPad Pro until a larger version was released, but here's to hoping that these renders tipped Apple's hand. It's highly unlikely that's the case, but Parker's creation is the iPad that I want.
Andrew is a freelance writer based on the East Coast of the US.
He has written for a variety of sites over the years, including iMore, Android Central, Phandroid, and a few others. Now, he spends his days working for an HVAC company, while moonlighting as a freelance writer at night.