Today, we're going to be covering a topic for new Apple Watch users. That topic is which Apple Watch band you should choose.
This can be a surprisingly difficult decision as there is such a wide variety of Apple Watch bands to choose from. To help narrow things down in this post, we're just going to be focusing on the different sizes and types of bands available. I'll leave choosing the colors and styles up to your taste.
Also, keep in mind that Apple frequently launches limited edition band styles. These are a bit pricier, but you can probably find them used on eBay for a deal.
Alright, let's get into it!
The different Apple Watch band sizes
First, let's cover the different Apple Watch band sizes. When it comes to the bands that have a clasp (i.e., traditional watch bands), the only size you need to worry about is the one that matches your Apple Watch.
If you're not sure what size your Apple Watch is, you can check it by looking at the underside of your Apple Watch, the part that makes contact with your skin. It'll be listed in millimeters (mm) with a number in the 40s. Mine, for example, is 44mm, which I can see on the bottom of my Watch.
For the loop bands, which are a single loop that stretches around your wrist instead of unbuckling, there's a bit more to consider. Not only will you be choosing the size that matches your Apple Watch, but also the one that fits your wrist.
You can measure your wrist for these bands by tapping the Start your measurement option on each loop band's webpage. This will give you a printable guide that you can use to select the band that will best fit your wrist.
If you're not sure how to go about finding the right band for your wrist size, you can always go try them out at the Apple Store. They have tons lined out on the tables for you to try.
The different types of Apple Watch bands
And with that, we're ready to start looking at the different Apple Watch bands available. Below is a breakdown of each of the types of bands offered by Apple at the time of writing. None are necessarily better than the others. It's just about finding the one that matches your style and needs.
It's also worth noting that switching between bands is super easy (it takes just a few seconds) so there's no reason that you can't get a few if that's your thing.
Solo Loop
The first Apple Watch band on our list is one of the newest. It's the Solo Loop. This is one of Apple's new loop bands, which don't have a buckle or a clasp. Instead, they just stretch over your wrist.
Now, as a disclaimer, I do not own and haven't tried one of these bands in person. However, I do have a Sport Band, which is made of a similar (albeit not stretchy) material. And for the most part, it's pretty great. So long as it's dry, at least.
If it gets wet, then I've noticed that the material can chafe your wrist a little bit, after which I have to take a few hours break before putting my Watch back on.
Beyond that, this is a great band, especially for working out! It won't soak up water or sweat, making it great for swimming and exercising. And it's super durable. Mine is nearly two years old now and doesn't even have the slightest nick or bit of discoloration.
The one drawback of the Solo Loop series is that the "designs" are pretty basic. The designs are nothing more than different solid colors. But these are also relatively inexpensive (at least when compared to the other options) so it's not too much of an issue.
I would just strongly recommend sizing this correctly, as it will be pretty uncomfortable otherwise.
Also! I did want to mention that because this is a loop, you may find charging your Apple Watch with it on a little annoying. That's because you can't lay your Apple Watch flat. I have a wall-mounted Apple Watch charger, so I would have to remove this band to charge my Watch. This same issue applies to the Braided Solo Loop. Something to keep in mind!
Braided Solo Loop
Next up is the Braided Solo Loop series. Like the Solo Loop, this is a stretchy band, with no clasp or buckle required. The difference with this Apple Watch band is that it's made from braided cloth rather than silicon.
That has some pros and some cons. This band will not hold up as well to water and sweat. It'll start to smell and take longer to dry. So you may find yourself needing to toss it in the laundry bin, while its silicon alternative can easily be scrubbed under some warm water.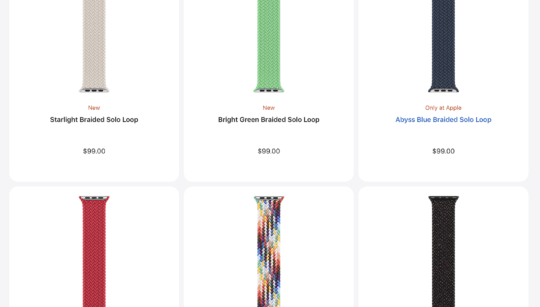 On the other hand, this band is way more comfortable, at least in my opinion. I have had the chance to try these bands on at Apple Stores, and it does make me regret going with the Sport Loop that I have now. If I was swimming or sweating on a more regular basis, then I might not go with this one. But since I sit at a desk all day reading and writing, a more comfortable band would have been cool.
I also think these bands look better than the Solo Sport Loop. There are some cool patterned ones, namely the Pride and Black Unity bands, both of which look great. Hopefully, Apple comes out with more like those in the future.
And that's about it! These bands are on the more expensive side, at $99, which is something to consider. Even still, this would be the band I went with if I was choosing mine today.
Sport Band
That brings us to the classic Sport Band. This is one of the original Apple Watch bands, it's probably the most popular, and it's the one I happen to have.
This is the "white bread" of Apple Watch bands. Meaning that there isn't much to say about it. It's comfortable, great with water, and virtually indestructible.
As mentioned before, the only downside is that it can cause chafing it gets wet. I recommend taking it off and then drying it. Also, it uses a buckle, which means that it locks at a few specific fixed sizes. These sizes are pretty close to one another, so you shouldn't have a hard time finding one that's comfortable. But it doesn't provide a "perfect fit" like some of the more adjustable options.
Beyond that, this is a good, run-of-the-mill option for a band.
Sport Loop
Another classic Apple Watch band is the Sport Loop. This is another cloth band, though it's made from a different material than the Braided Solo Loop. So don't expect it to be the same thing with a buckle.
This material is less stretchy and a little less comfortable, though still very comfortable. It's right in between the Braided Solo Loop and the Sport Band for comfort.
The designs for this band are a bit more fun than the Sport Band, though they're still pretty basic for the most part. You can find some limited edition Sport Loop bands on eBay, namely the Pride editions, that look pretty cool.
This band does close using velcro, which means it will become less secure over time. I'm not sure how quickly it deteriorates since I've never owned one of these, but I would imagine it needs to be replaced after a year or so.
The Sport Loop does have the benefit of being pretty thin, which means that sweat and water will dry much faster than with the Braided Solo Loop.
Overall, this is a great alternative to the Sport Band if you're looking for something with a little more comfort and color and don't mind sacrificing durability to get it.
Nike Bands
I debated including the Nike Bands, but they are technically a type of Apple Watch band, so here we are. These are just a slightly upgraded version of the Sport Band and Sport Loop.
The Nike Sport Band is made from the same material, but it has these holes perforating it that make it more breathable. I have not tried these bands out so I can't say whether or not they're more comfortable than the Sport Band, but I would imagine that they are.
And that's pretty much it! Just a branded, slightly different version of the Sport Band. The same goes for the Nike Sport Loop. Grab it if you're a fan of Nike, looking for something more breathable, or just think they look cool.
Leather Bands
That brings us to the Leather Bands. There are two different types of Leather Bands. Those that clasp with magnets and those that have a buckle.
I haven't tried any of these out, but given that they're made with high-quality leather, I imagine they're comfortable to wear and easy to adjust. They have a more traditional look, great for someone who doesn't want their Apple Watch to look like an Apple Watch.
That said, I think these are a bit silly. The purpose of the Apple Watch is to close your Activity Rings through exercise, which you're going to have a hard time doing with the Leather Bands. They'll get sweaty and gross, and there isn't much you can do about it.
Even still, I can see a segment of users valuing these for formal events. If you're into that sort of thing, then these are a classy alternative to all of the Sport-themed Apple Watch bands.
Stainless Steel
Next up are the Stainless Steel variety of Apple Watch bands. Again, these are not intended to be used for exercise and are instead a more classy alternative. They resemble traditional watch bands, which makes them great for those who don't want their Apple Watch to be viewed as "tacky" at a formal event.
There are two versions of the Stainless Steel Apple Watch band. The first is the Milanese Loop, which I think looks really cool. It's a fine chain loop that magnetizes to itself, making it nearly infinitely adjustable. It's satisfying to wear and look at – play with it if you visit an Apple Store, even if you don't plan on buying it.
Then there's perhaps the most boring variety of Apple Watch band, which is the Link Bracelet. This is just a classic metal watch band. You've seen a million like it, only these are hundreds of dollars. If you're the kind of person to who this appeals, then you don't need me to tell you to grab it! It's exactly what it looks like.
Hermès Bands
That brings us to the last kind of Apple Watch band, the Hermès Bands. Hermès makes several bands, so many that I can't touch on all of them. But even though I normally find designer stuff like this to be kind of tacky, these honestly look good.
The colorful Jumping Single Tour series is pretty cool, and the leather options are great, too. There are enough options that you can find one that expresses yourself, and I imagine that they're durable enough to last forever.
Just don't work out with these on! And be prepared to empty your wallet.
Find the Apple Watch band that's right for you
And that's it! That's every Apple Watch band currently available. I like the Braided Solo Loop and Sport Loop the most, though my Sport Band has faithfully served me for the last two years.
Let me know which one you have or are planning to buy in the comments below!
For more insights, news, and guides on all things Apple, check out the rest of the AppleToolBox blog.
See you next time!