Several users have noticed that their iPhone 11 model, XR, XS, and iPhone XS Max displays are darker than usual. The displays show low brightness even when the auto-brightness feature is enabled on the device.
The change in iPhone display brightness is prominently visible to folks who switched from the older iPhone models.
Out of the box, the new iPhones are set to a low display setting. It requires some use before it can adjust to user preferences.
Quick Tips 
Follow These Quick Tips To Help When Your iPhone's Display is Too Dark or Dim
Turn off Zoom in your device's accessibility settings
Check Night Shift and True Tone features
Toggle on Auto-Brightness or toggle it off and on
Adjust the Brightness Slider
Do not use a Zoom Filter–set it to None
Toggle off any Low Light filters
Turn off Reduce White Point
RELATED ARTICLES:
Newer Model iPhone?
The new iPhone 11 Pro models have a display brightness of 800 nits max brightness (typical) with 1200 nits max brightness (HDR)
While the iPhone 11 and X Series, including the iPhone XS, iPhone XS Max, and iPhone XR have the same display brightness specifications
If you experience this issue with your iPhone's auto-dimming feature,  you are not alone.
This issue is not a hardware issue by any means so you can relax a bit!
The auto-brightness/auto-dimming feature is controlled by the iOS software, which has the capability to learn user preferences.
You can quickly fix this issue by following the steps below to help the iOS to tune to your preferences.
Turn off Zoom
Go to Settings > Accessibility (for older iOS version, go to Settings > General > Accessibility)
Tap Zoom
Toggle Zoom off
Check Night Shift and True Tone
Before you spend a lot of time troubleshooting, make sure Night Shift feature is off. and True Tone is on.
Night Shift changes the colors of your display to warmer colors–like oranges and yellow.
True Tone adjusts the color and intensity of your display to match your current environments ambient light.
Either or both of these display settings can dim your screen or cause it to look slightly yellow or warm toned.
I like tapping into Control Center and then pressing down on the Brightness Slider to open up further details.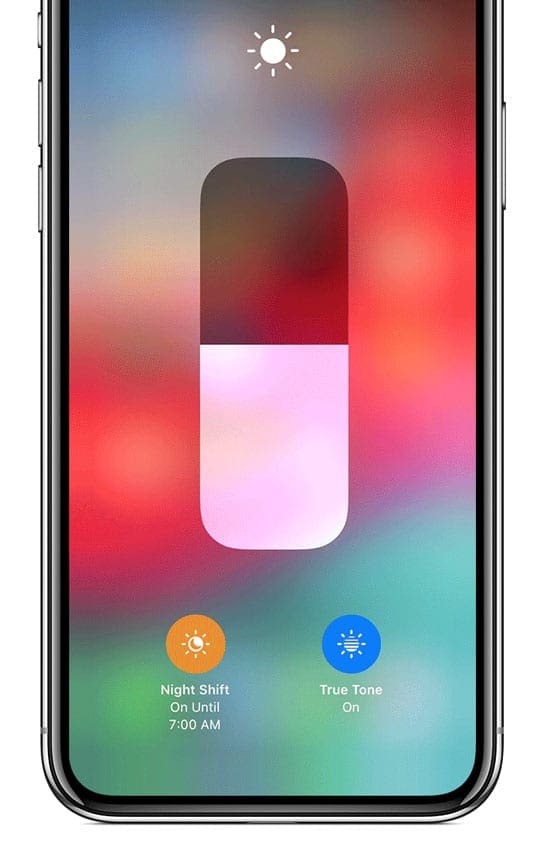 Top change Night Shift and True Tone settings, go to Settings > Display & Brightness. 
How To Fix Auto-Brightness Issue on iPhone 11/XS/XS Max /XR
Start by taking your iPhone into a dark room or dimly lit area
Turn on the display of your iPhone screen and wait for a few seconds till it adjusts and shows you the darker display
Tap on Settings >Accessibility > Display & Text Size (or  General > Accessibility >Display Accommodations)
Toggle off Reduce White Point and turn on  Auto-Brightness

 If Auto-Brightness is already on, toggle it off, wait 20 seconds, and toggle it back on

Next, Tap on Settings > Display and Brightness
Adjust the Brightness slider to the setting of your preference 
Go to Settings > Zoom (or  General > Accessibility > Zoom) > Zoom Filter and checkmark None as your Zoom filter option–do not use the Low Light setting!
Essentially, you are suggesting to the iOS software that in a dim or darker setting, your iPhone will use the level of brightness that you have chosen in step 6
Switch off your device and Switch it back on
You should now see a brighter display based on the calibration that you made on step 6
Next, take your iPhone 11/XS/XR to a brighter place and follow steps 3 to 6 above for setting up your display preferences in a bright environment
The steps above should take care of the dimming or dark display on your new iPhone. iOS does this to preserve battery.
Is Your Display Still Dark or Dim?
Toggle on and off Reduce White Point in Settings > Accessibility > Display & Text Size (or General > Accessibility > Display Accommodations)

Toggle off Auto-Brightness
Turn off True Tone in Settings > Display & Brightness
You may need to restart your device to get these setting changes to stick!
Screen Looks Yellow?
Go to Settings > Accessibility > Display & Text Size (or General > Accessibility > Display Accommodations) and toggle on Color Filter 
Adjust the Hue and Intensity sliders left or right until you reach your screen tint preference with that yellow tint gone
Wrapping It Up
It's always a good idea to keep your iPhone  tuned to Auto-Brightness to save battery power.
Apple's iOS has an uncanny ability to learn user preferences as you use your iPhone.
With most settings that you change to adjust to your preferences, it auto adjusts the device to show you your preferred preferences.
Obsessed with tech since the early arrival of A/UX on Apple, Sudz (SK) is responsible for the editorial direction of AppleToolBox. He is based out of Los Angeles, CA.
Sudz specializes in covering all things macOS, having reviewed dozens of OS X and macOS developments over the years.
In a former life, Sudz worked helping Fortune 100 companies with their technology and business transformation aspirations.