The 2019 Holiday season is already in full-swing with many retailers sharing Black Friday deals. This is a great time to pick up some awesome accessories, but we took things a step further. Instead of relying on Black Friday deals, we have found the best gifts for less than $50 for your favorite Apple fan.
Related Reading
These range from chargers for every possible situation, all the way to watching Apple TV+ without buying an Apple TV. There really is a gift for everyone, even if they only own one Apple product, or all of them.
Disclosure: We may earn a small affiliate commission from the companies mentioned in this post via affiliate links to products or services associated with the content in this article.
Keep everything Charged
While the iPhone 11 series of handsets offer great battery life, the truth is that the battery ends up running out. With these accessories, you will be able to keep your various devices charged up regardless of where you are.
AirPower is dead and gone (except for the trademark) and that has opened the door for other solutions. One popular option is the Seneo 2-in-1 Dual Wireless Charging Pad which can charge both your iPhone and Apple Watch at the same time.
This charger is perfect for your desk or the nightstand, and will keep your iDevices charged safely. Plus, it's lightweight enough to take with you if you end up taking a vacation or work trip and want your devices charged.
Mophie is one of the industry leaders for premium charging solutions and for good reason. If you walk into an Apple Store, chances are you will come across some type of charger made by Mophie.
The Charge Stream Pad+ offers fast charging capabilities, along with a 360-degree rubberized coating. This ensures that your devices won't be scratched, while adding or removing them from the charging pad.
As much as we want to remove the need to charge with cables, the inevitable fact remains that they just aren't going anywhere. That doesn't mean that you can't turn things up a notch and that's where the Anker USB-C to Lightning Cable comes in.
This package includes two USB-C to Lightning cables measuring in at 3-feet each. The cable is compatible with any of Apple's Power Adapters, and is rated to last for over 12,000 bends before needing to be replaced.
Apple's own Power Adapters work just fine, but they are a bit more expensive than some would like. Thankfully, companies like Anker offer viable solutions for fast-charging wall warts.
The Anker PowerPort Atom PD Wall Charger offers 30W of charging power in an extremely small package. With this, you can charge your iPhone up to 50% in just 30 minutes and is 40% smaller than the standard MacBook charger.
So you've got the right cables, and you have a wall plug, but what if you're on the go? That's where portable chargers are useful and the AUKEY USB-C Power Bank is perfect.
This portable charger has a 20,000mAh capacity, so you can recharge your iPhone 11 more than 6 times. There are three USB-A ports along with a USB-C port to keep all of your devices charged on the go.
It is important that if you decide to buy accessories, please make sure that these are certified and from a reputable brand otherwise they will not work since Apple has made changes to their software.
Watch Apple TV+ without Apple TV
Apple TV+ is here and the company is making it possible to watch the new streaming service even if you don't have an Apple TV. What makes this even better is that you can use streaming devices with the help of the new Apple TV+ application.
There are a lot of streaming sticks available but Roku is a company that just seems to "stick" around. The Streaming Stick+ offers 4K HDR streaming, plugs directly into an HDMI port, includes a remote control.
The Amazon Fire TV Stick is another extremely popular option with its integration with Amazon services. But a partnership with Apple and Amazon brought TV+ to the Fire TV Stick and with the 4K version, you will get the best video playback quality possible.
For your AirPods and Music
It doesn't matter whether it's the holiday season or not, but the AirPods are always a hot commodity. That will be even more true with the 2019 holiday season as we now have the AirPods 2 and the AirPods Pro to choose from.
If you are deciding to buy earbuds but are still undecided between AirPod Pro, Solo Beats Pro or Sony models, check out our detailed hands-on comparative review via the video below.
Let's face it, nobody really wants to use a case with their AirPods but for some people it's a necessity. But if you really need to then there's no better choice than Twelve South's AirSnap case for the 1st and 2nd Gen AirPods.
This case comes in three different colors and quickly "snaps" onto anything you attach it to so you never lose your AirPods. Plus, there's a cut out at the bottom if you need to charge your AirPods up.
The AirPods Pro are here and you'll want to keep that beautiful case protected so you won't need to end up replacing it. With the Spine Silicone Fit Case you can do just that, while also taking advantage of the carabiner to attach the case to your belt loop or onto your backpack.
While the AirPods are designed to be used with Apple devices, that doesn't mean that we don't want to use with other devices like on an airplane or with a Nintendo Switch. The AirFly is a Bluetooth Transmitter which turns that boring 3.5mm headphone jack into a Bluetooth adapter so you can easily pair and use your AirPods.
Anker is well-known for its charging products, but the company has expanded into other areas. That includes headphones and speakers and with the SoundCore 2, you will be able to get the party started without the need of cables. Plus, the SoundCore 2 is IPX7 water and dust-resistant to protect against rain, spills, or anything else that happens during the party.
For the Apple Watch owners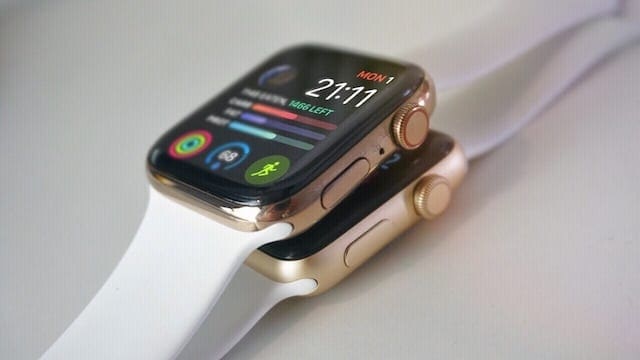 It's pretty much a foregone conclusion that the Apple Watch is the best smartwatch on the market and for good reason. Chances are, that Apple fan in your life either has an Apple Watch, or plans to be getting one soon. These are some of the best accessories for the Watch owner in your life.
Traveling with the Apple Watch and the necessary accessories can be a bit cumbersome when you're away from home. Those problems are solved with the Timeporter Travel Case as this case can house your charging cable, a power brick, and even a Watch band or two. Plus, there's a cut-out in the top so that you can use it as a charging stand while on the go.
It can be extremely useful to have a portable charger with you for your various devices, and that includes the Apple Watch. With the CHOETECH Charger, you will be able to top off and keep your Watch charged throughout the day without dealing with cables.
When you are ready to put your head on a pillow, you'll likely be wanting to charge your Apple Watch so that it's ready for you for the next day. You could use a boring charging cable and just let it sit on the nightstand or your desk, or you could get the Elago W3 stand. This stand looks just like the Macintosh that was released in 1984 but takes advantage of Apple's Nightstand Mode to look even better.
Apple's own Watch bands are pretty awesome in their own right, but the problem with these is that collecting bands can get expensive quickly. With the INTENY Sport Band, you get a slew of different options at just a fraction of the cost, plus you will be able to easily mix and match to go with whatever occasion is taking place.
Get some extra storage
For some reason, Apple has decided to stick with 64GB as the base storage option on its smartphones and tablets and that just isn't enough for some. We found a couple of option to expand the storage and offload some of those files and pictures from either your iPhone or iPad.
The SanDisk Ultra Dual Drive is unique in the fact that it sports a sliding mechanism to hide either the USB-C or USB-A port that are built in. You can plug this right into your iPad Pro with the USB Type-C port to offload some downloaded files for safe-keeping with ease. Or you can use it as a portable drive to watch movies on the go without filling up your iPad's storage.
Admittedly, the iXpand Flash Drive is designed with the iPhone owner in mind as you can shoot videos directly from your iPhone to the flash drive itself. But you can take advantage of the accompanying app to automatically back up your photos and videos with ease and without paying for cloud storage.
Odds & Ends
There is so much more to the world of Apple accessories that don't just include cases and screen protectors. We have found some "odds and ends" that will still pair with many of your favorite Apple devices just fine.
With the release of iOS 13, iPadOS 13, and tvOS 13, controller usage for games has expanded greatly and that is in part due to the release of Apple Arcade. The SteelSeries Nimbus Bluetooth Controller is a fan-favorite to play your favorite mobile games without letting your hands get cramped. This controller will turn your devices into portable consoles, or your primary console when used with the Apple TV.
No matter how hard we try, your Apple devices are bound to get dirtied up with fingerprints and pocket lint. The WHOOSH! Screen Cleaner Kit helps combat that issue as it not only gives you two microfiber cloths, but also includes a 1-ounce bottle of screen cleaner.
If you really want to show off how much you love Apple products, you might want to check out the Throwboy Collectible Pillows. There are pillows shaped in the form of a few different products including the original iPod, 1984 Mac, original iPhone, and even the Finder icon.
When it comes to keeping track of your health, the Apple Watch is fantastic, but it can only do so much without a little more help. That's where the Eufy Smart Scale comes into play as you can keep track of 14 different measurements and it will be integrated with the Apple Health app on your iPhone.
Conclusion
The world of Apple accessories is never-ending and these are just some of our favorites, but we want to hear from you. What are your favorite Apple accessories or what do you plan on getting that Apple fan in your life for the 2019 Holiday season? Sound off in the comment below
Disclosure: We may earn a small affiliate commission from the companies mentioned in this post via Amazon affiliate links to products or services associated with the content in this article.
Andrew Myrick is a freelance writer based on the East Coast of the US. He enjoys everything to do with technology, including tablets, smartphones, and everything in between. Perhaps his favorite past-time is having a never-ending supply of different keyboards and gaming handhelds that end up collecting more dust than the consoles that are being emulated.