Over the past few years, gaming on mobile has exploded. Much of this is thanks in part due to the popularity of games like Fortnite and Call of Duty Mobile. But the problem with playing games on your iPhone or even Android phones is that touchscreen controls are just annoying to use.
Related Reading
Along with the meteoric rise in popularity of mobile gaming, we've been seeing a massive influx of controllers that attach right to your phone. And there are even some phone clips that can be attached to different controllers, such as the PowerA MOGA Gaming Clip for Xbox Controllers. While that definitely creates a better mobile gaming experience, using those isn't exactly always the easiest.
What Is The Backbone One?
Enter the Backbone One. This is a gaming controller designed specifically for the iPhone, as it plugs right into your iPhone's Lightning port. But it also has so much more to offer than just a plug-and-play design.
Before the Backbone One, Razer's Kishi controller was highly-touted as the best game controller for iPhone. This was true for quite a while, but after Apple began making the camera bumps even larger on the iPhone, the Kishi became more and more difficult to recommend. Even Backbone ran into this problem, but we'll touch more on that in the next section.
Backbone One: Design
When it comes to the design of the Backbone One, the first thing that you'll notice (aside from the buttons) is that it's an extendable controller. Because it's not designed for any single iPhone model, it offers a similar plug-and-play design for pretty much any iPhone out there.
The Backbone One was originally released after the iPhone 12 lineup was made available, and that worked perfectly fine for many. However, following the launch of the iPhone 13 Pro and Pro Max with their larger rear camera bumps, Backbone One owners found that the controller didn't fit quite right. Backbone has been quick to remedy this situation, as the company created a new adapter that will slot right into the left side of the controller.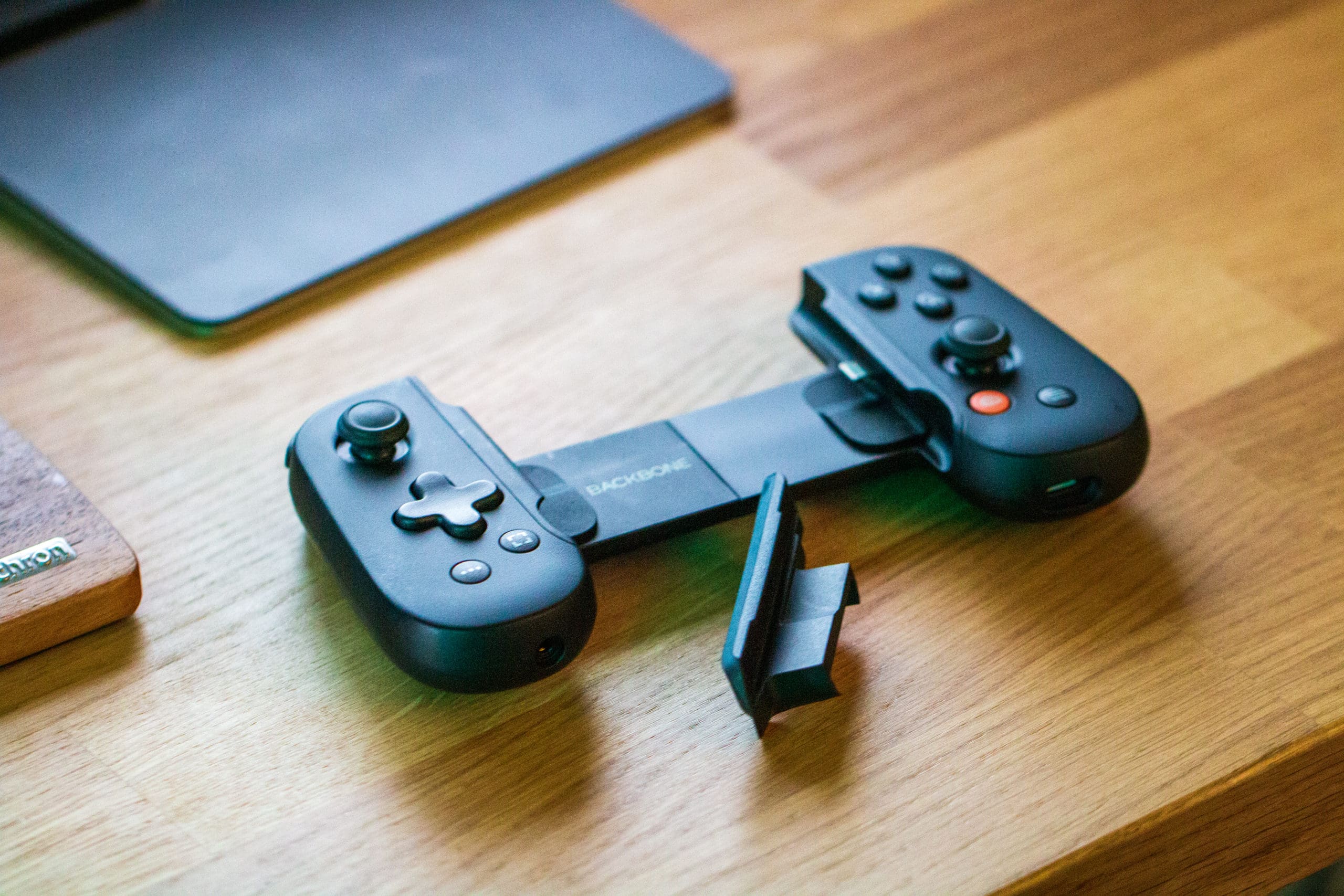 If you purchase the Backbone One today, directly from the company, this adapter will be included. But if you pick one up from Amazon or even Best Buy, you won't find the adapter in the box. Thankfully, all you need to do is reach out to Backbone directly, and they will send you the adapter completely free of charge. It's not recommended to use the Backbone One with an iPhone 13 Pro or Pro Max for prolonged periods of time, as you'll add unneeded stress to the Lightning connection.
With that out of the way, the controller consists of a d-pad, a clickable thumbstick, a dedicated button for taking a screenshot or starting gameplay recording, and a mute button. On the right side, we have the traditional ABXY button layout (just like the Xbox controller), along with another clickable thumbstick, a dedicated Backbone button, and a start button.
On the top of either side, you'll find dual left and right trigger buttons, which is comforting knowing that Backbone tried to make a controller that closely replicates what you get from console controllers. Rounding out the design, there's a 3.5mm headphone jack on the bottom of the left handle, along with a Lighting port on the right side that allows for pass-through charging.
Backbone One: Performance
Everything about this controller looks and feels exactly like what you would expect to see from a controller designed by Apple. Except for maybe the fact that it's not white or "Space Gray". The only thing that really sticks out like a sore thumb is the orange button on the right side. But that's for a very good reason, as Backbone has a dedicated app that's available to download on the App Store.
And this is where the Backbone One really shines. With the app installed, not only can you make sure that any firmware updates are installed, but it acts as a launchpad for any iPhone-compatible games. This includes titles that aren't already installed on your iPhone and even makes it easy to discover games from cloud services such as Xbox Game Pass, Google Stadia, PlayStation, and much more. So instead of jumping between a bunch of different apps, you can just use Backbone to play through your library of games.
Backbone has even gone so far as to attempt to build out a community of other Backbone One users. It's similar to what you would find on an Xbox or PlayStation console, but of course, the number of people using these controllers is MUCH smaller than traditional consoles. However, considering that you can record and share gameplay right from the controller (albeit, limited to 1080p at 60fps), it adds another fun aspect to the entire package.
Backbone One: Experience
When it comes to actually using the Backbone One, there's definitely going to be a bit of a transition period. This is especially true for those who regularly use Microsoft's Xbox Controller or Sony's DualSense and DualShock controllers. The reason is pretty simple, as the Backbone One is just a slimmer controller overall compared to the others.
Those with big hands might feel like you can break the controller just because a resident camper won't leave you alone. But rest assured, that won't happen, as I've even come across those issues and concerns, and the Backbone One has stood up just fine. The build quality is just incredible, as every click of a button or press of a trigger feels as tactile as using something like the Nintendo Switch.
But something else that I discovered after purchasing this controller is the Backbone+ subscription service. This unlocks even more flexibility and versatility to one of the best mobile controllers that I've ever used. A one-year subscription to Backbone+ is included for new customers, and with it, you'll get the following:
Exclusive perks, like free months of Xbox Game Pass Ultimate, other service free trials, in-game items, and many more perks to come.
Access to the rich software experience in the Backbone app.
Twitch streaming.
The ability to use a Lightning to USB-C cable and connect the Backbone One to practically any device, including an iPad, Mac, Android phone, or Windows computer.
At the time of this review, Backbone+ is priced at around $4.17 per month or $50 per year. But as we mentioned previously, the subscription is included for free if you're a new Backbone One owner. After that year is up, you'll need to decide if you want to keep the subscription, but at least it's included at the start.
When it comes to actually playing games on the Backbone One, you couldn't ask for a better experience. The latency is extremely low thanks to the fact that the controller plugs right into the bottom of your iPhone. So if you find yourself dealing with any "lag", it might be attributed to your internet or server connection, and likely isn't the controller itself.
Should You Buy One?
If you own an iPhone and either already play a lot of mobile games, or want to play a lot of games, then the answer the question above is a resounding yes. The Backbone One is easily my favorite iPhone controller and only the Nacon MG-X Pro comes even close to providing the same type of experience. But with that controller, you have to rely on Bluetooth instead of a wired connection. That opens the door for potential latency issues, which could ultimately result in subpar mobile gaming sessions.
The Backbone One comes in at just $100, is available from Amazon, Backbone, and is even beginning to show up at some big-box retailers. Just a reminder though, if you pick one up and have an iPhone 13 Pro or iPhone 13 Pro Max, make sure you get Backbone's adapter.
Andrew is a freelance writer based on the East Coast of the US.
He has written for a variety of sites over the years, including iMore, Android Central, Phandroid, and a few others. Now, he spends his days working for an HVAC company, while moonlighting as a freelance writer at night.