Siri is a very iconic name at this point, but sometimes you might want a little more customization. Especially with Siri having a male voice now, you might want to customize the name. Maybe you want to pretend you have a butler named Bazil, or whatever strikes your fancy. Most people state that you cannot change Siri's name. However, there is a workaround to customize voice commands.
How to "Change" Siri's Name
At this point, changing Siri's name is not an easily available option like you would be able to change Siri's gender or voice. However, there is a detailed customization workaround for the Mac:
Select the Apple icon on the top left of the screen.
Select System Preferences.
Click Accessibility.
Click Voice Control.
Select Commands.
Select the Plus Sign at the bottom of the screen. This will make custom commands.
In the When I say column, enter a voice command using the name you want, like, "Bazil, show me Apple website."
Select the corresponding app on the next line.
On the third line reading Perform, make that command match the workflow.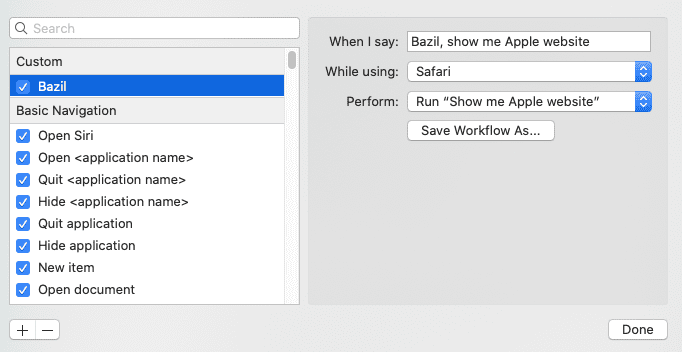 Hit Done.
You'd have to make a lot of custom commands doing this, making it so that you use the new name more than Siri. You'd make the commands you use most often, but you'd also have to remember them all. Also, you'd still need to say Siri for non-customized commands, like actually opening Siri.
Another Way to Use Siri
Some users report not being able to use Siri due to speech differences, such as not being able to pronounce the letter R. Other times, Siri responds to other names like Sarah or Cacey, making it pop up at odd times.
In that case, it might just be easiest to shut off the command Hey Siri and use the home or side button to activate Siri. Then you can use voice commands on your terms.
On the iPhone, under Settings, go to Siri & Search. Then you'd set it so the toggle for Listen for "Hey Siri" is off (gray) and Press Home for Siri is on (green).
Changing Siri's Gender and Accent
Siri is a little more customizable. You can change the accent and gender. On an iPhone, simply:
Go into Settings.
Tap Siri & Search.
Tap Siri Voice.
You can select the accent you want.
You can also select a male or female voice.