There's a feature on iOS that you should be using — or that you should at least know about. It's called Voice Control.And even though it's relatively little used, it may just be one of the most powerful features added to iOS in some time. Here's what you should know about Voice Control and how to use it.
Related:
What is Voice Control?
Voice Control, in a nutshell, is an Accessibility feature that lets users control their devices with only their voices. That's an amazing Accessibility feature. But it can also be used to great effect by any iPhone user.
The feature lets you navigate the UI without touching your device. But you can also set up custom commands that let you do a whole lot more.
You can easily activate or deactivate Voice Control using Siri (Hey Siri, turn on Voice Control). But first, it needs to be set up.
Open the Settings app.
Head to Accessibility.
Tap on Voice Control.
Tap the toggle next to Voice Control.
That's pretty much it. Your iPhone will need to download about 350MB worth of files to make Voice Control work. By default, it's only set to download those files over Wi-Fi — just something to keep in mind.
Once it's set up, you can activate Voice Control through the Settings app. But the easiest way to enable it is to just ask Siri.
When Voice Control is enabled, you'll see a small blue microphone icon in the upper status bar of your iOS device. You may also see feedback dialog boxes when it completes a command or the microphone icon turn red when it's recording a command (which we'll get to later).
It's worth noting that Voice Control is not tied to Siri at all. When the feature is enabled and the blue microphone is present, you won't need to say Hey Siri to use it or to preface any command.
How Voice Control can be used
Even without any additional setup, Voice Control can be used to navigate various features on your iPhone without even laying a finger on it.
That can come in handy when you need to get around the UI but can't currently use your hands. Ever needed to do something on your iPhone while washing your dishes or holding a child?
It's incredibly intuitive — just speak the command you want Voice Control to do and it'll do it. (This also works from any screen and within native or third-party apps.) For example:
You can navigate the home screen by saying "Swipe right" or "Swipe left."
Open any app or system feature by saying "Open (feature/app)." Some examples are Open Facebook or Open Control Center.
Want to head out of an app? Just say Go back to get to the Home screen.
You can also search your iPhone or the web for specific things very easily using "Search for (phrase)" or "Search Web for phrase" respectively.
The best way to get familiar with the power of out-of-the-box Voice Control is to navigate to Settings —> Accessibility —> Voice Control —> Customize Commands.
This will give you the full list of voice commands that you can give Voice Control.
But in this same menu, there's also the ability to set up custom commands. That's, arguably, the most powerful feature of Voice Control.
A couple of cool custom commands to try out
Voice Control is at its most powerful when you use two simple commands: "start recording commands" and "stop recording commands."
These will let you tailor the feature to do just about anything that you want via voice. It's a lot like Siri Shortcuts. The possibilities are pretty vast and it would be impossible to cover them all in-depth here. The only real limit is your imagination.
Recording new Voice Control commands is pretty simple. All you need to do is say "start recording commands" when the feature is on. Then, use voice commands to navigate certain features.
But to get you familiar with the opportunity for powerful voice control features, here are a couple of cool voice "shortcuts" you can try out.
Spotify Podcasts
Spotify may have added Siri support in its latest iOS update, but there are deep commands that you can access with the Voice Control feature.
Say, for example, that you want to quickly access the Podcasts screen in Spotify without needing to navigate to several tabs. Here's how with Voice Control.
Make sure voice Control is on — "Hey Siri, turn on voice control."
Say "Start recording commands."
Say "Open Spotify."
Now, say "Tap on Your Library."
Finally, say "Tap on Podcasts."
As a final optional step, you can say "Tap on Play" to play the last track that you'd like.
Say "Stop recording commands."
You should see a menu pop up with the ability to name your command. This phrase is actually the trigger, so type in Spotify Podcasts.
Now, all you need to do is say "Spotify Podcasts" and Voice Control will instantly bring you to the screen with all of the shows that you subscribe to.
This is just an example, and you can probably think of other ways of implementing similar features in your favorite music or streaming apps.
"OK, Google" on iPhone?
Google Assistant is likely one of the most intelligent and capable digital assistants on the market. But, as an iPhone user, it's not a very intuitive process to use it.
But, with Voice Control, it can be. All you need to do is to download the Google Assistant app from the App Store and record this command via voice.
Make sure voice Control is on — "Hey Siri, turn on voice control."
Say "Start recording commands."
Now, say "Open Assistant."
Finally, say "Tap on Mic."
Say "Stop recording commands."
You should see a menu pop up with the ability to name your command. This phrase is actually the trigger, so type in OK, Google.
That's it. Now, as long as Voice Control is enabled, you can say "OK, Google" and you'll immediately be brought to the input menu in the Google Assistant app — where you can speak your query.
You can also do something very similar with Alexa, as long as you have the Amazon Alexa iOS app. This is especially useful if you'd like to easily and remotely control Alexa-enabled devices fro your iPhone via voice.
You can also use Voice Control on your Mac running macOS Catalina.
Some additional tips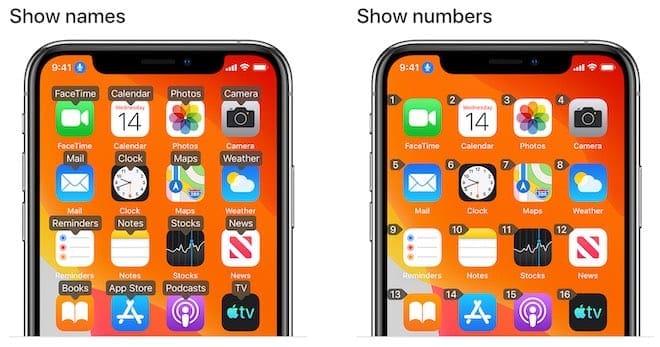 As you can see, Voice control is simultaneously easy to get a hang of but also incredibly powerful in its potential. Here are a few tips to help you get started.
If you'd like a quick refresher on Voice Control commands, just say "Show commands" when the feature is enabled.
Can't get Voice Control to tap on a specific button or UI element when recording commands? Just say "Show names" or "show numbers." Say the name or number next to the UI element.
You can set Voice Control to play a chime when it accepts a command — which may be useful as some type of feedback when you're getting used to the feature.
Don't want to turn on Voice Control with Siri? You can actually assign it to a triple-tap on the Home or Power button. Just navigate to Settings —> Accessibility —> Accessibility Shortcut and select Voice Control from the list.
Turn on Voice Control when you're driving or doing the dishes to easily open apps — such as "Open Spotify" or "Open Google Maps."
If you have an iPhone with Face ID, you can set Voice Control to "Attention Aware." This way, it'll only accept voice commands when you're actively looking at your device.
Now its your turn to get the Voice Control feature up and running on your iPhone. Give it a try and let us know if you find other cool tips and tricks.
Mike is a freelance journalist from San Diego, California.
While he primarily covers Apple and consumer technology, he has past experience writing about public safety, local government, and education for a variety of publications.
He's worn quite a few hats in the journalism field, including writer, editor, and news designer.