Final Cut Pro is an excellent video editing tool for macOS. It supports a long list of features that allow users to take storytelling to the next level. But as with everything man-made, unexpected glitches may occur from time to time. The dreaded wheel of death is one of the most annoying issues affecting Final Cut Pro. It usually occurs when users launch the app or export videos.
Fix: Final Cut Pro Freezes With a Spinning Wheel of Death
Delete App Preferences
Try deleting the current application preferences, and check if the spinning wheel of death persists.
Press and hold down Command and Option while launching Final Cut Pro and select Delete Preferences. Once you do that, Final Cut Pro will start in a default state. The app will automatically open an Untitled library.
Wait for 10 seconds, and then open the library you were working on when the spinning wheel of death showed up on the screen. Tweak your app preferences, and check if the issue persists.
Alternatively, you can delete the FinalCut.plist folders to reset the app preferences.
Exit Final Cut Pro.
Launch Finder, and press the Option key.
Click on Go and select Library.
Select the Preferences folder.
Locate the com.apple.FinalCut.plist and
com.apple.FinalCut.UserDestinations.plist folders.
Remove them from the library, and restart your device.
Install the Latest Updates
Before updating Final Cut Pro to the latest version, back up your current app version and libraries. It's a good idea to back up your Mac as well. You can use Time Machine to restore your data in case something unexpected happens.
Click on the Apple logo, and select App Store. Then, hit the Update button next to Final Cut Pro to install the latest app improvements and patches.
To update macOS, go to System Preferences, and select Software Update. Hit the Update Not button to install the latest updates and patches.
Restart your computer and check if the spinning wheel of death persists.
Run First Aid
Use First Aid to repair disk errors on your Mac. This tool can help you troubleshoot regular app and system crashes.
Launch Finder, select Applications, and click on Utilities.
Go to Disk Utility, and select the disk where you installed Final Cut Pro.
Click on First Aid and hit the Run button.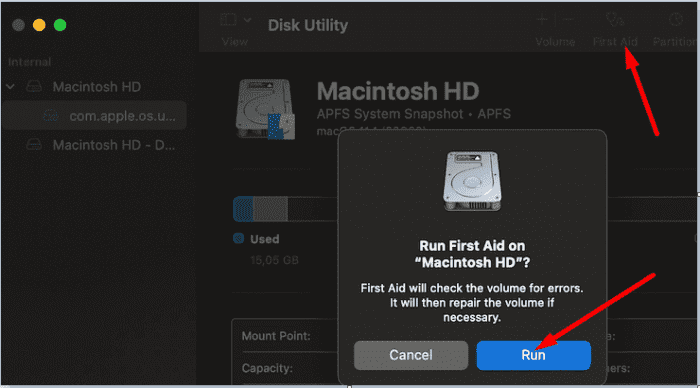 Disk Utility will automatically repair the errors and glitches found on your disk. It will also list the issues it failed to repair.
Additional Workarounds
If you're experiencing this problem when sharing or exporting videos, try deleting the render files. Maybe the project you're working on got corrupted.
Select and copy all the data from the problematic project, and then paste it into a new one. Check if you can export the new project. Opening a new library could be the solution that saves the day.
Switch to a different user profile and check if Final Cut Pro works as intended. If the issue disappears, this may indicate your user profile got corrupted.
If nothing works, delete Final Cut Pro and restart your machine. Go to the App Store and install a fresh copy of the app. Check if you notice any improvements after reinstalling the app.
⇒ Quick Tip: Back up important libraries on a dedicated external drive. To stay on the safe side, use a separate library for important projects, and back it up as often as possible. After backing up your library, disconnect the drive and plug it back into your machine only when disaster strikes.
Conclusion
If the annoying wheel of death is preventing you from using Final Cut Pro, try deleting the current application preferences. Then, update macOS and Final Cut Pro to the latest version. Additionally, go to Disk Utility and launch First Aid to repair disk errors. If the issue persists, create a new project, switch to a different user profile, and reinstall Final Cut Pro.
Did you manage to solve the problem? Hit the comments below and let us know which solution worked for you.